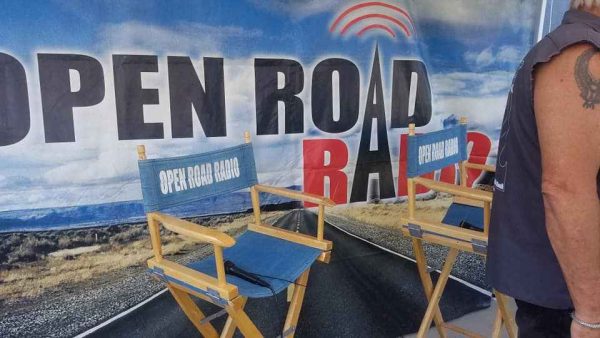 Open Road Radio: America's Standard in Motorcycle Talk RADIO Show
Join our host Gina Woods & Scrapper Dan!
Penny FXR & be-Dazzlin in the house @ Full Throttle Law studios from Viva Las Vegas!
LIVE Mon Nite 9:00 pm-10:00 pm est: Coast to coast & worldwide!
1400 AM 107.1 FM KSHP- Las Vegas
New segment with Dave Ratner in "Meet on the Street" Dave has an exclusive interview with MICHAEL PEDERSEN of Andrews Products celebrating 50 YEARS in the Industry!!
Tonight we discuss Sturgis 2022! Listen in to hear what badd-assery is going down in the Black Hills this year!
Featuring….
Leah Whaley – New Executive Director @ Sturgis Motorcycle Museum & Hall of Fame…Le brings YEARS of experience to the table …
Toni Woodruff is in the house to talk about the 16th year running of the Biker Bells Women's Day @ the Buffalo Chip – where yours truly will be helping to emcee as well as an extravagant list of ladies representing the motorcycle community …just whos on this list?
Marilyn Stemp chimes in for the famed Flying Piston Breakfast featuring all the tiny Strider Bike Builders and many famous motorcycle builders who attend this Rally event 2x a year- check out this year's creations!!
We'll put a wrap on it by discussing motorcycle events coming up locally & nationally!
Our show is fueled by Andrews Products, Sea Foam Products, Kirsh Helmets, J&P Cycles, Biker Belle's Women's Day @ Buffalo Chip, Kass & Moses, Harley-Davidson, Full Throttle Law, Bike Show Mafia, Motorcycle Safety Foundation, Chixs On 66, MegWear,
Hold on tight it's going to be a thrilling ride!
https://facebook.com/Roadhost
https://facebook.com/gina.woods.961
* * * * * * * * * * * *
To Stay updated on all Motorcycle News and Updates …
– simply Click & Subscribe to Bikernet's FREE Weekly Newsletter