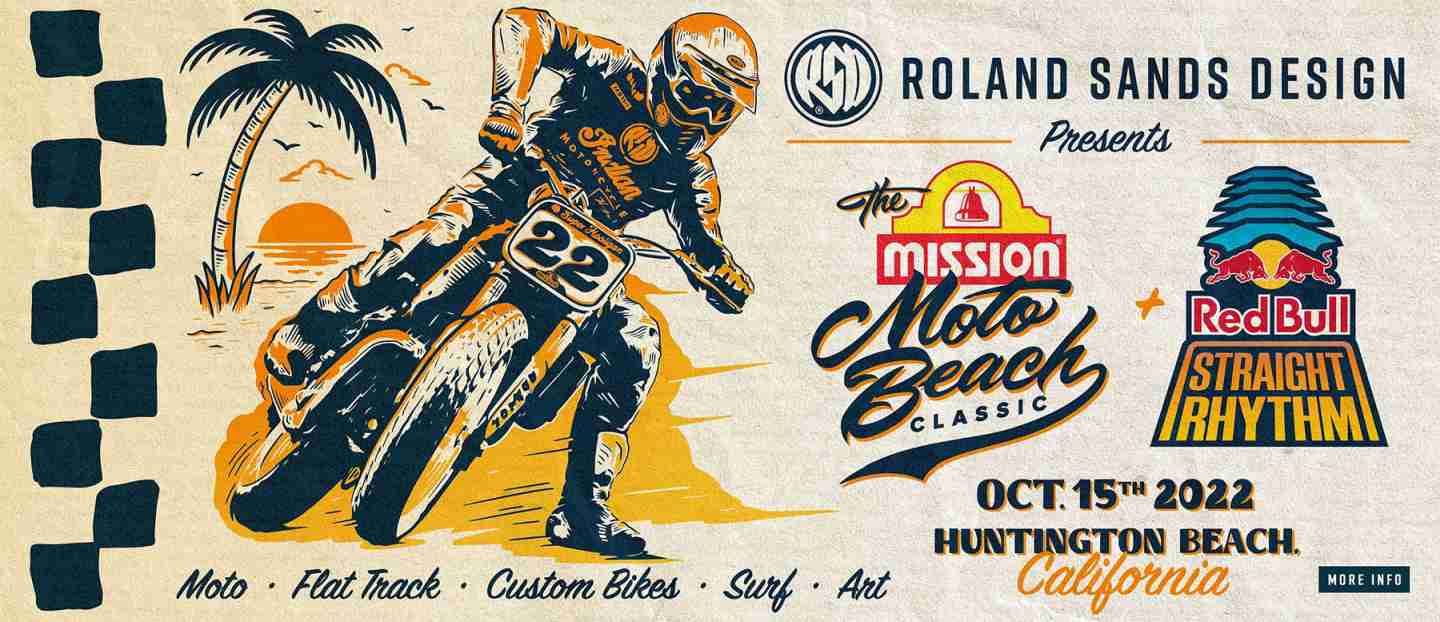 from https://hotbike.com
The inaugural Moto Beach Classic started out as a wild idea from Roland Sands and crew in 2017 and has developed into a Southern California motorcycle cultural explosion. From massive concerts to short track racing on the sand in Huntington Beach, the Moto Beach Classic has always delivered the unexpected in the heart of Southern California surf culture.​
This year's event takes place on October 15, 2022 and brings a massive new partnership with Red Bull and their iconic Red Bull Straight Rhythm Race, for a one-day, jam-packed, moto-centric event with a projected attendance of 20,000 moto fans, at Huntington State Beach.​
The Moto Beach Classic will anchor the cultural side of the day with Super Hooligan National Championship racing and over 100 riders doing battle on a dirt short track built on the sand. Key attractions also include a custom bike show, vendors, art, food, and drinks, all moto centric and all Surfside.
This one-day event will include the best motocross riders on the planet, battling side by side for Straight Rhythm glory on a specially-built dirt motocross track featuring full-size supercross jumps and no turns, parallel to Pacific Coast Highway, alongside the hospitality and perks expected of Red Bull signature events.​
Roland Sands Design is still currently taking submissions to the Moto Classic Bike Show. Please email motorcycle description, images and builder info to info@rolandsands.com.
The vendor village at Moto Beach is a great way to see and experience products from some your favorite brands. Whether you're into motorcycles, e-Bikes, hand crafted art, riding gear, sunglasses, leather goods or jewelry, there is something for everyone. Past vendors included Roland Sands Design, Deus ex Machina, Vans, Indian Motorcycle, Moto Doffo Winery, Stellar Moto, BMW Motorcycles, Dunlop Tires, GEICO, Saddleman Seats, Royal Enfield, KROQ, ASV, MoonEyes, Black Fly's, Super73, STACYC, HD LiveWire, Russ Brown Attorneys, Vance & Hines, Hurley, Inked Iron, We Big, K&N Filters, Yamaha.
Architects of Inspiration Art Show
The Architects of Inspiration will be a centerpiece of the Moto Beach Classic event. A curated collection of unique installations inspired by moto and surf culture. Initially structured​ to solely be an art collective, the Architects of Inspiration has grown to be a larger platform that included more creatives, such as live muralist painters and local music gurus. This year, the Architects of Inspiration Art Show will take place on the sand between the Super Hooligan Dirt Track and the Moto Classic Custom Bike Show. ​

Super Hooligan Flat Track Racing
As with any RSD event, the main focus is on motorcycle racing. The Moto Beach Classic serves as the season finale for AMA Super Hooligan National Championship and also offers anyone a chance to race on the short track built on the sand. Past classes include Run What Ya Brung, Desert MX Open, Vintage Air Cooled, Mad Dog Mini and more, offering a ton of fun, regardless of which side of the handlebars you are on.​
* * * * * * * * * * * * * * * * * * * * * * * * * * * *
STAY UPDATED With All Motorcycling Events, News, Updates, Products, Reviews and More. Grab the Bikernet Blog FREE Weekly Newsletter. CLICK HERE To Sign-up. Free, No Spam Ever, Never any non-motorcycling stuff. Unsubscribe Anytime.