Hey,
We are making serious progress with the Salt Torpedo. I need to draw a notion of the proposed front suspension for our esteemed tubing bender, TIG welder, frame guy.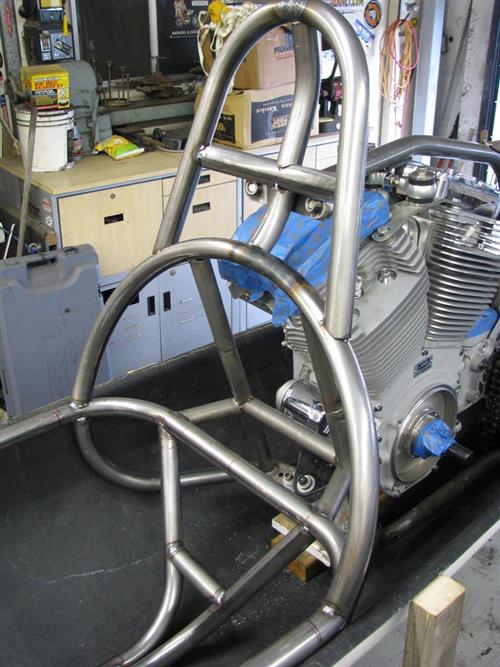 Each week I have my homework assignments and now a member of the Uglies has stepped up to pilot the World's first Streamlined trike. Micah McCloskey is driving out two or three times a week to help with the project and jump in, anytime we need a proposed pilot for fitment.
We are making another change to our Bikernet situation for the betterment of all involved. We are going to post the Bikernet Weekly News in Bikernet and on the Bikernet Blog. Today will be the first shot at it. Hang on, this news will be amazing.


Click for all the info…
The Bikernet Weekly News is sponsored in part by companies who also dig Freedom including: Cycle Source Magazine, the MRF, Las Vegas Bikefest, Iron Trader News, ChopperTown, BorntoRide.com and the Sturgis Motorcycle Museum. Most recently the Smoke Out and Quick Throttle Magazine came on board.


NEW FROM Twin Power (FORMERLY BIKER'S CHOICE) Introduces Klincher Clutches– Twin Power, known for its high-quality parts and accessories designed for the American V-Twin enthusiast, is excited to announce the addition of Klincher Clutches to its product line.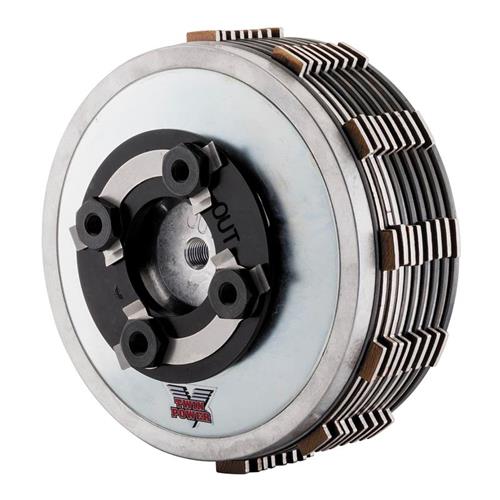 Designed for most 1937–2017 Harley-Davidson models (except M8), the Klincher clutch fits the stock clutch basket with no modifications, offers increased surface area and torque capacity while maintaining an easy lever pull, and the diaphragm spring provides smooth and controllable engagement.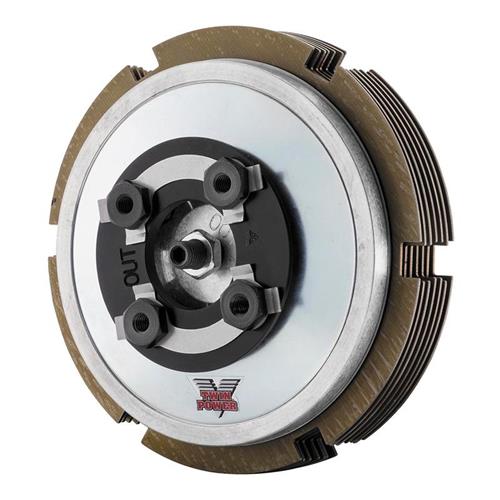 "The Klincher clutch fills the gap between a simple plate kit and a complete replacement assembly," states James Simonelli, Twin Power Brand Manager. "It offers a great increase in performance without the added expense of a complete replacement clutch and is suitable for almost all stock and high-performance street applications."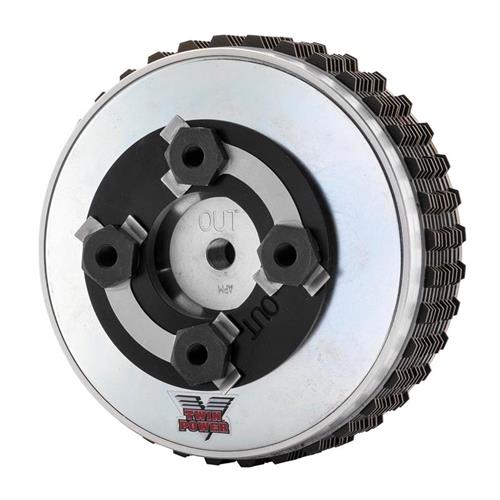 Klincher clutches are race proven, tunable for any application, and proudly made in the USA.
Retail prices for Klincher clutches start at $517.90. Twin Power products are distributed exclusively in the United States by Tucker V-Twin. See your local Tucker V-Twin dealer for more info about Twin Power products.
More information can be found at twinpower-usa.com.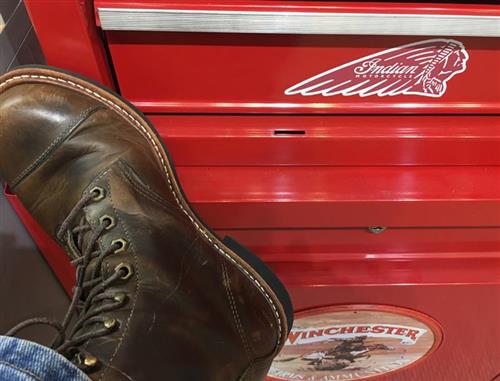 GIVE 'EM DA BOOT REPORT
–I'm lodging the following report from the SUV-Mommy hell of Orange County–
I can't resist the temptation to brag to you about my new cobbler which I found after reading a zillion Yelps and asking around and researching the shit out of everything boots and boot repair ….
I know, too much time sunk into that endeavor when there's wrenchin' to be done and parts to be chased down at swap meets. But, my old cobbler who used to be in Laguna Beach, vanished out of thin air. Gone without a trace …no forwarding number, nuthin'. What the hell?!
He was a cool guy, an old-school Harley rider by the name of Denny who had a little shop right on PCH by the name of Cobbler's Corner. He rode a molded Road King and had a past in an M/C in Arizona… And he always spoke my language, whether on jackets, boots or bags; anything you wanted made righteous, he was your man.
No, smartass, I didn't mean that in an "alternative lifestyle" way! He was an original and a damned good cobbler with mega gnarly hands to show for it… Had been in that game for eons but still seemingly not close to retirin' age.
But what the hell do I know about how much someone has hidden in the mattress. Anyway, like I sez, he up and split. Maybe he's roamin' the country tryin' to dig up the old Captain America bike in some barn in the mid-west. Either that, or he's down Mexico way endeavoring to talk the national assembly into payin' for da wall. Or maybe he's in Havana conferring with Raul Castro over a good cigar about the benefits of joining the Union.
Who knows… In any event, after my flailing about for a bit, this new guy, Victor, in Santa Ana (Victor's Shoe Repair) came highly recommended by my buddies at the Red Wing shoe store in Lake Forest, so I went with that 'cause I figured they wouldn't give me a bum steer. But I gotta' tell ya' – loving my boot's and not lovin' the thought of going with a new, completely unknown-to-me guy, I felt like a drunken gambler at a rigged card game giving him those walkers.
But lo and behold, I just got my boots back from him after only a couple days time, and I'm as happy as a teenager after his first whore house visit, 'cause he done good – real good!
Ride Forever,
–Andreas
Midnight Express Motorcycle Co.,
San Clemente, California – USA
Read the whole sizzling tamale boot rebuild fest on Bikernet, tomorrow. I walked off a plane in Denver, on my way back from Rapid City and a glued on boot soul just fell off, leaving me an inch shorter on my left leg. I blamed it on the TSA guy, who thought I had a gun in my heel. –Bandit



THIS JUST IN FROM THE S&S FACTORY–Not a secret that I have an unnatural love for the Sportster (not those Ironheads, I hate them!) and super-stoked on our rework and price drop on our Big Bore Kits. ~ DZ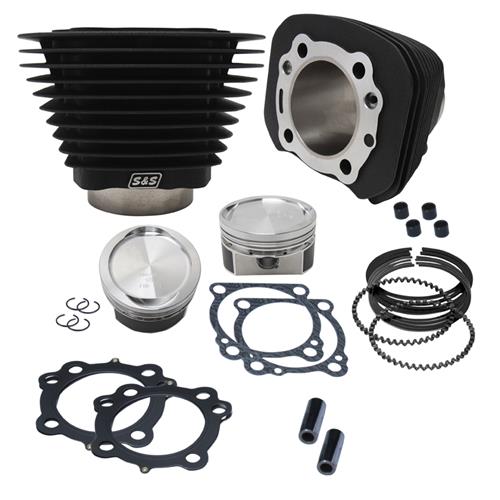 S&S Cycle – Updated Big Bore Kits for HD Sportster Models!
How could we improve a solid product line like Big Bore Kits for HD Sportster Models? Not an easy task, but the S&S development team isn't afraid of the work and after taking a hard look at the entire line realized we needed to make it more affordable.
We get it, the Sportster rider needs more price appropriate parts! Each kit is still the same high quality liner wrapped in cast aluminum and each includes high compression pistons, rings, clips and gaskets.
Our Hooligan Kit still includes 482 cams, premium tappets and all of our XL kits are available in 1200cc or 1250cc. Look for a $200+ savings and kits are available for most 1986-2019 XL models.
For more info and detailed specs, check out http://www.sscycle.com/big-bore-sportster
–David Zemla
VP – Marketing
S&S
Email dzemla@sscycle.com
Advertisement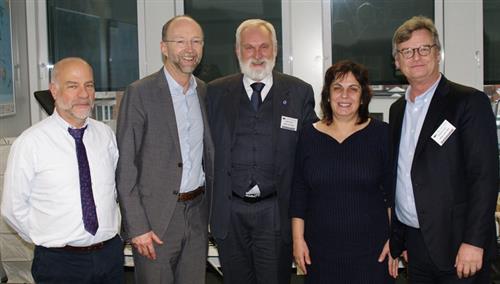 FEMA REPORT–Motorcyclists And The European Commission Have A Top Meeting–
If you want to talk about improving road safety for European motorcyclists, the best place to be is the European Commission. So that is where FEMA went.
A FEMA team had a top meeting with Matthew Baldwin, the recently appointed Deputy Director-General for Mobility and Transport and European coordinator for road safety and sustainable mobility. Also present from the Commision were Fotini Ioannidou and Casto Lopez Benitez from the European Commission's Unit Road Safety.
From left to right: Casto Lopez Benitez, Matthew Baldwin, Dolf Willigers, Fotini Ioannidou and Jesper Christensen. (Photography by Wim Taal)
On the agenda were the Road Infrastructure Safety Management (RISM) Directive, the General Safety Regulation (GSR) and Pedestrian Safety Regulation (PSR), Intelligent Speed Assistance (ISA), the Third Driving License Directive (3DLD), post license training and some smaller issues.
The atmosphere of the meeting was excellent, not in the least because FEMA fully supports the European Commission in the issues of the Road Infrastructure Safety Management Directive (RISM), the General Safety Regulation and Pedestrian Safety Regulation, although with respect to the RISM Directive there was a question about the possibility of different speed limits for motorcycles and cars.
FEMA explained to the European Commission that this is not a good idea and possibly even dangerous for motorcyclists. Asked for motorcyclists' main needs in safer road infrastructure, we mentioned safer barriers, obstacle free roadsides and enough grip on the roads as the main needs. We also promised to provide the Commission with a full list of needs.
On the issue of Intelligent Speed Assistance, we agreed that we are open for discussion about this, as long as the control of the speed is with the rider. Here the views of the European Commission and FEMA didn't differ. This will be worked out later.
About the Third Driving Licence Directive, we explained that the current system, especially the staged access to the full A licence, is not a success and leads to higher costs for new riders. It leads to more accidents of riders without a license at all. It also leads to people finding ways to circumnavigate the three stages, which cannot have been the intention.
FEMA explained that if a staged access system needs to be in place, we need a simpler system with less tests. We all agreed that post licence training can be beneficial to road safety if done well, but the focus should in general be on the riders' abilities to ride safe in traffic. Also, post licence trainings should not come at the expense of good initial training.
The European Commission also expressed the wish for good cooperation inside the motorcycle world, but more importantly also for good cooperation between motorcyclists' organizations with other organizations of vulnerable road users, such as pedestrians and cyclists. Of course, FEMA already has regular contact with the European Cyclists Federation (ECF) about common views and interests; on a small scale we already do cooperate with the ECF.
Present at the meeting were:
Matthew Baldwin – Deputy Director-General for Mobility and Transport and European coordinator for road safety and sustainable mobility
Fotini Ioannidou – Head of Unit Road Safety
Casto Lopez Benitez – Senior Policy Officer of Unit Road Safety
Jesper Christensen – General Secretary SMC (FEMA's largest member organization)
Dolf Willigers – General Secretary FEMA
Wim Taal – Communications Officer FEMA
–FEMA news by Wim Taal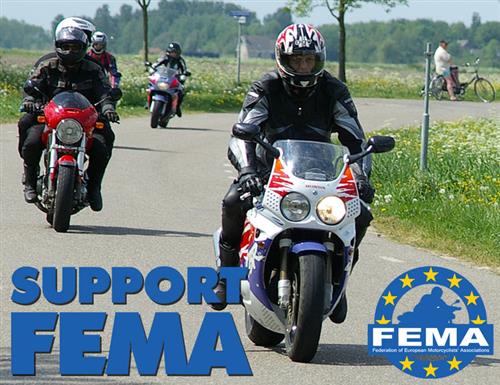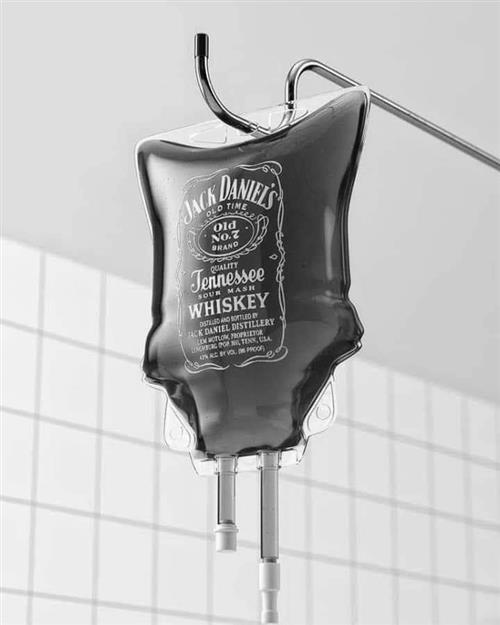 GUN NUT REPORT FROM THE NRA–California: City of Los Angeles Writes CRPA $35,000 Settlement Check
The California Rifle and Pistol Association (CRPA), with support from NRA, recently challenged Los Angeles City's refusal to be transparent and disclose records related to secretly obtained disposition orders used by LAPD to justify the destruction of firearms in its possession. It is estimated that thousands of firearms have been destroyed under the supposed authority of these "ghost" orders?which were never recorded in court records. CRPA has now prevailed in that lawsuit. As a result, the City has agreed to pay CRPA $35,000 as settlement for attorneys' fees and costs incurred by the lawsuit.
The now disclosed records, in connection with other litigation efforts, have uncovered City policies that seek court orders as cover for destroying hundreds of thousands—if not millions—of dollars' worth of firearms over the years. In many instances, such orders have allowed the City to destroy seized firearms without any notice to the owner, let alone after a court hearing with reasonable notice.
This lawsuit is an important victory for both California gun owners and the public alike to hold localities accountable. NRA and CRPA will continue to pursue legal challenges for the benefit of law abiding gun owners in the Golden State. For more information on important litigation continue to check your inbox and the Stand and Fight California web page.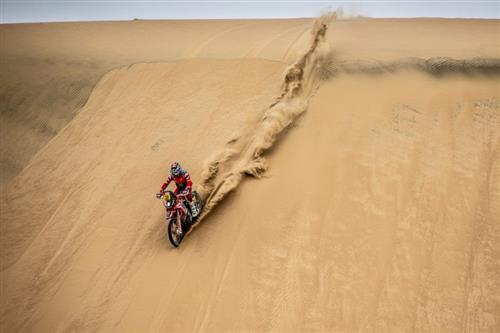 DISASTER In Dakar–Disaster at the Dakar Rally for American front-runner Ricky Brabec.
According to Honda, "The brutality of the Dakar Rally showed its most bitter face to Monster Energy Honda Team as Ricky Brabec was forced out on stage eight.
–from Dealer News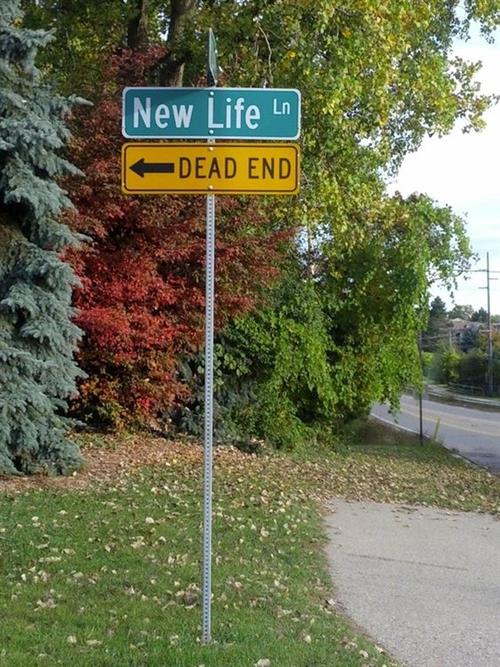 BRAND New Bikernet Reader Comment!–
BIKERNET IS OPEN WEEKLY NEWS for January 10th, 2019
https://www.bikernet.com/pages/BIKERNET_IS_OPEN_WEEKLY_NEWS_for_January_10th_2019.aspx

Another Gr8 issue of BikerNet Weekly News!
–James P Waggaman
airstreamstudio@live.com
Oceanside, CA
Thanks, brother. –Bandit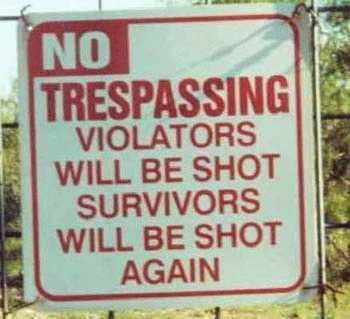 HANG ON TO THE 2018 DARWIN AWARDS–
Nominee No. 1 (San Jose Mercury News):
An unidentified man, using a shotgun like a club to break a former girlfriend's windshield, accidentally shot himself to death when the gun discharged, blowing a hole in his gut.
Nominee No. 2 (Kalamazoo Gazette):
James Burns, 34, a mechanic from Alamo MI, was killed in March as he was trying to repair what police describe as a "farm-type truck." Burns got a friend to drive the truck on a highway while Burns hung underneath so that he could ascertain the source of a troubling noise. Burns' clothes caught on something, however, and the other man found Burns "wrapped in the drive shaft".
They get worse. Read the entire line-up tomorrow on Bikernet–Bandit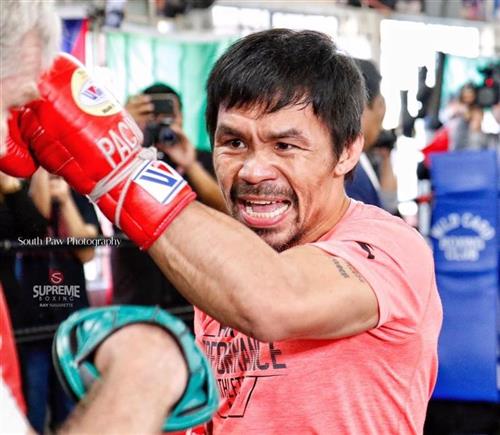 BIKERNET BOXING NEWS—Manny Pacquiao vs. Adrien Broner
The clock is ticking for the Pacquiao vs Broner fight this January 19 at the MGM Grand in Las Vegas. While Pacman has been sighted daily on the Hollywood hiking trails, Adrien Broner is ducking and dodging sexual assault charges, court dates and attorney dealings.
Lets not forget all the negative press. Adrien Broner or "the Problem" as they call him, can't seem to get rid of his own problems. He's accused of groping a female on one occasion, and accused of throwing himself on top of a woman and forcing her to kiss him on another.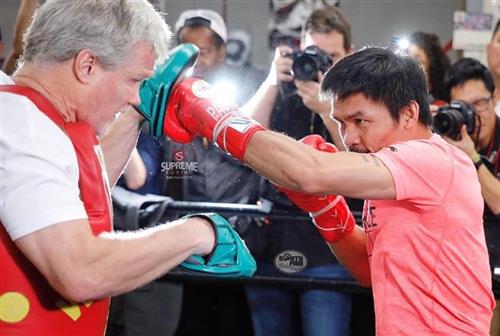 Adrien Broner has been in the ring practically since he could walk. His fights are incredible
to watch. He's a great boxer no doubt!
In lieu of fight week, the media workout was held at the famous Wild Card Boxing Club.
Freddie Roach was there working mitts with Manny like it was nothing. The gym was like a can of sardines with media. The smell of over 30 years of sweat and blood is distinct.
This gym is the real deal, and Freddie and Manny mean business. The Problem is staying tight lipped on his court dates, which is unusual for Adrien Broner who usually has words for days.
Next week will be Broner's media workout. Be sure to stay tuned for all the highlights from fight week!
–Raquel Vasquez with
Southpaw Photography
@southpawphotography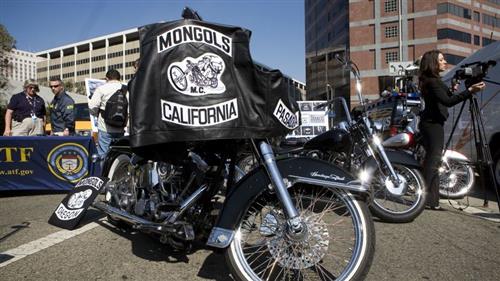 CLUB NEWS–Jury orders Mongols motorcycle club to forfeit logo trademarks
The ability of Mongols leaders to use their image was dealt a blow Friday when a federal jury in Santa Ana decided the club should be stripped of the trademarks it holds on its coveted logo as punishment in a racketeering case.
The verdict, however, set up a 1st Amendment showdown over the right of the club's members to express themselves.
Last month, at the end of a lengthy trial, the same jury convicted the Mongols motorcycle club of racketeering and conspiracy charges, finding the group shared responsibility for murder, attempted murder and drug crimes committed by individual members.
The verdict allowed prosecutors from the U.S. attorney's office to pursue something they had long sought: a court order forcing the Mongols to forfeit the trademarks as part of its sentence.
The jury returned this week to hear a day of testimony and arguments from prosecutors and the Mongols' defense attorney on the forfeiture issue. The panel had to decide whether the logo was linked closely enough to the crimes for which the Mongols organization had been convicted to warrant forcing the club to forfeit the trademarks to the U.S. government.
After two days of deliberating, it decided there was, in fact, a tight nexus between the image and one of the criminal charges the club faced — conspiracy to commit racketeering.
Calling the verdict the "first of its kind in the nation," U.S. Atty. Nicola Hanna said seizing the Mongols trademarks would serve to "attack the sources of a criminal enterprise's economic power and influence."
But the case is not over. U.S. District Judge David O. Carter declined to immediately order the trademarks forfeited and instead set a hearing for next month to address, among other things, thorny 1st Amendment issues raised by the verdict.
The government's pursuit of the trademarks is a novel legal strategy, based on the idea that control of the trademarks would not only cut off the stream of money that Mongols leaders collect from selling patches and other merchandise to members but would also empower government officials to stop Mongols members from wearing any clothing with the potent Mongol image.
An effort to bar Mongols members from displaying the logo, trademark experts and constitutional scholars said, would run the risk of crossing constitutional lines set out by the 1st Amendment, which protects people's rights to associate freely and express themselves….
By JOEL RUBIN
–LA Times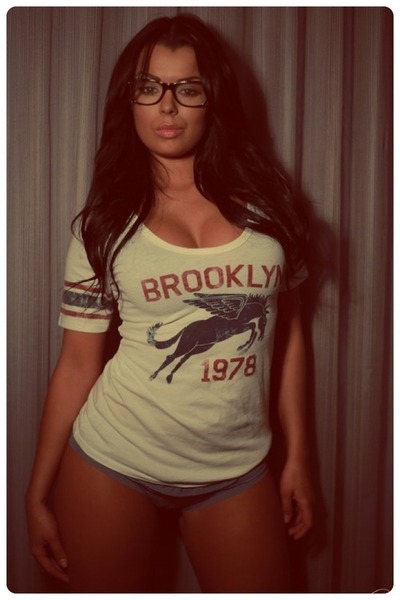 MORE CLUB NEWS–Cop who pulled gun on Hells Angel MC member sentenced
A judge on Thursday sentenced a fired Euclid police officer to five days in jail for pulling a gun during a bar fight with suspected members of the Hells Angels motorcycle club. Todd Gauntner, 32, previously pleaded guilty to using weapons while intoxicated, a first-degree misdemeanor, during an Aug. 24, 2017 incident at a Willoughby bar.
Willoughby Municipal Court Judge Marisa Cornachio sentenced Gauntner to 180 days in prison, but she suspended 175 days. She also sentenced him to one year on probation, and barred him from possessing a gun during that period, according to court records
Gauntner will report to jail Friday morning, court records say.
His attorney, Spiros Gonakis Jr., could not immediately be reached for comment Thursday afternoon. Gauntner fought with two suspected member of the Hells Angels at Frank and Tony's Place on 2nd Street near Clark Avenue in Willoughby, according to police reports.
Gauntner pulled out a gun and held it to one of the men's head, police said. The trio also fought in the bar and broke several bottles.
Euclid Mayor Kirsten Holzheimer Gail fired Gauntner on Sept. 17, saying in her resignation letter that he "put [himself] and many bar patrons at a significant risk of substantial harm due to [his] reckless behavior." The other two men involved in the bar fight — Bradley Peterson, 40, and Dustin Wolf, 28 – each pleaded guilty to aggravated disorderly conduct. Both men were fined $200 and given 30-day jail sentences that were suspended.
Gauntner was a four-year veteran of the Euclid Police Department who was once honored for saving the life of a man shot 16 times. He is also a U.S. Marine Corps. Veteran who served two tours of duty in Afghanistan.
The bar fight was the second time Gauntner was charged with a crime involving a gun. He previously pleaded guilty to discharging a firearm while he was off-duty on Thanksgiving Day, Nov. 26, 2015, in Sims Park in Euclid. In that case, he told investigators he was grieving the death of a family member. A witness reported that Gauntner was "blowing off steam" by shooting into Lake Erie.
A Euclid Municipal Court judge ordered him to pay a $235 fine and to attend counseling in that case. The Euclid Police Department also suspended him for 90 days following the incident.
SOURCE: Cleveland.com
–from Rogue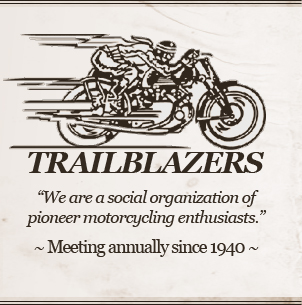 Click to find out more.
75th TRAILBLAZERS NEWS
BANQUET
SATURDAY, APRIL 6, 2019
Banquet Tickets
Go On Sale
Tuesday, January 15
To purchase tickets on the 15th,
visit www.trailblazersmc.com.
If you have questions about purchasing tickets online, please contact:
Don Emde, don@emdebooks.com, or
Mr. Bill, mrbill@vleinc.com.
HOTEL INFORMATION
The closest hotel to the Carson Center is the Carson DoubleTree (they share a parking lot with the Carson Center). We have arranged with the Carson DoubleTree to offer a limited number of rooms at a group discount rate for the nights of Friday and/or Saturday, April 5 and 6.
To take advantage of this discounted rate, visit www.carson.doubletree.com, select your arrival and departure dates, click "Add special rate codes" and enter the Group Code: MIC Then, click "Check Rooms & Rates"
Carson DoubleTree
2 Civic Plaza
Carson, California 90745
(310) 830-9200
www.carson.doubletree.com
JERRY BRANCH, Rest in Peace 1924 -2018
Jerry Branch had an amazing life. Born in Memphis, he joined the Marines in WW2, and then began his life's work on motorcycles before moving to Los Angeles. He had a reputation as the man to go to get the most out of an engine. Jerry received many honors including induction into the AMA Hall of Fame and Trailblazers Hall of Fame. He attended the banquets for many years. Don Emde has written a short bio on Facebook and Cycle News (issue 1, 2019) also has an article. More info at www.motorcyclemuseum.org. Jerry will be remembered and missed. Godspeed.
RACER PARTY IN ST. LOUIS
STILL TIME TO BUY A PLANE TICKET
CELEBRATING THE GREATEST ERA IN FLAT TRACK RACING!
The party is Saturday, February 2nd from 10-4pm, but it starts Friday night, February 1st at the Embassy Suites. Fly into Lambert Field in St. Louis and call for the hotel shuttle (314) 739-8929 & press 0. The shuttle will also take you to and from the hotel, so no need to rent a car. To reserve a room at the Embassy Suites, (314) 789-8929. Ask for the promotional rate until January 18th. Your hosts, the Donelsons and Kim Keen know how to throw a party. Good food, drinks, friends, legends, motorcycles, a first class Flat Track museum and wonderful hosts. RSVP to Kim Keena at (314) 427-1204.
MECUM MOTORCYCLE AUCTION IN LAS VEGAS
The Mecum Motorcycle Auction will be held on January 22-26 at the South Point Hotel and Casino in Las Vegas, Nevada. Hotel Reservations (702) 796-7111. The hotel special rate code is MEC 0107 www.mecum.com
SPEEDWAY RACING AT PERRIS
January 12, Team Racing Round 1
February 2, Team Racing Round 2
5pm Saturday
1205 Burton Road, Perris
Steve Evans (310) 309-9418,
dreamteamspeedway@sbcglobal.net
CARLSBAD MX REUNION IN VISTA
SUNDAY, FEBRUARY 3, 2019
Scott Burnworth invites you to the Carlsbad MX Reunion. It will be held the day after the San Diego Supercross , from 11am – 5pm. It will feature MX legends, racers and fans, a bike show, great beer and good friends. ADMISSION IS FREE. 2545 Progress St., Suite D, Vista CA, 92081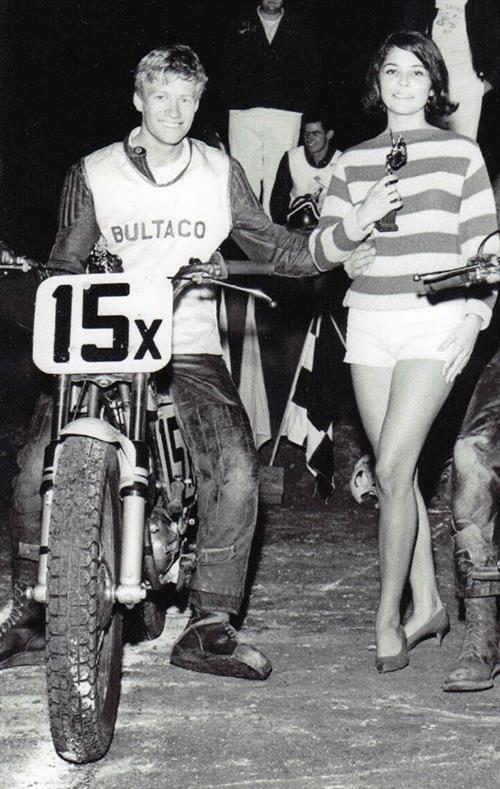 40th ANNIVERSARY OF THE SOBOBA TRAIL RIDE
To be held on Sunday, February 24th on the private Soboba Indian Reservation. Participants navigate 2 single track loops. The event started in the early 70's by Chief Benny Helm. In the early 80's, Bob Graziano, cousin of the Chief and Malcolm Smith teamed up with Tribal Council for approval to launch the Soboba Trail Ride. The AMA sanctioned event Grand Marshall will be Malcolm Smith. Information and online registration at www.sobobarides.biz
SCFTA RACING
Round 1: Saturday, February 9, 2019
Round 2: Saturday, March 9, 2019] Round 3: Saturday, April 6, 2019
Practice
January 19, 2pm – 7pm
February 23, 2pm – 7pm
SOCAL NORTON RIDES
Sunday, January 20: Rockin' BBQ at Dan Shoenwald's
Join the Norton group for a view of one of the best private collections of British motorcycle in Southern California. Dan Shoenwald opens his doors in Camarillo once a year to host this Norton Club event. They will have a great BBQ lunch and live music by Stormy Rice and his band…don't miss this one.
Meet at Café 50's located at 11623 Santa Monica Boulevard in Los Angeles. Maps will be handed out prior to departure. Ride departs at 9 am Sharp.
February 24 they will be going on their Ojai Pilgrimage.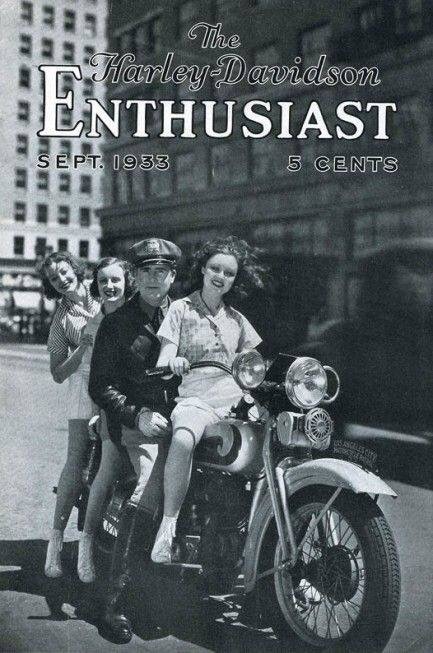 OLD SCHOOL TT SCRAMBLES 2019 SEASON OPENER & 2018 AWARDS PRESENTATION POSTPONED
FIRST RIDE IS FREE WITH OSSRG
This Saturday, January 12th event at Glen Helen has been postponed until Saturday, January 26th. There is a race for everyone. Vintage, Post Vintage, Modern Support, Quad, Side Car and Mini racing for Adults and kids. 200 – 230 cc.
If you don't have a vintage bike, rent one. (760) 403-3634
18585 Verdemont Ranch Road, San Bernardino, CA 92907 (909) 880-3090
www.OldSchoolScramblesRacing.com
For a free first ride to check them out, email Tami@OldSchoolScramblesRacing.com with your first name, last name, and phone number. She will verify and send you a pre-registration link with your personalized FREE, one-time code to use.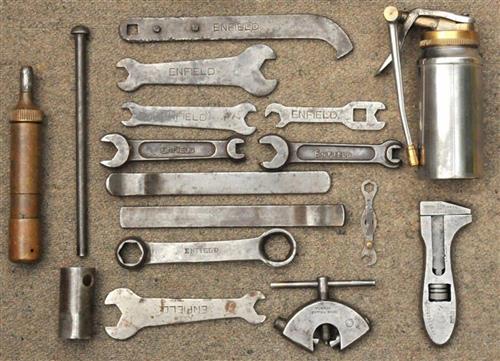 BSAOCSC RIDES
Sunday, January 13th is the "Toluca Loop" Singles Street Ride. For lovers of British and vintage single cylinder motorcycles. Meet at 9am at the NE corner of Griffith Park Zoo parking lot, Ride at 10am. All British bikes welcome, but this route is shorter, designed for BSA "441" and smaller bikes. Info: (818) 843 2892 or (951) 440 3521
Sunday, January 20th is the BSAOCSC Bi-Monthly meeting (or ride)
Sunday, February 24th is the BSAOCSC "Cinder Cone" Dual Sport Ride. It starts in Lucerne Valley at the parking lot of the Highway 247 Restaurant, Junction of Hwy 247 & 18. Arrive at 8am, ride at 9am. For vintage British motorcycles only, with street registration and spark arrestors. (760) 365 9191 or (310) 292 8997.
YOU CAN READ IT IN CYCLE NEWS ISSUE 1, 2019
Travis Pastrana is the AMA 2018 Motorcyclist of the year.
WORLDSBK will return to Laguna Seca July 12-14, 2019
Archives-by Larry Lawrence. "Tribute to Uncle Alan" Famous for breaking CannonBall Baker's cross country record.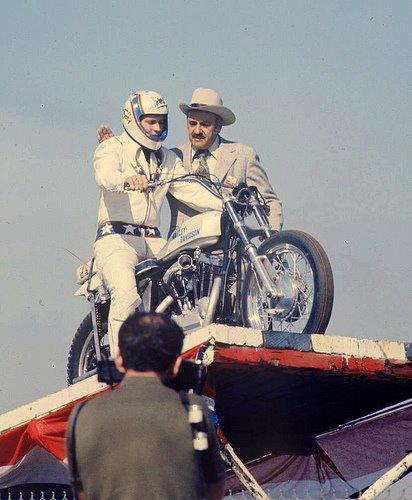 50 YEARS AGO IN CYCLE NEWS
TT racing from Ascot's new TT layout. Cover photo included Dallas Baker, Eddie Wirth, Jim Rice, Bill Manley and Ron Kruseman at the Clyde Litch Benefit race. Motocross at Carlsbad where Mike Runyard, Vic Hannan and Top Rapp were crowned Calif. Junior MX Champs. Wes Cooley, Motorcycle International Committee Pres, was rider profile. J.N. Roberts won in the desert.
40 YEARS AGO
Tony DiStefano and Rich Eierstedt signed with Can-Am. Jeff Ward, Jimmy Weinert and Rex Staten were pro-class winners at CMC Goldenstate MX Series at Saddleback Park. Bobby Schwartz on the AMA Speedway world qualifier at Santa Ana Stadium.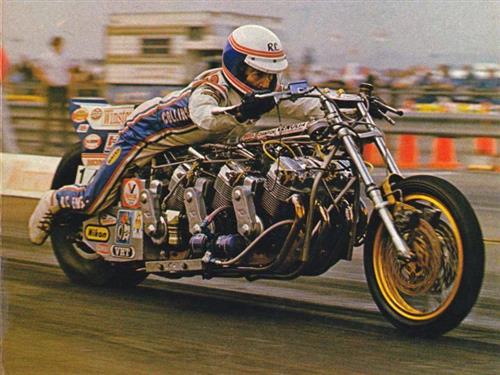 30 YEARS AGO
Freddie Spencer on the cover after returning to GP racing. Kevin Hines, and "East Coast" guy won the Tecate 250K Enduro
SACRAMENTO MILE – MAY 18
Pattie Prestige Frost sent information on the up-coming Sacramento Mile at Cal-Expo. For hotel and ticket information contact Pattie: pattiefrost@icloud.com or (913) 645-8117
Note: hotel rates will go up after April 1st.
This link has lots of info: http://sdi-racing.com/
Learn more on the AFT website.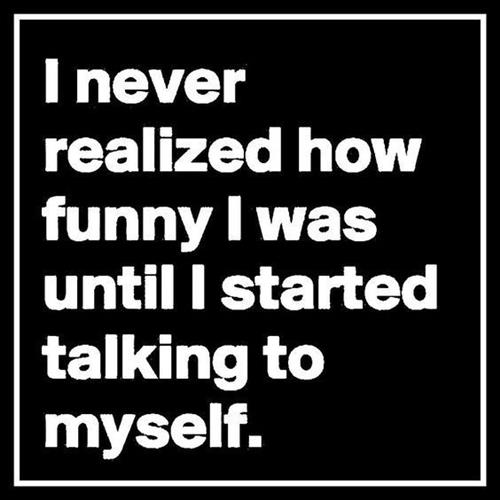 TRAILBLAZER T-SHIRT, HATS & SWEATSHIRT
Available through Team Swolen. Men's T-shirts, black or white, long or short sleeve. Women's shirts, black or white, Embroidered hats, Sweatshirts. You have a choice of the regular Logo or the one celebrating the 75th Anniversary. Check them out and order online at www.teamswolen.com, or (714) 978-3797. Guest Code is trail18.
CORRECTION
The list we sent of those who had passed away included Bill Onga. Evidently, according to emails, he died between two and twenty years ago. We have no idea who sent in his name and obviously didn't verify it. Sorry Bill, we hope you didn't mind friends remembering you again.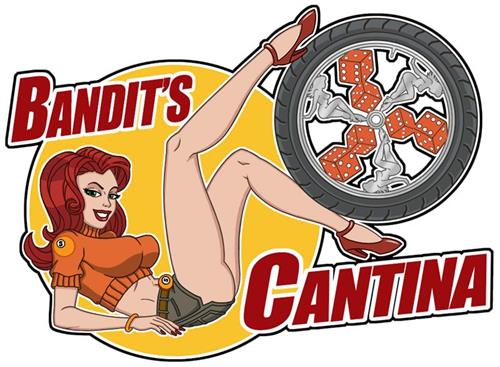 Quick, join up. Just click and go.<
NEW BIKERNET AND BANDIT'S CANTINA PROGRAMS FOR 2019
To keep Bikernet moving forward in the New Year, we've shuffled things around a bit. We've combined Bikernet Baggers and Trikes, and moved all of Bikernet's impressive library and 24 years of archived editorial content into Bandit's Cantina, Bikernet's subscription-supported section. We will now focus on the Bikernet Blog and include all Bikernet Weekly News columns inside the Blog.
We will keep the Bikernet Blog active daily and accessible for free. All major content will be expanded into the Cantina.
So, from a business side here's how it will work for the New Year. We will continue to build great content featuring the Weekly News, a variety of features and tech articles.
Our readers can stay abreast of all the action on Bikernet by joining the Cantina for as little as $24 yearly or $39 for two years. They will also receive a special package containing an assortment of Bikernet goodies and bling.
Industry members, if you'd like us to keep supporting your company and promote your products, events or services with editorials, we will do so for a mere $98 a year. Keep sending your press releases and we will take care of them.
For the company that wants to reach all 50,000 Bikernet readers and Bandit's Cantina subscribers 24/7 (plus a 2 million social media reach) your ad will be placed on our Blog page and your banner will accompany any and all of your company's content. Just $165 a month. This also means all of your company content is archived on Bikernet for the duration working 24/7 and supported with your banner ad.
All the best for 2019
Keith R. Ball
1-310-830-0630
KRB@Bikernet.com




See some real classics from the master David Mann.