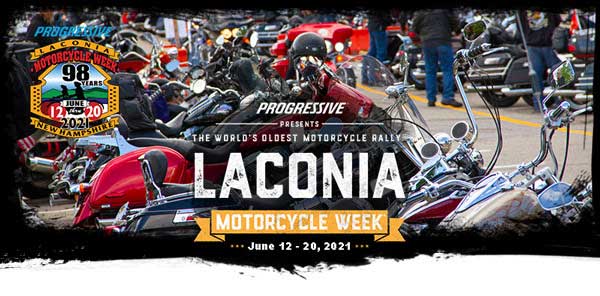 by Andy Hershberger from https://www.wmur.com
LACONIA, N.H. — Laconia's Motorcycle Week will have a very different look and feel than it did in 2020
The declining COVID-19 numbers are making a big difference this year as Laconia gets ready for the 98th annual Motorcycle Week.
"It means we're getting back on to life and back on to what we all do best in the hospitality industry, so we were grateful to have it last year, but this year is especially important," said Cynthia Makris, Motorcycle Week president.
There was a rally last year, but it was a completely different event. It was held in August instead of June, crowds were down and the normal carnival atmosphere suffered.
One difference this year will be the vendor tents. Last year, just four nonprofits were allowed to set up shop in Laconia. This year, there will be more than 200 tents selling everything from T-shirts to leather goods.
Officials said that alone will be a big draw for the event.
"It's huge this year, especially after all our businesses have gone through in the last 12 to 15 months," said Scott Myers, Laconia city manager. "And this really kicks off the summer season. It gives it a jump start because schools aren't quite out yet and it's not really family vacation time."
Officials say safety measures will be in the form of awareness, hoping visitors are mindful of where the state and the country are at in terms of the pandemic.
"We're encouraging everyone to still remain socially distant when possible," said Jennifer Anderson, of the Laconia Motorcycle Week Association. "We're going to have handwashing stations and sanitizer stations available."
Officials said the best way to be socially distant is for people to get on their bikes and ride.