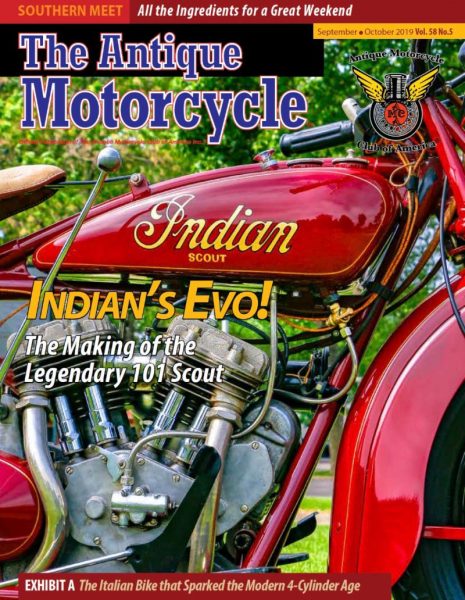 And you get one of the best motorcycle magazines on the planet:
The current issue is in the mail now. If you have not yet received your copy in the mail, you can click on the above cover image to see exactly the same magazine, containing every page, every story and every ad, from your desktop computer, your laptop, your tablet or even your phone!
If you're a New Member or a recently renewed member whose membership expired before August 1st, your first (next) printed issue will be the following issue but please enjoy this digital issue this month.
For those in the U.S. you will receive your printed copy within days, or may have already received it. Members in Canada and Mexico in a week or so and overseas in several weeks. That's the main reason for this email. Regardless of your postal worker's speed, everyone gets this version at the same time.
The digital edition is an invaluable tool for members who want to find a story from an old magazine. As new magazines are posted, we are building up an archive of past issues you can refer to anytime, without fumbling through that stack of printed magazines in the corner of your shop.
All you'll need to take advantage of this wonderful benefit is your AMCA number and your last name. Just fill in that information on the login page and start reading.
In the September / October issue, you'll get:
A behind-the-senes look at how the Viking Chapter turns a historic building into Minnesota's largest motorcycle museum for one weekend each year.
The story behind how one Italian manufacturer sparked a new Golden Age of four-cylinder motorcycles in the 1960s.
A look at all of the ingredients to make up the Southern National Meet at the Denton FarmPark in North Carolina.
So go ahead,  click here (or on the magazine cover above), and experience The Antique Motorcycle Digital Companion Edition.