I've discussed not giving up on anything, including the 5-Ball factory racer, and I've seen success. I went to Zack's houseboat last weekend and we talked about motorcycles and chasing mechanical problems. A small electrical glitch in the headlight triggered his circuit breaker and killed the bike.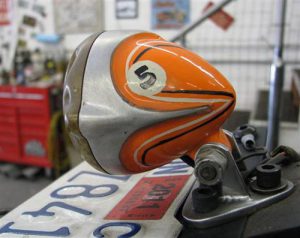 I'll dig into my headlight. You never know. I recently changed out my cam for a slightly different JIMS cam. I checked the intake manifold for leaks by spraying around the seal between the heads and the manifold with even WD-40 or contact cleaner. Almost anything will change the idle if it's leaking.
Let's get to the news and I'll report on more tech efforts. The Bikernet News is proudly sponsored by Cycle Source Magazine, Iron Trader, The esteemed Motorcycle Riders Foundation, ChopperTown, and Las Vegas Bike Fest.
– See more from the NRA, the Senator, the Stealth, the Doctor, BDL, Custom Cycle Engineering, Law Tigers, Metal Sport, and even Saddlemen Seats
here
.