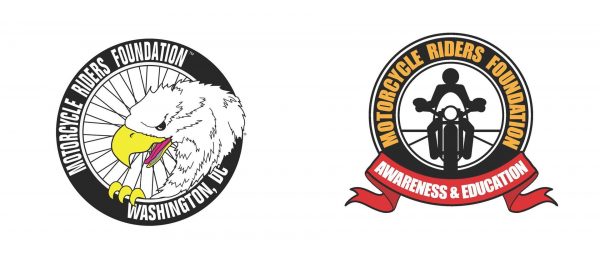 Dear Brothers and Sisters of the Wind,
Although we may have never met, I believe that I know you. Yeah, that may seem a little presumptuous on my part, especially since I'm going to ask you for money.
However, before I ask, please allow me to introduce myself:  Fifty plus years riding; forty plus years motorcyclist rights advocacy; thirty plus years committed to the mission of the Motorcycle Riders Foundation. And, as I said to MRF members last year…  "We may not know each other and we may not have a lot in common, but we do have at least two things that we value… Our past and our futures are woven together with the love of motorcycles and our love of freedom."
Your rights, your motorcycle, and your lifestyle are under siege.Nope, that's not some cliché from a well-paid Madison Avenue advertising agency. It's real, and it's happening on a regular basis. However, the MRF is relentlessly working to keep the siege at bay. MRF members are updated regularly on profiling, the Road to Zero, E-15, driver-less vehicles, plus an almost never-ending series of attacks on our rights, our motorcycles, and our lifestyle.
Thanks to you and the generosity of other MRF members in 2018, the MRF took the most successful ever Bikers inside the Beltway (BITB) to members of Congress. Over 150 motorcyclists representing 33 states, 40 motorcycle clubs and independent riders converged on Washington with one purpose – to repel the siege!
However, the work is not complete.
The approval of the anti-profiling resolution (S. Res.154) by the Senate in December 2018 came from a determination by the MRF and dedication by MRF members. All-encompassing planning was at the root of that success. BITB is successful and a tribute to its conceptual father, "Boz" Kerr, because extensive planning is at the top of our list.
With a pre-event briefing and Q&A the day before, participants are given a "playbook," well-schooled on the issues, appointment times, and what to expect when meeting with their members of Congress. That playbook is used throughout the year.
In addition to the playbook and "leave-behinds," the MRF's 2019 Legislative & Regulatory Priorities is a working game plan on what's important to MRF members as we prepare to meet the next session of Congress. For more details on the 2019 Legislative & Regulatory Priorities, go to www.MRF.org.
On May 21, 2019, the MRF brings a well-orchestrated counterattack on the siege against your rights, your motorcycle and your lifestyle back to where it all begins – Capitol Hill.As always, you are invited to join this group of dedicated and determined freedom fighters as we take our message directly to our friends and adversaries in Congress.
Thanks to you and the generosity of other MRF members, expenses for BITB 2018 were paid without taxing the MRF treasury.  The ancillary costs for printing, permits, and related expenses are nearly $5,000. We are once again appealing to your generosity and your belief that the MRF is on task with BITB.
When talking with members at the Meet of the Minds and Bikers inside the Beltway, I'm confident that you value your motorcycle and your freedom as much as I valuemine.  Your contribution of $10, $20, $50, or $100 will help your MRF bring the voice of motorcyclists to members of Congress. With the leave-behind handouts that your contribution helps purchase, members of Congress and their staff will be remindedthat the MRF is not going to be ignored, forgotten, or go away!
The legacy of Boz Kerr will continue when your MRF leads Bikers inside the Beltway to Capitol Hill. Again, we would like you to join us on that ride as we once again take our message directly to members of Congress.
Schedule too jammed to attend BITB?  Please go to www.MRFA&E.ORG to make a tax-deductible contribution of $10, $20, $50, or $100 to raise funds needed to offset the administrative and printing costs of sponsoring BITB 2019.  Motorcycle Riders Foundation Awareness & Education, Inc. (MRF A&E) is a not for profit 501(c)3 and sponsors BITB with an awareness presentation to members of Congress.
OR … Mail your contribution to:
Motorcycle Riders Foundation Awareness & Education, Inc.,
2221 S. Clark St.; 11th Floor
Arlington VA 22202
Your support of BITB is much appreciated!  The efforts to promote and protect the rights of motorcyclists could not be done without members such as yourself. 
Yours in Freedom,
Fred Harrell
Director, Conferences & Events
P.S. Rooms at the Governor's House Inn and Clarion Hotels are still available. However, this year's BITB may rival last year's record-setting success.  The event is free, but you must make your hotel reservations no later than April 19.
Thank you, and I look forward to seeing you in Washington on May 21!!
About Motorcycle Riders Foundation
The Motorcycle Riders Foundation (MRF) provides leadership at the federal level for states' motorcyclists' rights organizations as well as motorcycle clubs and individual riders. The MRF is chiefly concerned with issues at the national and international levels that impact the freedom and safety of American street motorcyclists. The MRF is committed to being a national advocate for the advancement of motorcycling and its associated lifestyle and works in conjunction with its partners to help educate elected officials and policymakers in Washington and beyond.