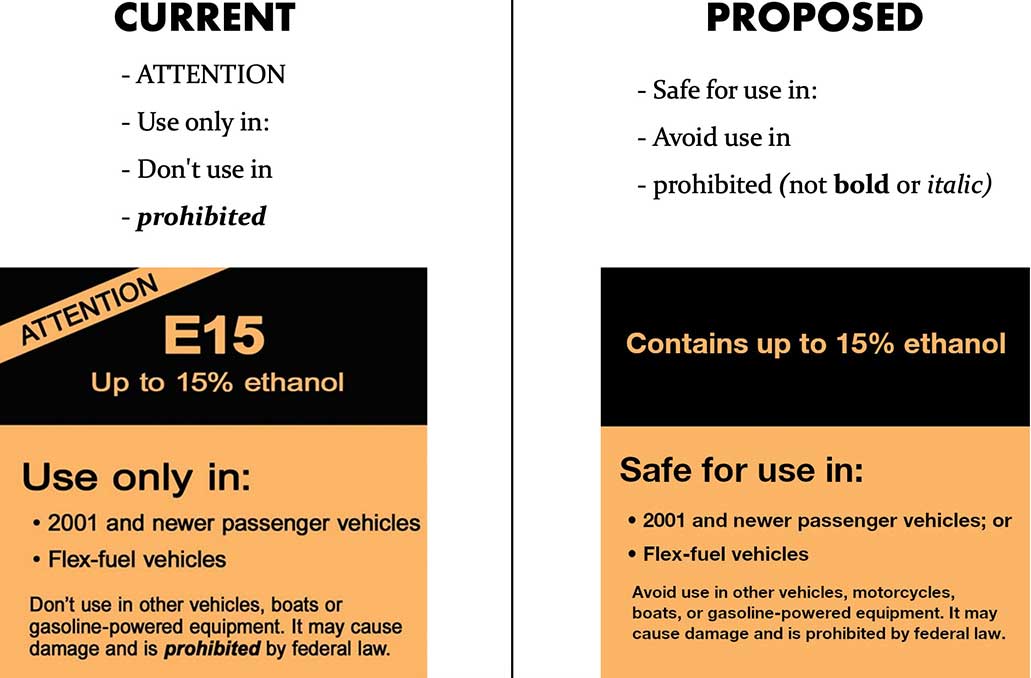 MIC Tackles Harmful E15 Fuel Labeling Changes that Could Hurt Engines
The MIC is opposing proposed changes by the U.S. Environmental Protection Agency to modify and remove E15 fuel labeling requirements at gas pumps nationwide. This fuel includes high levels of ethanol, between 10.5 and 15 percent, which can harm powersports engines, degrade performance, increase emissions, cause fuel leaks and even engine failures – as well as voiding manufacturer warranties.
The proposed labeling changes will make it more difficult for consumers to distinguish the difference between E15 and the less harmful E10 fuel, and will fail to communicate the risks of improper E15 use.
"While we appreciate the addition of the word 'motorcycles' in the proposed label, we are concerned that the other significant changes to the label minimize its effect and make it look like just another sticker, rather than an alert that people need to pay attention to," said Scott Schloegel, senior vice president at the MIC Government Relations Office.
"The proposed warning label does not adequately notify consumers about the improper use of E15," he said. "To the contrary, the proposed changes stress 'Safe for use in' rather than drawing 'ATTENTION' to the label and instructing them to 'Use only in' certain products. The proposed label also removes other critical alert language and replaces it with more matter-of-fact language as outlined in the comparisons below."
The MIC's GRO has written to the new EPA Administrator Michael S. Regan, stating that the proposed labeling changes will result in adverse environmental, safety, and economic consequences, and deny consumers basic information about engine compatibility. Under the proposed labeling requirements, the words "ATTENTION" and "E15 Up to 15% Ethanol" and "Use Only In" would be replaced with "Contains Up to 15% Ethanol" and "Safe for Use In."
"The labeling changes do not adequately alert tens of millions of powersports consumers," Schloegel said. "Fuel dispensers should absolutely be equipped with clear and direct signage."
A Harris Poll conducted in February 2020, on behalf of the Outdoor Power Equipment Institute, found that an increasing number of Americans, nearly two in five last year, mistakenly believe that high-ethanol gasoline blends are safe for use in lawn equipment or other small-engine products. The poll found that more than three in five Americans assume that any fuel sold at pumps nationwide is safe for all of their gas-powered products. Further, many consumers said that E15 labeling was ineffective in communicating the danger of using that fuel type in small engines found in motorcycles, ATVs, side-by-sides, and other gasoline-powered machines.