MUST-SEE EXHIBITS
"Off-Road Harley-Davidson"
Opening Nov. 21, 2020; Media Preview: Friday, Nov. 20
In the decades before America paved its highways, early riders had to be prepared for all sorts of terrain: sand, clay or dirt – and wandering those makeshift byways were Harley-Davidson® motorcycles. Today, it's called off-road or adventure touring; back then it was just called riding. Since 1903, Harley-Davidson motorcycles proved their toughness by riding over wooded hills, through stone-choked creek beds and up mountain sides. "Off-Road Harley-Davidson" tells the history of motorcycles designed for rough roads, the people who rode them, and the adventures they shared. Stay tuned to the H-D Museum social channels for a behind-the-scenes look at this exhibit.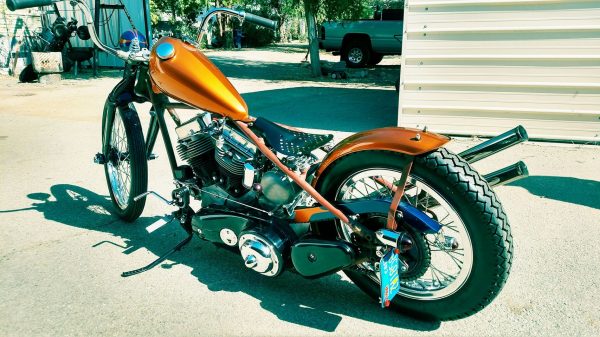 "Performance Builds from Born-Free"
Now open (images available upon request)
The Born-Free Motorcycle Show has been bringing together intrepid builders for more than a decade. The H-D Museum is pleased to display the passion projects of four top-notch Born-Free wrenchers whose canvas is a stock Harley- Davidson® motorcycle. Now on display in the Engine Room.
Stevan Dohanos painting, "Tex's Motorcycle"
Dohanos, a frequent contributor to the Saturday Evening Post, enjoyed capturing his subjects as they were in real life. For this piece, Dohanos found his muse on a street in Georgetown, Conn. "Tex" Keller had decorated his saddle bags with nickel spots and covered his saddle with fur, putting his own flair on the Harley-Davidson® motorcycle. Though Dohanos probably didn't title the work, many motorcyclists now refer to it as "Tex's Motorcycle" and prints of it can be found in shops across the country. The original has found a home at the H-D Museum.
"Building a Milwaukee Icon: Harley-Davidson's Juneau Avenue Factory"
(Now open)
A recently recovered cache of architectural drawings includes plans for the original Juneau Avenue facility. The pencil drawings, along with archival photographs, demonstrate the whirlwind pace of the company's early growth. While building an international business—going from producing just over 1,000 motorcycles in 1909 to manufacturing 27,000 motorcycles in 1920—the company's Milwaukee factory experienced near-constant expansion. Construction through this relatively brief period created the buildings that today, a century later, are still the proud home of Harley-Davidson.
"Building a Milwaukee Icon" provides a snapshot of Harley-Davidson's formative years and illustrates a chapter of Milwaukee history when the city was known as the "Machine Shop to the World." Stay tuned to the H-D Museum social channels for a behind-the-scenes look at this exhibit.