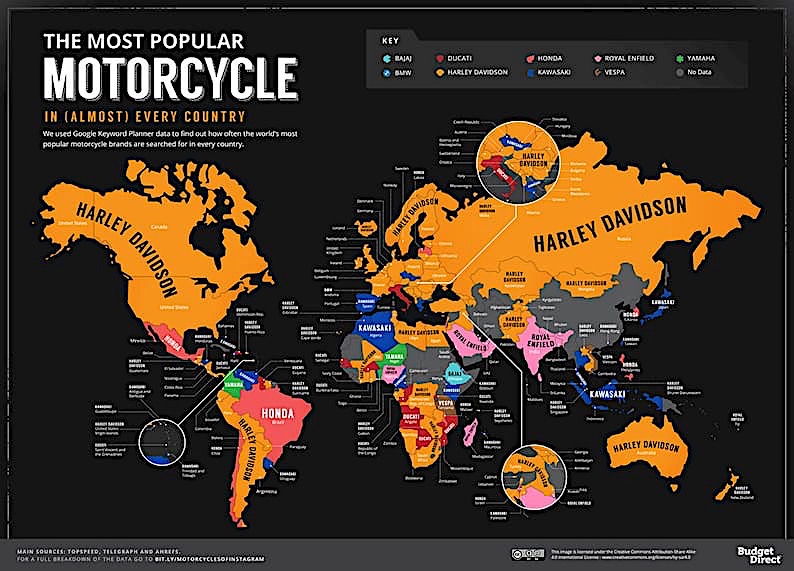 by Daniel Patrascu from https://www.autoevolution.com
The above title is perhaps the obvious statement of the week. One really doesn't need statistics to know that Harley-Davidson is an Internet phenomenon: if we don't know it for sure, it's something most us feel in our guts. But it's nice to get some confirmation from time to time.
Born in 1903 in Milwaukee, Wisconsin, Harley has grown into the most successful motorcycle brand ever. And by successful we don't necessarily mean the one that sells the most, but the one most people and custom shops on this planet think/dream of.
As of 2017, Harley makes around 240,000 motorcycles each year – most remain stock, but a great deal of them go down the aftermarket part as well. Many other Harleys come to be from unofficial garages, who make custom rides and try to gain some attention by using Harley parts and slapping the name on the builds.
And the Internet loves them all. According to research conducted by Australian insurance company Budget Direct, Harley-Davidson is the most-searched motorcycle manufacturer in many parts of the world.
How much so? Well, our world is divided into roughly 195 countries, and Harley is at the top of the search engine's list in 83 of them. And we mean the bigger ones, not some forgotten island-state.
You can check out the map available in the photo gallery for details. All the regions you see there in orange are ruled by Harley searches, from the U.S. to the Far East, and from Northern Europe to the southernmost point of Australia.
There are other names on the list as well. In some places, people like Ducati or Honda more, so they use Google to search for those. Others go for Kawasaki or Royal Enfield, and there are even some that enjoying googling Bajaj.
But just a quick glance at the map shows who the true king of the realm really is.