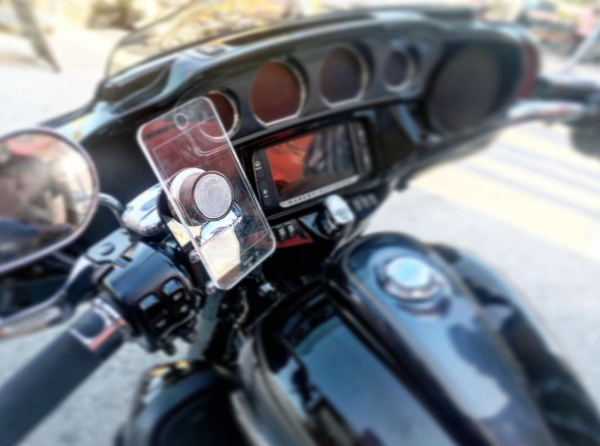 Klock Werks Device Mounts, powered by iOMounts, are now the premium way to secure your phone to your bike with motorcycle-specific mounts for Harley, Indian, Victory, and coming soon, Honda.
These mounts attach to your stock controls and come in either chrome or black. Everything you need to install is included in the box, and mounting it only takes minutes. You'll also want to snag a nomad while you're at it! You can use the nomad universal mount on any bar that is 1/2" to 2" in diameter – your dirt bike, RZR, Slingshot, mountain bike, stroller and more!
Klock Werks tested the magnet, which is the heart of the system. It's called the iOcore, and it can lift a Klock Werks steel fender, no problem. Klock Werks Device Mounts have been tested on the speedway, the dirt track, trails, and countless times on the interstate. The phone stays where it needs to be, and you can rotate the iOcore on the mount so your phone sits at the best angle for you. Just like other awesome Klock Werks parts, this quality part is adjustable!
The process couldn't be any more simple. Open the box, clean the back of your phone with supplied alcohol wipe, and place the thin, stainless steel disc, called the iOadapt, on the back of your device. Let that sit for at least a couple hours to make sure it stays put. Once that iOadapt is firmly attached, install the mount on your stock controls with supplied hardware, place the iOcore magnet on the semisphere, line up the phone with the magnet, and "click", you're done.