There are few things in life as humbling as not being able to take care of yourself. Not being able to do things as simple as getting a plate from the kitchen cabinets will show you how lucky we are to get around and do all the little things that we take for granted. Well thanks to a recent accident I have been humbled. I have ridden hundreds of thousands of miles on many bikes. I've been down a few times, but was always able to get back up and keep on keepin on, even if I had a few broken bones and some road rash. This time I wasn't so lucky, and ended up with both shoulders broken as well as a broken knee and torn ACL.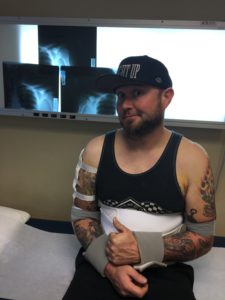 The down side of this wreck, is that it was purely my fault. There wasn't anyone to blame or be mad at other than myself. I screwed up. I got too comfortable and it bit me in the ass. I rode my bike into a curve at a speed that the bike wasn't designed to go. I had two motorcycles, both of which were for the most part purpose built. One is my Dyna that is a blast to ride and will take most any curve I throw it in and the other was a Roadglide that was all set up to tour the country. I gambled that the Roadglide could do what the Dyna could and lost.
I was fortunate that I was wearing a full face DOT helmet or I wouldn't be writing this, as I hit my head pretty hard. I also was wearing my TCX boots that kept me from any ankle damage. What I wasn't wearing were gloves and a jacket or at least a Kevlar lined shirt or hoodie. I got lucky and my hands were barely touched, but I did get road rash that would have been completely prevented by wearing my flannel that was in the tour pack. Again, I got too comfortable. I had the gear I needed but neglected to take the time to put it on. Why??? Because it was a short ride and I've done it a hundred times, I'll be fine. I wasn't fine. I don't know if any gear outside of a full racing suit would have saved my knee and shoulders, but I wish that I would have at least worn what I had with me.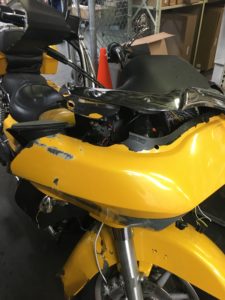 I have been humbled. I have had to ask others to literally do everything for me. I couldn't drive for five weeks. I have been pretty independent since getting my license at sixteen years old, so depending on others was hard. It was one thing to ask for a ride, but when you must have an old friend bathe you, you are humbled.
Will I ride again you may ask. I already have. Seven weeks to the day I got on my Dyna and rode to a swap meet on the other side of town. It hurt in several places, but I am reminded to not get too comfortable again. I will still ride on a near daily basis, but now it will all be on one bike. I lost lots of money, time out of my life, as well as brought on pain that I will deal with forever, and it was all my fault.
The point to me telling this story is to hopefully prevent others from making the same mistake. We all get comfortable, I got too comfortable. We all probably have the basic riding gear, we just need to take the time and wear it.
We can't predict or prevent the actions of others, but we can our own. Ride safe, ride protected, and ride sober. The life you save could be your own.
See you on the road,
Pauly
Source: The J&P Cycles Blog.