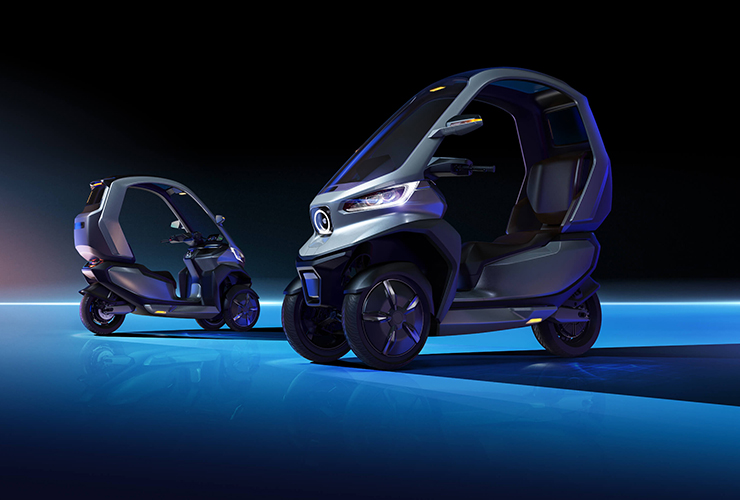 by Mircea Panait from https://www.autoevolution.com
Harley-Davidson isn't trailblazing the industry with the LiveWire electric motorcycle. Two-wheeled vehicles with e-propulsion are huge in China and a few other places around the world, but the Middle Kingdom takes the lion's share in terms of volume.
More than 30 million units are sold in the People's Republic each year, and this causes a little bit of chaos in the urban jungle. Major cities such as Beijing and Taiwan have banned e-scooters in 2016 along with segways, but nevertheless, business is good.
So good in fact, a startup called NIU decided to showcase two models at the CES 2020 for the U.S. market. Not to be confused with Chinese automaker NIO, the company plans to roll out the RQi-GT electric motorcycle and TQi-GT covered three-wheeler to places like San Francisco, San Diego, Austin, Chicago, Washington, D.C., and even Honolulu.
NIU first landed in the United States with a fleet of 1,000 mopeds in Brooklyn as part of a partnership with Revel. The mopeds in question feature 60 and 80 miles or range, respectively, Panasonic batteries, and up to 3,800 watts of get-up-and-go from the e-motor.
Billed as an urban performance motorcycle, the RQi-GT is capable of 160 km/h (100 miles per hour) from 30 kW and two removable batteries with a total capacity of 6.5 kWh. In other words, riders can expect up to 130 kilometers (80 miles) in one go. Thanks to that kind of range, the RQi-GT has the makings of an interesting commuter mobile.
Next up, the TQi-GT is a little more special because it's the manufacturer's first self-balancing electric three-wheeler. As if that kind of technological wizardry wasn't enough, look forward to autonomous driving (or riding?) functionalities such as self parking.
The TQi-GT comes in second in terms of top speed (80 km/h or 50 miles per hour) but it features a similar range as the electric motorcycle. Last, but certainly not least, 5G connectivity translates to real-time vehicle diagnostics, remote start, and over-the-air updates for the two- and three-wheeler.
NIU plans to start production of the RQi-GT and TQi-GT for the U.S. sometime in the second half of 2020, and the first deliveries are scheduled a few months after that.