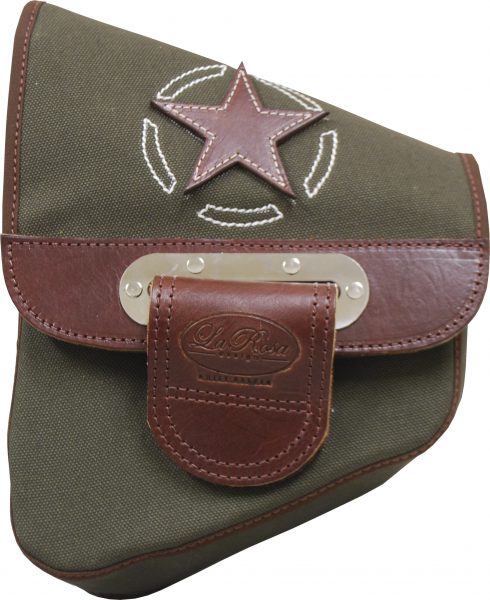 La Rosa makes great motorcycle saddlebags and seats from leather, but recently explored a trendy material: canvas.
A great example of the results is the La Rosa Design eye catching Army Green Canvas with Brown Leather Star Collection. Items include Saddle Bags, Front Fork Tool Bag and a Police Style Saddle Seat with matching Passenger Pillion Pad. The whole collection is made with quality heavy weight military grade canvas and are designed to fit all years HD Softail models.
The Army Green with Brown Leather Star Canvas Softail Saddle Bag ($124.99) by La Rosa Design is available for the left or right side of your bike. Designed to fit all Softail models, they are made from a 24oz. water proof military grade canvas, use high-quality stainless steel hardware and are reinforced with a thick leather backing and straps to ensure durability and shape retention over time. A matching Army Green Canvas Front Fork Tool Bag ($84.99) universally fits on all Harley-Davidson front forks and uses the same durable canvas, hardware and leather reinforcement as the saddle bags.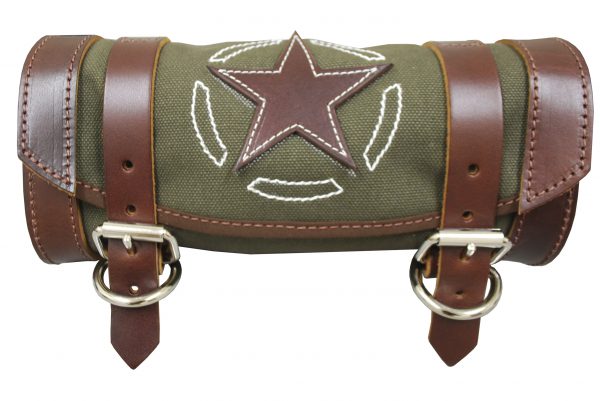 La Rosa Army Green Canvas with Brown Leather Star Custom 16″ Classic Police Solo Seat ($264.99) measures 16″ by 17″. It features a visible black seat pan, uses ultra comfortable high density foam filling and is covered with 24oz, water proof military grade canvas. Each seat comes with a front mount t-bar with swivel bracket and a set of 2″ or 3″ left and right torsion springs and fits all Softail models (Note: the La Rosa Design Solo Seat Conversion Kit is required for some applications). The matching Rear Passenger Pillion Pad ($99.99) is made of the same perfect Army Green Canvas and incorporates the identical foam as the solo spring seat. This pad features a firm foundation that enhances both its comfort and durability. It mounts to any rear fender with six suction cups for universal fitment.
More information at 510-567-4157; info@LaRosaDesign.us or www.LaRosaDesign.us.