from https://www.bmwmotorcycles.com
The Great Escape – VISION NEXT 100: The motorcycle of the future
Concept Vehicle. Not available for sale.
Glasses in place of a helmet, smart clothing, full balance without a kickstand: Only three of the many inventions that could become standards for riding a motorcycle and add a new dimension to the sense of freedom in an increasingly digitised world. And the best thing about it: this vision vehicle is already here. Introducing the BMW Motorrad VISION NEXT 100.
"When we develop a motorcycle, we are usually thinking around five to ten years in the future. Looking further ahead is particularly exciting for us and very appealing." – Edgar Heinrich, Head of BMW Motorcycle Design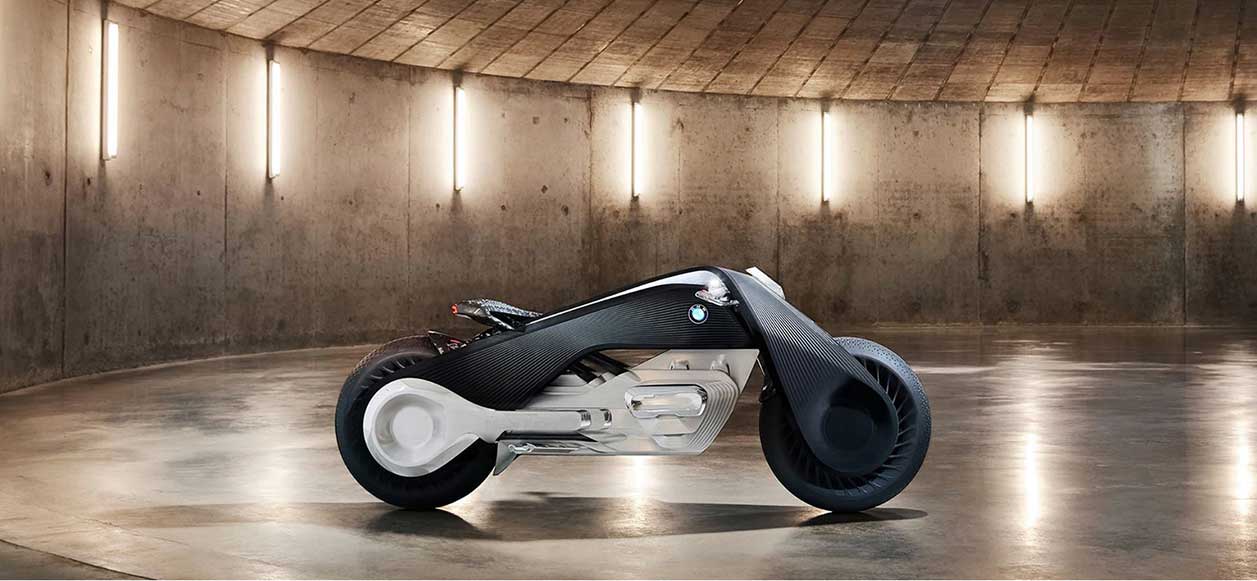 The frame follows the wheel.
The black triangular frame is visually reminiscent of the R 32 from 1923 – the first BMW motorcycle. However, the frame has functionally little to do with the original. The Flexframe is flexible and allows steering manoeuvres without the joints we are familiar with today. If the handlebars are moved, the entire frame changes shape and facilitates the change in direction. Depending on the traffic situation, the forces required for this vary: steering manoeuvres are especially easy at a standstill, while the frame firms up at high speeds. The surfaces are attached so that they offer the wind and weather protection of a fully enclosed motorcycle. The surface of the frame is made of matt black textile.
Self-balancing: no chance of tilting over.
A motorcycle doesn't need a stand. Not when assistance systems ensure perfect balance. Self-balancing enables the BMW Motorrad VISION NEXT 100 to remain stable both during the ride and at a standstill. This enhances safety for the driver. It also makes it easier for beginners, because they are led safely through every riding situation and cannot fall over. But experienced bikers can also profit from self-balancing. Because the motorcycle becomes even more agile, making the riding experience even more dynamic. The assistance systems also expand the rider's capabilities. Regardless of ability and practice, riders are able to constantly expand their boundaries and positively intensify the riding experiences. Making every ride an experience of pure freedom from start to finish.