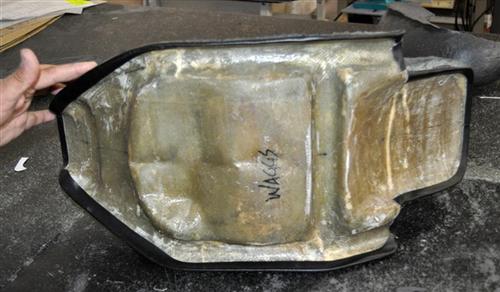 We've come to the Saddlemen point in the story, to finish Jim's seat construction over his custom fiberglass pan. The notion was to help Jim with a cool custom-styled seat, but when it comes to Saddlemen there's much more to seat fabrication, and their mantra revolves around comfort.
Tom Seymour and Dave Eckert have been in the seat-making business for 40-some years and they are as passionate today about the technology as they were when they first poured resin over fiberglass several decades ago. It's a whole new ballgame today, and all to your benefit.
"The code behind seats now is comfort, engine vibration and the effects of road shock," David said. "It's all about how long you can remain in the saddle comfortably. It's the largest piece of real estate on a motorcycle touched by the rider." Seats, pegs and grips have the only interaction with the rider. "A seat must enhance shock absorption, enhance rider's comfort, fix position, govern ride height, and guide the rider in his efforts to maneuver whatever motorcycle he rides."
Here is were you can read the rest of the article.