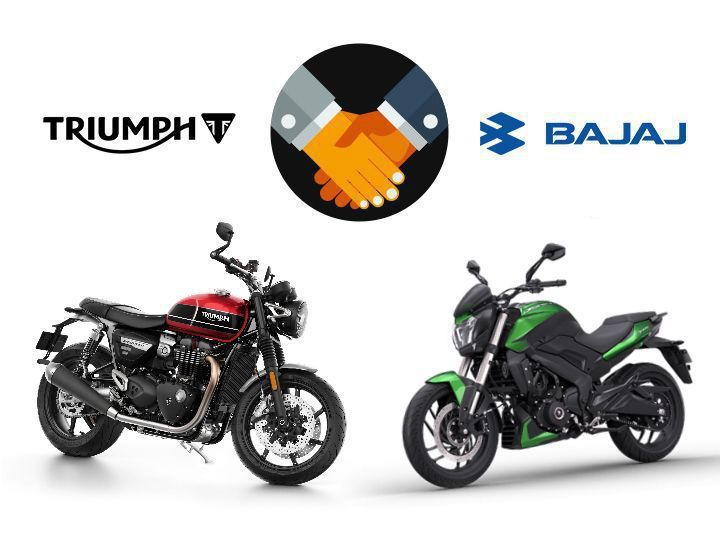 by Nithyanandh Karupp from https://www.rushlane.com
Could be called Bajaj Avenger 400 / 500 upon launch in India.
Over the years, Bajaj Auto has created a solid export operation which has proved to be quite useful when the domestic market undergoes a rough patch such as the ongoing one. About 40% of Bajaj Auto's production is shipped out of the country to around 80 markets worldwide. With its partnership with British sportsbike brand Triumph, Bajaj is looking to further improve those export statistics.
The Pune-based two wheeler maker had announced a non-equity partnership with Triumph Motorcycles in August 2017 and is currently in the process of finalizing the finer details of the agreement. Things should start materializing from end-2019 and we are expecting the first product to be born out of this partnership to be ready in the next 3 years.
Bajaj will take the responsibility of manufacturing the products at its facility in a cost effective manner while its British partner will be in charge of engineering and development. Needless to say, the platforms developed under this partnership will spawn both Bajaj and Triumph branded motorcycles.
The made-by-Bajaj Triumph compact displacement motorcycles will be exported to several markets including the US, Europe and Japan. This was revealed by Rajiv Bajaj at a recent event in Delhi.
With small displacement sportsbike segment steadily gaining popularity across the world, adding Triumph to its production portfolio is expected to boost Bajaj's already strong export operations significantly. Details regarding body styles and displacements of Bajaj-Triumph products are still under wraps but expect them cater to sub-500cc category.
With the KTM Duke and RC ranges, Bajaj Auto has successfully demonstrated its capability to manufacture compact premium motorcycles that can hold their own in international markets. With well established vendor base and know-how of premium product production, the company can easily manage compact displacement Triumphs. It is to be noted that Bajaj is also gearing up to manufacture and export Huqsvarna Vitpilen 401 and Svartpilen 401 street fighters.
Bajaj is also upbeat about the domestic electric two wheeler market which is expected to flourish in the coming years. The recently Chetak electric scooter will be spearheading the brand's electric charge while more such products are in the pipeline. Bajaj is also developing an premium EV platform with KTM for international markets. Qute electric has also been spied on test ahead of launch.