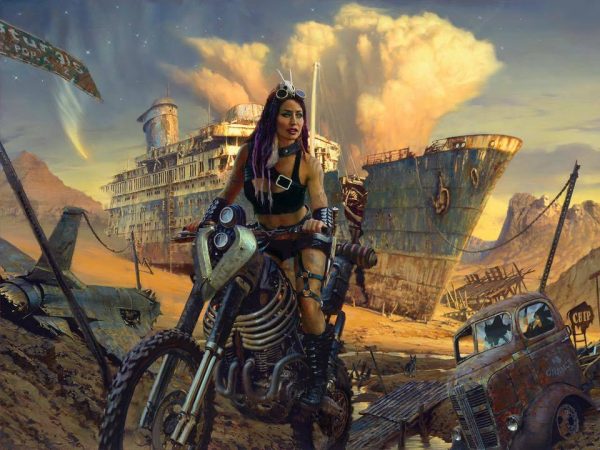 Wanted to share the final image with you.  David has been working on it the past couple of days.  You'll also see a video of the changes he made to the final image.
Now that it's completed, we can begin production on the limited-edition canvas prints.
Details are below.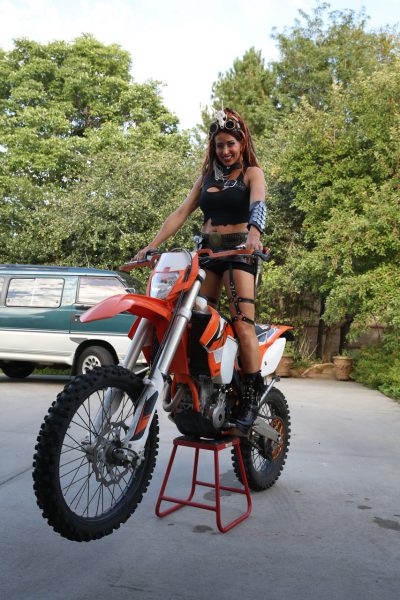 Photo shoot with Elizabeth
This new piece, titled "Population Two" stems from David's burgeoning career as an illustrator/concept artist when he was 19.
"Many people don't know that I got started in Sci Fi illustration/concept art back when I was 19.  I did some drawings for futuristic aliens and ships for Disney.  The genesis for this idea started after spending the last few years reading my friend Graham Hancock's latest books. He has been working with a team of scientists that are certain we the earth experienced a major comet/meteor impact just 12,000 years ago. This piece illustrates what it might look like if one slammed into the Atlantic . So being at the 
Sturgis
 rally, I naturally based it in that area. So that being said: here is a window into a mad max futuristic world. An interesting place to visit, but probably not wanting to live there."
There is a LOT going on in this piece, so we produced a short video with close ups of the cool components.
The canvas print edition will consist of two sizes and will not included a smaller version (too much going on with this one to do it justice in a smaller size).  This may be the start of a new, ongoing series as well.  
** Image size 32×24, $1,295 framed (deduct $200 for a gallery wrap).  Edition of 60 plus 10 Artist Proofs and 10 Hors d' Commerce
** Image size 40×30, $1,895 framed (deduct $300 for a gallery wrap).  Edition of 30 plus 7 Artist Proofs and 7 Hors d'Commerce.
Each canvas print will come hand-signed by David and numbered, with Certificate of Authenticity.
If you'd like to get on the list to reserve one, simply respond to this email or call me at 303-913-4840.
Thanks for your time!
Greg Rhodes
International Sales Director
Uhl Studios
15801 W. Colfax Avenue
Golden, CO 80401
303-913-4840