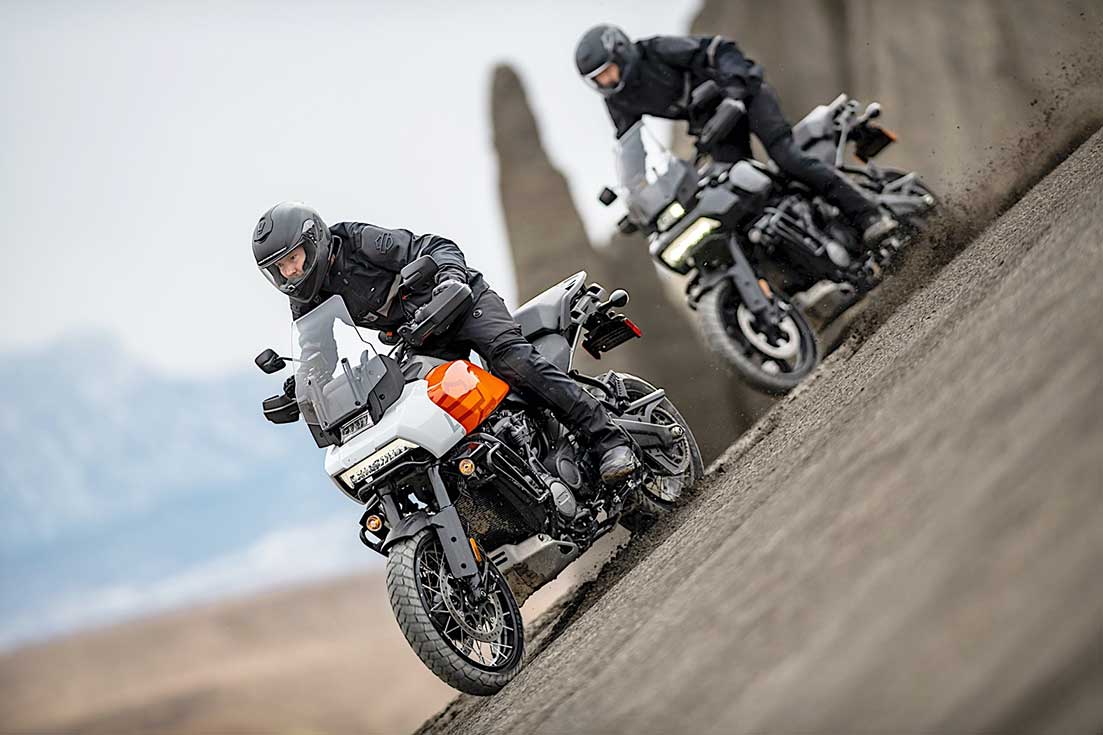 Harley-Davidson Pan America Goes Live as 1250 and 1250 Special, All Bets Are Off
by Daniel Patrascu from https://www.autoevolution.com
It's been a hell of a ride for Harley-Davidson these past few years. In a very short time, it lost its CEO, had to abandon a major market, and decided to realign its racing priorities. It even had to unofficially cancel the launch of some new bikes, like the Bronx, but at the same time managed to hang on to its biggest bet in ages, the Pan America.
The bike, revealed in full on Monday, February 22, is the iconic bike maker's first major foray into the world of adventure bikes. Harley is finally making a motorcycle that could be easily be ridden both on the road and off of it, and that's a big gamble for an entity that in recent times liked to play it safe.
As expected, the Pan America will be made available in two versions, 1250 and 1250 Special. Both get their kicks from the same engine of the liquid-cooled Revolution Max V-Twin family, 1,250cc in displacement and capable of generating 150 hp of power. For weight-saving reasons, the engine is integrated into the bikes as the central member of the chassis, helping the 1250 tips the scale at 534 lb (242 kg), and the Special at 559 lb (254 kg).
The 1250 rides on 19-inch front and 17-inch rear wheels, and adds things like cruise control, a 5.6 gallons (21 liters) fuel tank, and all-LED lighting. The Special builds on that with Tire Pressure Monitoring System (TPMS), adaptive headlamp, and heated handgrips, among others.
The bikes ride on electronically adjustable semi-active front and rear suspension systems and are packed with electronic rider aides, including ride modes. Harley went one step further in the technology department and is offering something called Adaptive Ride Height (ARH), which is a system that automatically transitions between a low stopped position and optimal ride height when the motorcycle is in motion.
"From its inception more than a century ago, when many roads were little more than dirt trails, Harley-Davidson has stood for adventure. So I'm very proud to present Pan America as the first adventure touring bike designed and built in America," said in a statement Jochen Zeitz, CEO Harley-Davidson.
"The Pan America models exude that go-anywhere spirit, shared today by riders in the US and around the globe who want to experience the world on a motorcycle."
To make sure the Pan America appeals to a great number of riders, Harley and its partners will offer all the needed accessories, from luggage systems to riding gear.
Full details about the two versions of the Pan America can be seen on Harley-Davidson website.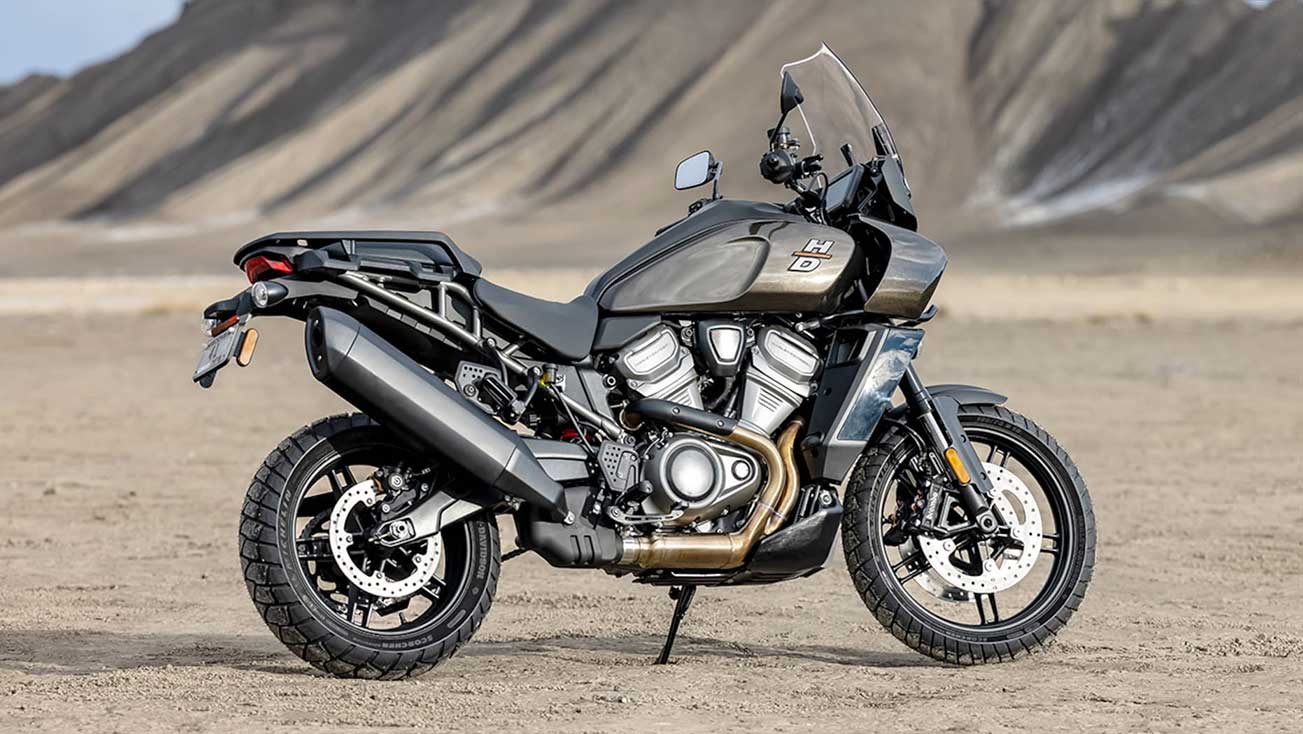 The Harley-Davidson Pan America 1250 is an off-road hog
by Gary Gastelu from https://www.foxnews.com
Harley-Davidson is taking the brand into the wilderness.
The Milwaukee-based motorcycle company has unveiled the production version of its first adventure touring style bike, the Pan America 1250.
A far cry from its classic cruisers, the Pan America 1250 was built for on and off-road riding and is powered by the Revolution Max 1250cc engine. The all-new V-twin is rated at 150 hp and 94 lb-ft of torque and serves as a stressed member of the chassis and sends power to the rear wheel through a six-speed transmission and chain.
The 534-pound bike has 8.3 inches of ground clearance and is equipped with a Showa suspension that provides 7.5-inches of wheel travel via inverted front forks and a monoshock rear swingarm. The top Pan America 1250 Special adds a semi-active version that adjusts damping through several ride modes for different surfaces and lowers the bike a couple of inches when its parked to make it easier to mount and dismount the saddle.
Brembo brakes and custom-designed Michelin Scorcher Adventure tires come standard along with a host of electronic traction and stability management systems and a hill-hold feature.
The Pan America's 6.8-inch touchscreen display is adjustable and provides instrumentation, entertainment and navigation via a connected smartphone app.
Pricing starts at $17,319 for the standard 1250 and and $19,999 for the 1250 Special, which is on par with the big adventure bikes from the likes of Kawasaki, Ducati and KTM, but lower than BMW's.
The Pan America 1250 is scheduled to go on sale in May.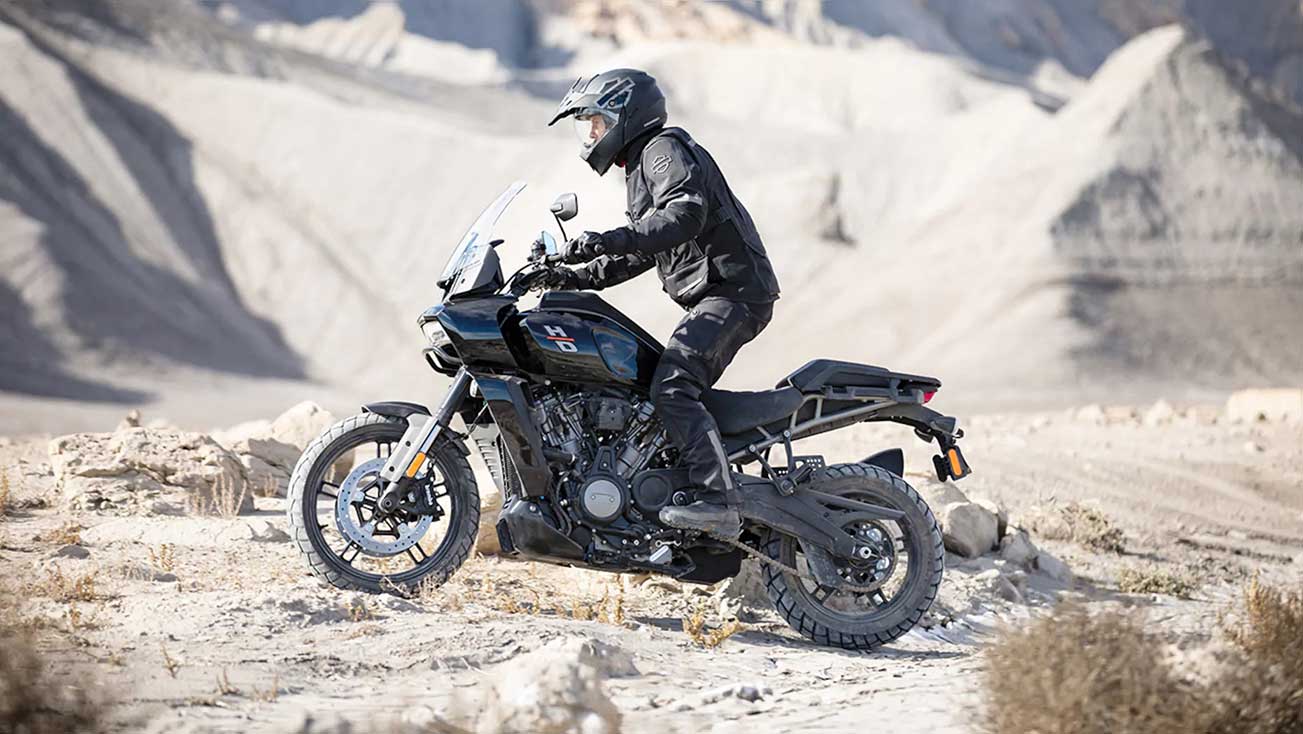 Harley-Davidson Pan America 1250 ventures well off the beaten path
by Jeremy Korzeniewski from https://autos.yahoo.com
Harley-Davidson is known for lots of things — big V-twin engines dripping in chrome, heavyweight touring motorcycles, leather — but they definitely aren't known for diving into completely new market segments. The brand-new Pan America 1250 challenges that perception. It's a clean-sheet adventure touring motorcycle, and even if it's still sporting a V-twin, this one is liquid cooled and tuned to produce 150 horsepower, 94 pound-feet of torque, a 9,500-rpm redline and "a broad powerband that builds to a rush of high-RPM power."
That 60-degree, 1,250-cubic-centimeter, double-overhead-cam engine is a stressed member with a front frame, mid frame and tail section bolting directly to it to make up the chassis. A cast-aluminum swingarm stretches the wheelbase to 62.2 inches, which is just a half inch longer than the Ducati Multistrada V4. Cast aluminum wheels measure 19 inches up front and 17 inches at the rear. The seat height adjusts between 34.2 inches in the low position and 35.2 inches in the high position.
An upper-level Pan America 1250 Special model gains electronically adjustable semi-active front and rear suspension, tire pressure monitoring, a steering damper, a center stand, brush guard and skid plate, an adjustable rear brake pedal, an adaptive front headlight and heated handgrips. The electronic suspension automatically drops the bike when at rest and raises back up under motion.
Michelin Scorcher Adventure tires designed specifically for the Pan America come standard, and Michelin Anakee Wild tires with a more aggressive tread pattern will also be offered. Tubeless laced wheels will also be offered.
The radial monoblock four-piston brake calipers were co-developed with Brembo. The 47-mm inverted front fork and rear shock are sourced from Showa and provide 7.48 inches of travel at each end. A tilting 6.8-inch touchscreen display features Bluetooth connectivity and navigation through an app offered for Apple and Android phones.
Road, Sport, Rain, Off-Road and Off-Road Plus ride modes are selectable, each tailoring the bike's electronics package to suit the needs of the rider and the terrain. The Pan America 1250 features Cornering Rider Safety Enhancements, which relies on an inertial measurement unit (IMU) to offer Cornering Enhanced Electronically Linked Braking, Cornering Enhanced Antilock Braking System, Cornering Enhanced Traction Control System, Cornering Enhanced Drag-Torque Slip Control System, and Hill Hold Control. Cruise control comes standard.
The Pan America 1250 will start at $17,319, which undercuts the Multistrada V4 (which is a clear competitor, though more powerful with 170 ponies from its four-cylinder engine). The Special edition model is $19,999. Both will arrive in dealerships this spring. Naturally, a whole host of accessories will launch alongside the adventure bike, including luggage options, seats and windshields. We expect a few more new motorcycles featuring this Revolution Max engine will be revealed in the coming months.