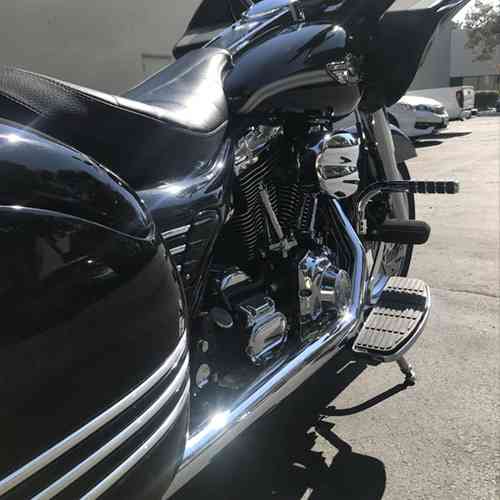 Our new fully adjustable footrests will fit FLH Models 2014-present.
They will mount on the lower frame by the voltage regulator and since they are fully adjustable they will accommodate various rider heights for the most comfortable angle.
We offer them in 3 color schemes. Chrome, Black, and Chrome with a black mounting bracket for a more sleek look since the black bracket blends in with the frame.
The Lindby Custom Adjustable Footrest for the FLH Models have High-tensile, triple chrome-plated 1-1/4″ steel tubing construction with the Lindby Custom unique look and protection that's unparalleled.
The New Innovative Patent Pending Design is available for purchase
Features:
Front bars are made from 1 1/4″ high-strength steel for long-lasting durability.
Replaceable Bonded Rubber Footrests provide traction and added comfort and traction in all climates.
Available in triple-chrome-plated or gloss black powder-coat finish.
Visit the Website for more info and buying it online: https://www.lindbycustom.com/