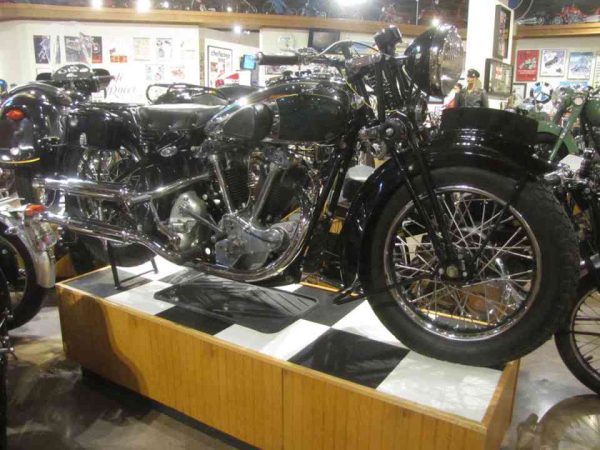 AT THE NATIONAL MOTORCYCLE MUSEUM
1936 BSA Y13 V-Twin
If you walk into the British motorcycle display area in the National Motorcycle Museum, you'll be met with a wide range of single and twin cylinder motorcycles. You'll also see a few V-twin machines, Broughs and Vincents, some of the finest machines in the Museum, and in the world. But one bike that's a stand out, and is pretty rare, especially in the States, is a BSA Y13. Based on a 500cc military spec machine, the 750cc V-twin arrived in 1936 and production ended in 1938. The right side is the most striking given the exhaust system and the bold chrome plated pushrod tubes. But here's a little background.
Specifications:
Engine: Air-Cooled OHV V-Twin
Bore & Stroke: 71mm x 94.5mm
Displacement: 748cc's
Lubrication: Dry Sump/Four Pint Tank
Carburetion: Amal 76
Electrics/Ignition: Lucas MagDyno/6 Volt
Starting: Kick
Horsepower: 26.5HP
Clutch: Multi-Plate, Dry
Primary: Chain Driven
Transmission: 4-Speed, Right Foot Shift
Frame: Lugged/Brazed, Duplex Cradle
Wheelbase: 54 Inches
Suspension: Girder Fork/Sprung Seat
Fork Damper: Friction
Brakes: 7″ Drum, Front & Rear
Wheels/Tires: 4.00 x 18/4.00 x 18
Weight: 450 Pounds, Approx.
Summer Hours End SOON!
Open Daily 9am – 5pm ONLY thru October.
Win a 1951 Harley-Davidson Panhead
Visit: https://nationalmcmuseum.org/win-this-1951-panhead/
Secrets of the Barn Find Hunter Hardcover Book
Click Here to Buy : Join "The Barn Find Hunter" Tom Cotter for a thrilling, illustrated behind-the-scenes look at how he deploys his well-honed auto-archaeology skills to ferret out amazing collector car stashes.
ONLY $30.00
* * * * * * * * * * * * * * * *
Tell 'em Bikernet.com Sent Ya !!!
Click to Follow all the events and news by getting our Free Weekly Newsletter, no spam ever.