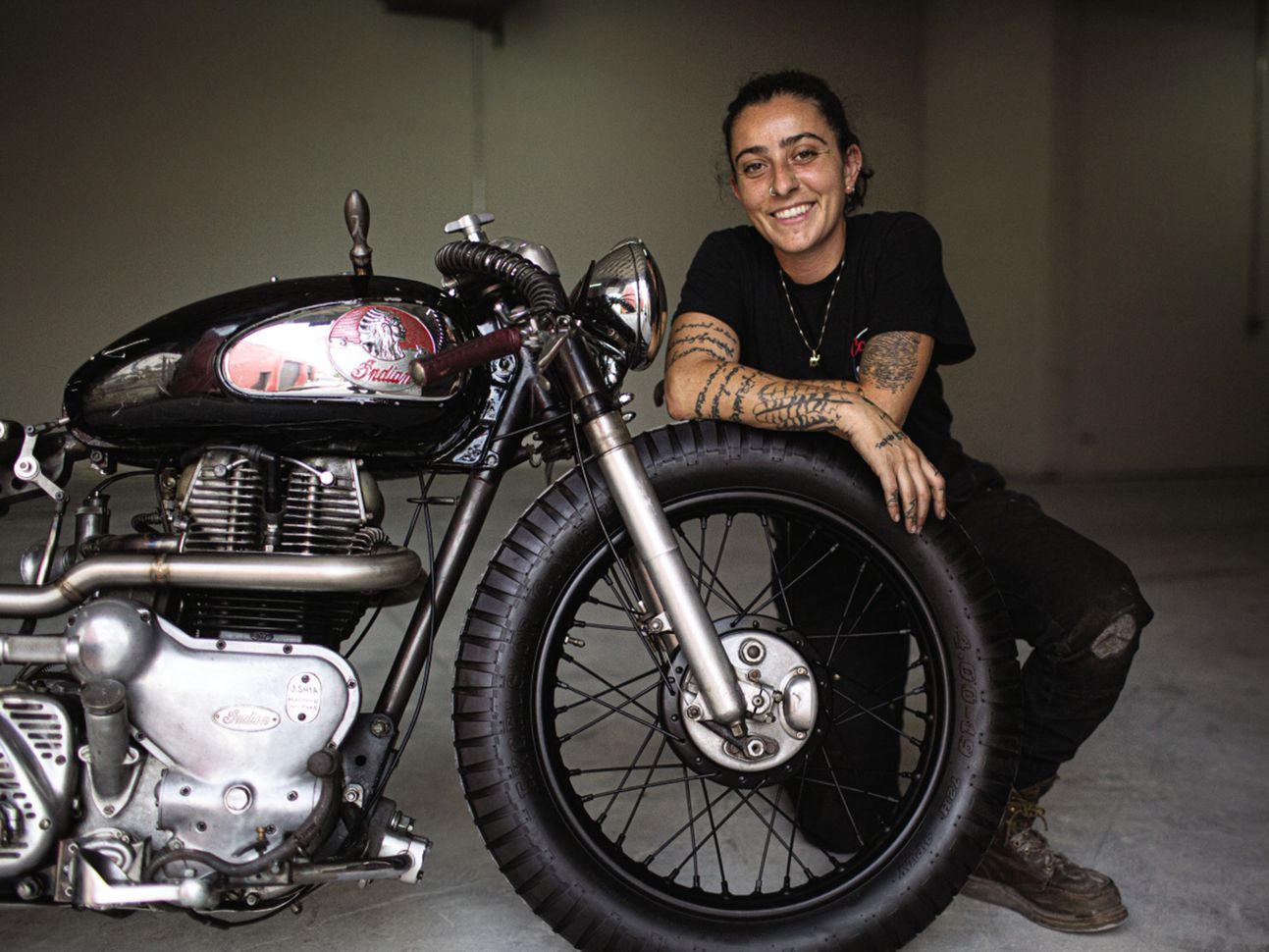 by Morgan Gales from https://www.cycleworld.com
Hiding from the rain, smoking a cigarette outside a bar in Milwaukee, J. Shia's eyes flicker and dart as she talks about the pull-start BSA she had brought to the Mama Tried Show that year. The passion in her words is curling her shoulders forward and bursting from her fingertips as she speaks.
"This bike reminds me of Brad Pitt from Fight Club," Shia says of her BSA custom—the first member of the dysfunctional motor­cycle family she is building. "This little, scrappy street-fighter kid, soccer-player kid. The pull-start is so aggressive. I was like, I wonder what his mom would be like…"
Shia continues, half remembering her concept and half creating it as she goes: "He's an assh—e, but his mom would be this mean, old, chain-smoking, back-alley, ­London cobblestone b—h. I'm like, I need to build his mom. So the bike I built is his mother." And so, Devil's Advocate, bad mother to a street-fighting kid, was built.
It's not your average custom-build backstory, but Shia is not your average custom builder. Her heritage is Lebanese and Syrian, and she is descended from tinsmiths. Devil's Advocate is a 1957 Royal Enfield Indian that's been cut, stretched, lowered, and reworked in a way that truly justifies the name of Shia's Boston workshop: Madhouse Motors. It's a bike that lies somewhere between sculptural artwork, historical significance, and a functional machine. It's self-expression on two wheels in a way that only Shia does. It doesn't look like other motorcycles, and with a foot throttle and tank shift, it doesn't work like other motorcycles.
So, how is this bike both a Royal Enfield and an Indian? When Indian Motorcycle declared bankruptcy in 1953, the company was liquidated, but the brand name was sold to a British company called Brockhouse Engineering. For years it continued to export Royal Enfields to the US, lightly customize them, and rebrand them as Indians, with names like Apache and Tomahawk. The largest of the imported models were 700cc parallel twins like the bike that became Devil's Advocate.
As the owner and builder at Madhouse, whose bread-and-butter business is the restoration, repair, and main­tenance of classic motorcycles, Shia is an enigmatic creative with broad interests. From hands-on welding and fabrication, to maintenance and delivery, to her other passions like photography and raising her son, she is a storyteller above all else. Tattoos adorn her body from neck to knuckles, showing her cultural heritage, her past, or just serving to help define her through decoration. As you study any of her custom bikes, you'll find obscure, even weird details—each inevitably with a story of its own. Like the egg slicer she stole from her grandmother's kitchen to make into a taillight, or the old foot-sizing device that was sawed in half to make a kind of footpeg.
Shia continues to describe Devil's Advocate and the reasoning behind the foot throttle: "She's too dominant to even function the way other bikes function. She's lazy. That's why she uses her foot."
Other details include handlebar risers adapted to lower frame tubes that function as rearward-facing mounts for the footpegs and handmade throttle pedal. The original swingarm was extended, and two tall shocks were installed beneath the seat, both lowering and lengthening the bike. The front end was dropped and resprung to suit the new stance. The headlight is a repurposed spotlight from a police vehicle that retains its handle, allowing manual adjustment of the beam. Spring-wrapped handlebars and spring-filled exhaust pipes were fabricated in-house by Shia, with open windows in the latter to show off the springs. A manual gearshift lever extends through a slot in the tank.
The bike wasn't meant to be pretty or fast, it was meant to upset the status quo. To be different. To push the envelope and do something new, and just like Shia, it does all of that in a uniquely elegant fashion. And she's only just begun: "Next, I'm going to build the twin brother, the little sister, this whole dysfunctional family."
The passion in her words means you know this story is going to be good and completely unexpected.