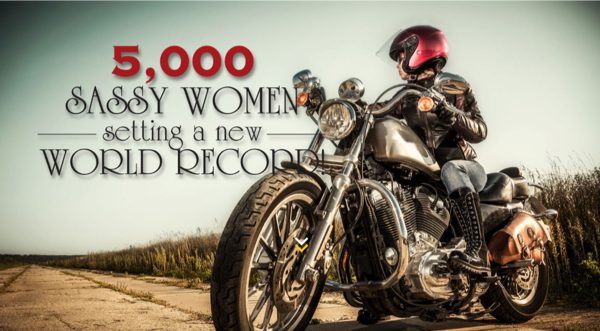 A new motorcycle rally focused on women riders will hold its first gathering at the end of September in Beaumont, Texas. The Lace, Grace, and Gears Rally was founded by a woman and is being organized by women to cater to the topics and activities that today's lady riders are most interested in. Fisher House is the charity of choice by rally organizers and their mission is to provide free or low cost lodging to veterans and military families receiving treatment at military medical centers.
In a recent report by the Motorcycle Industry Council, women riders are the fastest growing segment of motorcycle ownership in the U.S. with current stats showing more than 1.2 million lady riders. The median age of women riders is 38 years (male riders median age is 48) and, as a result, motorcycle manufacturers, aftermarket companies, and lifestyle products see a dynamic and adventuresome demographic to market their products to. The lady riders are also more likely to wear protective gear such as helmets, gloves, boots, and jackets when motorcycling. The organizers for the rally see a unique niche in the marketplace to best serve the needs and interests of these women riders.
"We knew we were on to something big when we launched the Sisterhood of the Asphalt Ribbon (SOAR) page on Facebook in 2015," said rally founder Layne Neuenfeldt. "Once the rally was announced, we saw an immediate response from the women riders with hundreds quickly signing up to attend. The entire organizing committee is working hard to fill the calendar with rides, seminars, and activities that the lady riders have expressed interest in and we are thrilled with the feedback and response!"
Lace, Grace, and Gears has a mission to attract at least 5,000 women riders from around the United States to southeastern Texas for a weekend of sisterhood. One of the highlights of the weekend will be a record-setting ride of all the women attendees on their own motorcycles. While men are welcomed at the rally, the ride to go for the record is the sole domain of the ladies.