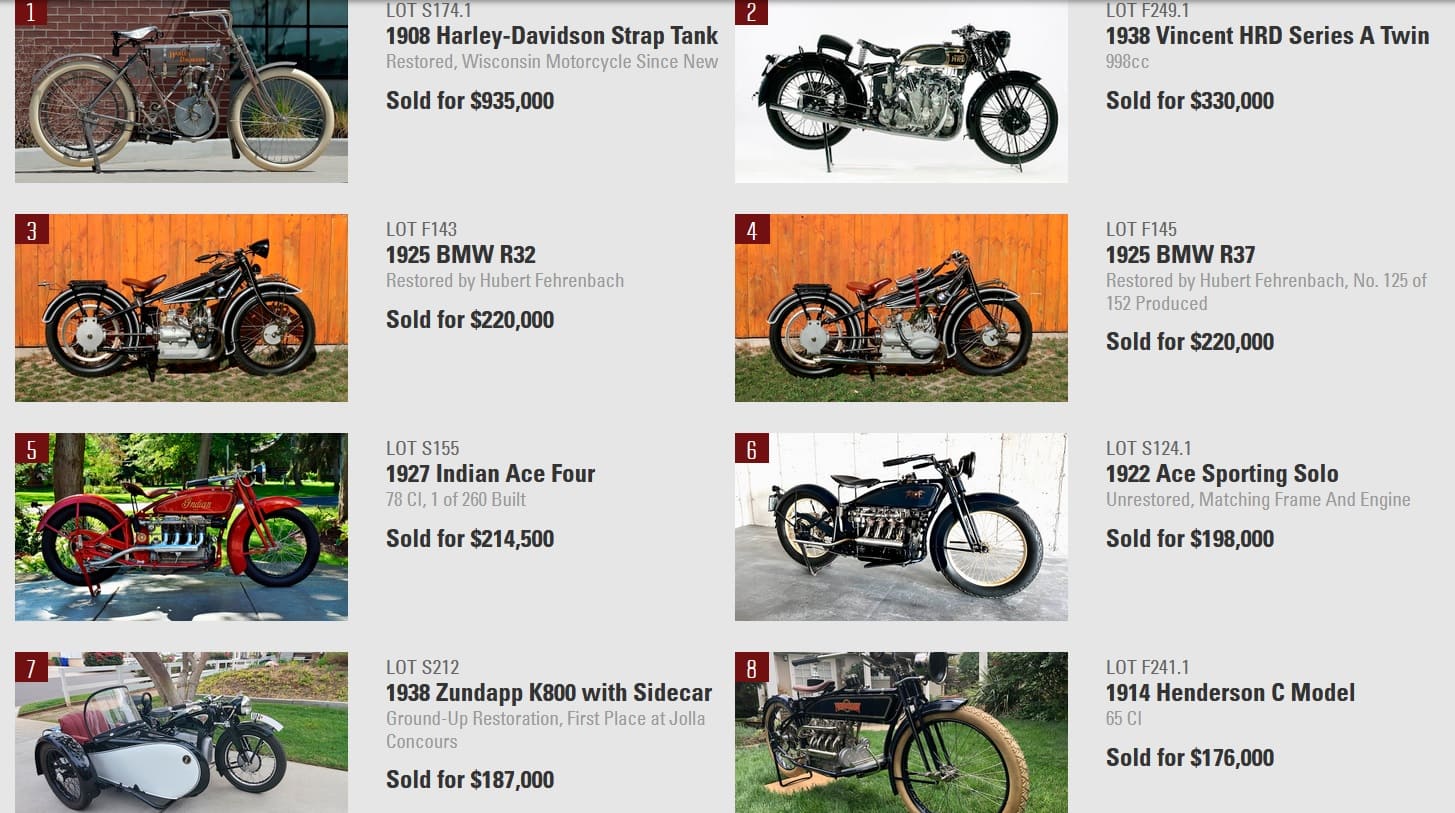 by Janaki Jitchotvisut from https://www.rideapart.com and https://www.mecum.com/motorcycles/results/
10 Most Expensive Bikes Sold At The Mecum Las Vegas 2023 Auction
From Ace to Zundapp, rare prewar machines dominated the scene
It's the end of January, 2023, and that means the yearly edition of Mecum Las Vegas just drew to a close. Cars, tractors, automotive art, and of course plenty of motorcycles have crossed the auction block and changed hands.
From a pristine Kawasaki Z1 900 to what may possibly be the finest example of a Harley-Davidson Strap Tank currently in existence, one thing is for sure: A whole lot of very special machines will soon be on their way to their new homes. No matter what kinds of bikes are your favorites, there's a whole lot for fans of motorcycle history to appreciate.
Here's the full list of the top 10 motorcycles that brought in the highest bids at Mecum Las Vegas 2023.
10. 1931 Indian 402
Selling price: $159,500
9. 1916 Henderson 4 Cylinder
Selling price: $165,000
8. 1914 Henderson C Model
Selling price: $176,000
7. 1938 Zundapp K800 with Sidecar
Selling price: $187,000
6. 1922 Ace Sporting Solo
Selling price: $198,000
5. 1927 Indian Ace Four
Selling price: $214,500
4. 1925 BMW R37
Selling price: $220,000
3. 1925 BMW R32
Selling price: $220,000
2. 1938 Vincent HRD Series A Rapide
Selling price: $330,000
1. 1908 Harley-Davidson Strap Tank
Selling price: $935,000
Here in 2023, chances are excellent that even people who couldn't care less about motorcycles are well aware of the inextricable link between Harley-Davidson and Wisconsin, and so can appreciate that it's kind of amazing that this machine spent nearly its entire life there. It's a highly original machine, and fewer than a dozen of the 1908 bikes are believed to still be in existence today, let alone in this condition. It underwent a full restoration in the hands of Harley expert Paul Freehill, and an original tank, wheels, engine belt pulley, seat cover, and muffler sleeve are included in the sale of this extremely special piece of motorcycle history.
* * * * * * * * * * * * * * * * * * * * * * * *