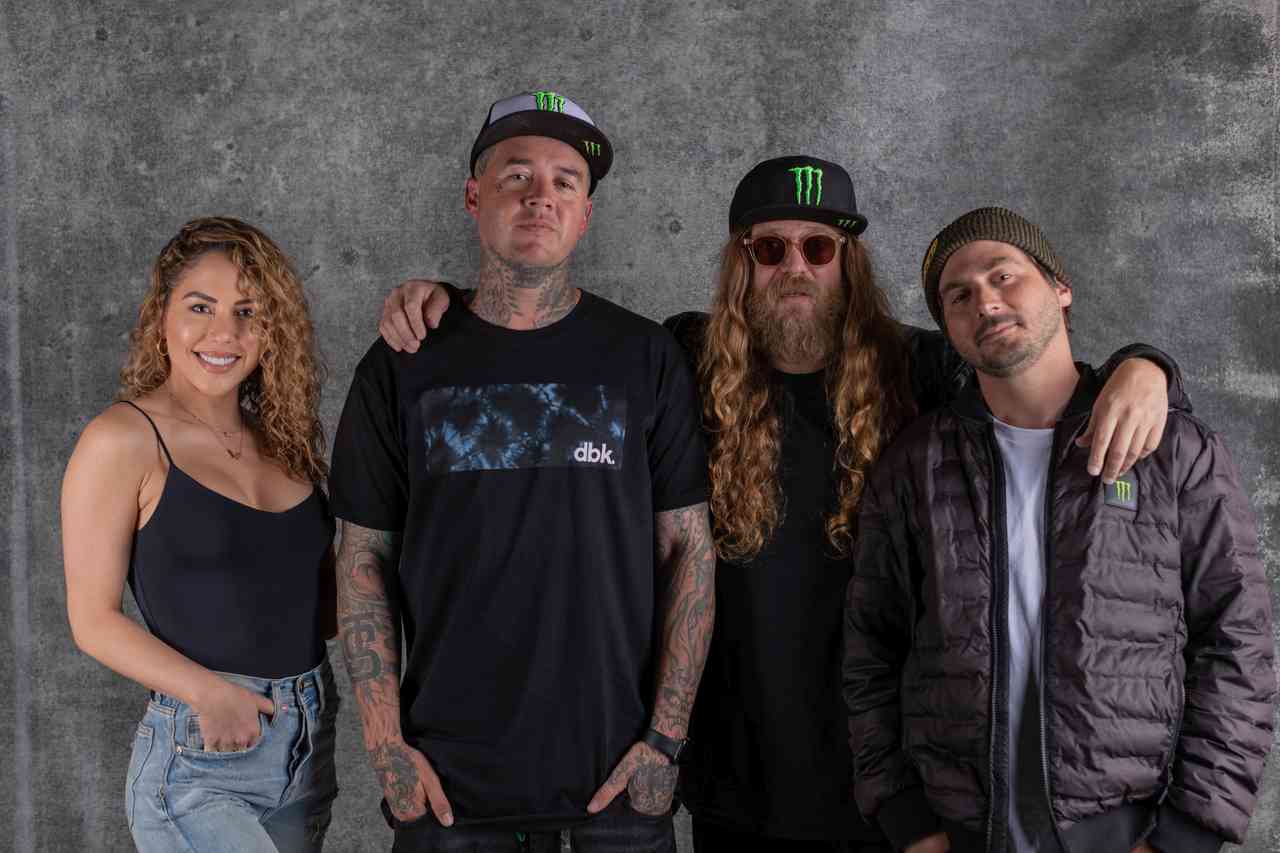 Monster Energy's UNLEASHED Podcast Welcomes Freestyle Motocross Icon Jeremy Stenberg
41-Year-Old Pioneer and 17-Time X Games Medalist Joins Episode 09 of Season 03 of Sports Podcast
 CORONA, California – May 1, 2023 – One of the Founding Fathers of freestyle motocross joins the podcast! Monster Energy is proud to welcome Jeremy "Twitch" Stenberg on Episode 9 of Season 3 of the sports and pop culture podcast UNLEASHED with The Dingo and Danny. In the exclusive interview, the 41-year-old Moto X pioneer and 17-time X Games medalist shares his lifelong passion for freestyle dirt bike riding.
Recorded at Studio M inside Monster Energy headquarters in Corona, California, the one-hour episode was initially broadcast live on the Twitch platform on April 18, 2023. Today, fans have the chance to tune in to the official recording of the episode featuring the freestyle motocross veteran who left his mark on the sport as a top competitor and trick innovator.
"Dirt bikes are no joke. If you crash, you crash hard! It is what it is. It's my job and the path I chose. I want to ride a dirt bike for the rest of my life. No matter how many of my friends get taken from me. I would rather die doing something I love than getting hit in a car accident," said Stenberg on UNLEASHED.
For the full conversation with the influential FMX trailblazer, fans can now tune in to Episode 09, Season 03 of UNLEASHED. Released today, the new podcast is streaming on all major platforms, including Spotify, iTunes, and YouTube.
In the world of freestyle motocross, Jeremy Stenberg needs no introduction. Raised on a steady diet of BMX and dirt bike riding, the California native found an outlet for his Tourette's Syndrome in spectacular stunts. After turning pro in 1998, "Twitch" became a driving force in the progression of freestyle motocross and a figurehead for the young sport. After winning every notable Moto X competition in his day, including a staggering 17 X Games medals (including 6 gold), Stenberg paved a new way by filming influential video parts on real-life dirt terrain. Stop, look, and listen as the motocross trailblazer gives a first-hand account from the sport's early days all the way to FMX becoming a billion-dollar industry and global spectacle – exclusively on UNLEASHED!
Hear the inside story in conversation with the two podcast hosts, Australian action sports personality Luke "The Dingo" Trembath and professional snowboarder Danny Kass. Also joining the interview is acclaimed painter, model, and UFC ambassador Brittney Palmer. Tune in right here.
Getting into trouble was inevitable when Stenberg grew up in Southern California. Diagnosed with Tourette's at age 8 and regularly taunted by his peers, he found an outlet in riding BMX bikes on dirt tracks. "I always tend to do it more when I get nervous or excited. I never thought about it on my bike," said Stenberg on UNLEASHED.
In the days of VHS videos, one particular video series left a deep mark on young Stenberg: The 'Crusty Demons Of Dirt' franchise showed the new and exciting world of 'freestyle' motocross. "Crusty, for me, was one of the movies I would come home every day from school… pop it in and watch. Every video made me want to go out and ride BMX and ride dirt bikes."
His proficiency for hoisting jumps on dirt bikes caught the eye of his first sponsor; a company partaking in the push to establish 'freestyle' motocross as its own sport. "I told my dad these guys want to pay me money to jump my bike, and he said: 'No one's going to pay you to jump your bike. You need to race to make money!" But when the first paycheck arrived, Stenberg's father was convinced: "My dad went home and tore the race track down and built jumps. And I rode them every day!"
The rest is history: While still in school, Stenberg competed in pro events as the sport kept growing. But at some point, traveling to competitions interfered with Stenberg's high school career, so he made a choice. "When I told my dad I quit school because they weren't going to let me ride in a contest, he said: 'I can't tell you that you can't quit. But if you quit, you better be the damn best at what you do!' And that has stuck with me ever since."
As part of a generation that expanded the physical limits of motocross tricks, Stenberg pioneered new maneuvers on dirt tracks without the aid of foam pits and other safety measures. The consequences were always tangible: "When you hit the ground, you hit the ground hard. You're 35 feet in the air. And you have a 250-pound bike chasing you to tackle you if you don't do the trick right."
From 1998 onwards, Stenberg dominated the contest circuit alongside trailblazers Travis Pastrana, Mike Metzger, and Mad Mike Jones. Stenberg won every single top-shelf competition, racking up 17 X Games medals in the process. "Style always mattered. No matter what it is. Your street clothes. Everything you're doing, it better be good," said Twitch about the keys to his success. Speaking on his style, he said: "I want to say a lot of it was from riding BMX. I notice a lot of guys who ride BMX and ride Moto all have similar styles. You got to be smooth, you got to hit your marks perfect."
At the height of his career, Twitch decided to step away from the contest arena. With support from Monster Energy as his sponsor, he continued to maintain his relevancy in the sport by filming groundbreaking videos and pushing the evolution of the sport. And like that, Twitch opened a path for future generations to build pro careers without contest results. "I feel good seeing guys like [Colby] Raha and Axell [Hodges] benefit from what I helped start," said Stenberg.
Filmed in open terrain on dirt jumps built solely using shovels, video parts such as "Hillside O.G." have become classics of the sport. "I think the longest I ever built a jump for was seven hours. And then we rode it," said Stenberg, adding: "We always have to hide from the cops out there. We hide behind mountains."
For a chance to see Twitch catch air, viewers can head to current tour stops of the Monster Energy AMA Supercross Championship. The veteran enjoys showcasing his tricks alongside the new generation of FMX talent, including Monster Energy teammate Axell Hodges. "Whenever I ride, I gotta show these little bastards I still got it!"
Hungry for the full story? Visit the landing page to access Episode 09, Season 03 of the UNLEASHED with The Dingo and Danny Podcast featuring motocross icon Jeremy "Twitch" Stenberg.
Episodes of UNLEASHED are filmed on a special set inside Studio M at Monster Energy headquarters in Corona, California. The podcast is hosted by the dynamic duo of Australian action sports personality Luke "The Dingo" Trembath and professional snowboarder Danny Kass. Known for their deep roots in action sports culture, the two starred in the beloved cult TV show 'The Adventures of Danny and The Dingo' on Fuel TV for five action-packed seasons in the early 2010s. Both hosts have walked the walk as pro snowboarders and possess the interview skills to find common ground with guests from any background – sports and pop culture. Always look out for new episodes dropping bi-weekly on Mondays.
* * * * * * * * * * * *