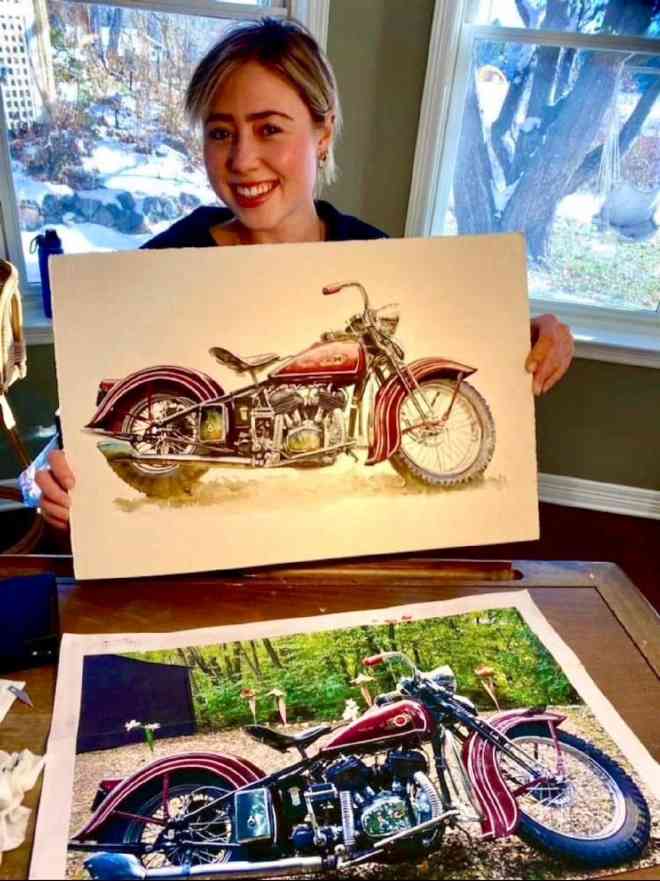 Welcome to our new subscribers! It's been a great show here in Daytona thus far. Happy, as always, to reconnect with so many wonderful friends!
This year, David Uhl's daughter Isabella has joined us in the gallery here. As you may know, Bella has begun making a name for herself as a portrait pencil sketch artist.
As she follows in father David's footsteps, she has now completed her first-ever watercolor, titled "Original Iron". This was a commission from one of David's collectors and Bella is now offering prints on watercolor paper in a 24-hour Flash Sale!
This print edition offers you the chance to get behind a burgeoning artist on the ground floor at very affordable prices.
It will be fun to see what she has in store for us in the future! She's already working on her second motorcycle-related watercolor painting, and is still taking orders for the custom pencil portraits.
Details on print edition can be found below.
"Original Iron"
Isabella Uhl 2023
Print Edition
These watercolor Fine Art prints are only being offered for the next 24 hours. We will begin taking orders now and will close the edition at this time tomorrow, regardless of how many are sold.
Each print will be hand-signed by Isabella Uhl, numbered and come with a Certificate of Authenticity. Edition number preferences will be considered as orders are received.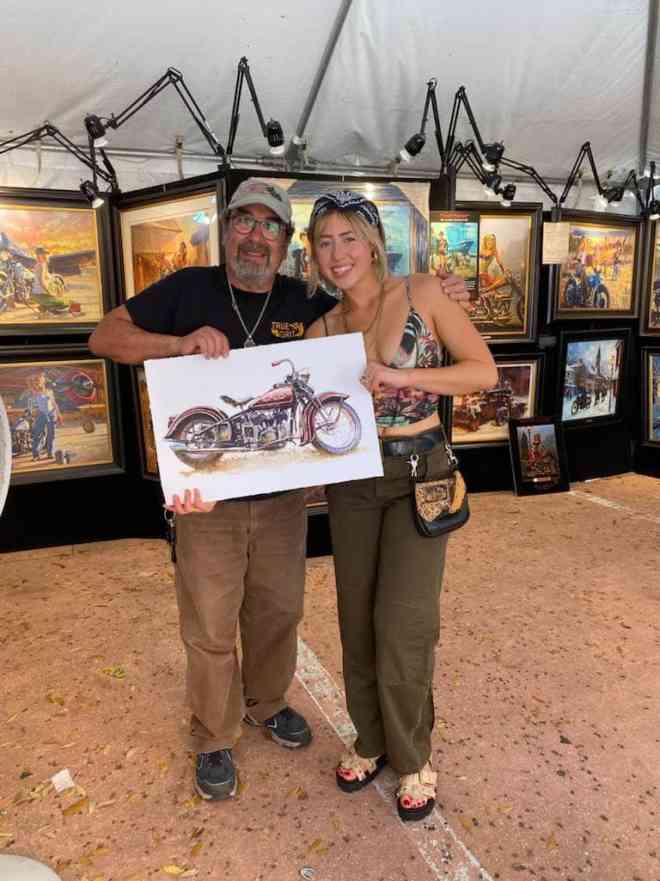 These are being offered unframed or framed.
** Image size 14 x 11, $95 unframed / $195 framed
** Image size 22 x 15, $195 unframed / $345 framed
Shipping is additional.
While at the show here today, our cell service is spotty at best – so if you want to get in on this one, please email me and I'll be able to respond when I get back to my hotel room this evening.
As always, thanks for your time!
Best regards,
Greg Rhodes
International Sales Director
David Uhl Fine Art
Uhl Studios
303-913-4840
* * * * * * * * * * * * * * * *
TELL 'EM BIKERNET SENT YA !!!