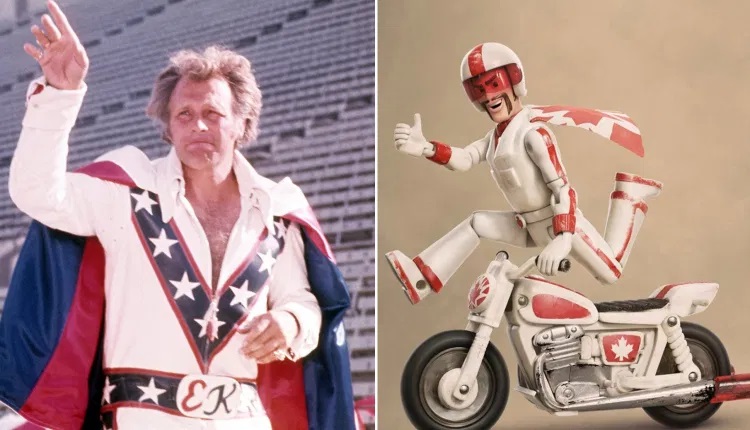 by Tony Abu Momoh from https://www.herald.ng
Kelly Knievel, the son of late stuntman Evel Knievel is suing Disney and Pixar for using the daredevil character Duke Caboom in the movie, Toy Story 4. The character is based on Evel Knievel real name Robert Craig Kneivel Jnr who was a daredevil stuntman in the 1970's.
According to Kelly, the movie giants gained financially from a character based on his father without his permission. According to Knievel junior, his father did not thrill millions, break his bones and spill his blood just so Disney can make a bunch of money.
The character in contention, Duke Caboom was voiced by Keanu Reeves in Toy Story 4 and is described by Disney-Pixar as a 1970's toy based on Canada's greatest daredevil stuntman with confidence and swagger. The character has however never been able to do stunts advertised by his own toy commercials.
See Also: Plateau Attack: Police confirms 5 people killed by Gunmen
Kelly stated in the Federal Trademark suit that he has had ownership of the publicity rights to Evel Knievel since 1978 and is seeking damages totaling $300,000 for false endorsement and unjust enrichment.
Kelly alleged that there were similarities in the physical appearance of Knievel and the character Caboom. He also alleged that a propelled stunt toy sold as a marketing strategy for the move, Toy Story 4, was similar to another toy released by Evel Knievel in 1973. Kelly was also unhappy that the Caboom character was marketed as part of a McDonald's happy meal promotion.
The suit further said Disney had instructed cast members of the movie not to draw comparisons between Knievel and Caboom in public even though it was obvious to observers that there was a connection.
Disney however denied the allegations saying its lawyers would vigorously defend what it called baseless claims.
In response to this, Kelly issued a statement saying, "It is obvious Duke Caboom is a knock off of Evel Knievel. I don't see a big long line of Disney executives ready to get on a motorcycle and jump 13 buses, nor do I remember any Canadian daredevils from the 70s. While we note that Disney uses their Mickey Mouse lawyers to aggressively protect Disney intellectual property, they did not seek permission to use Evel Knievel at any time."