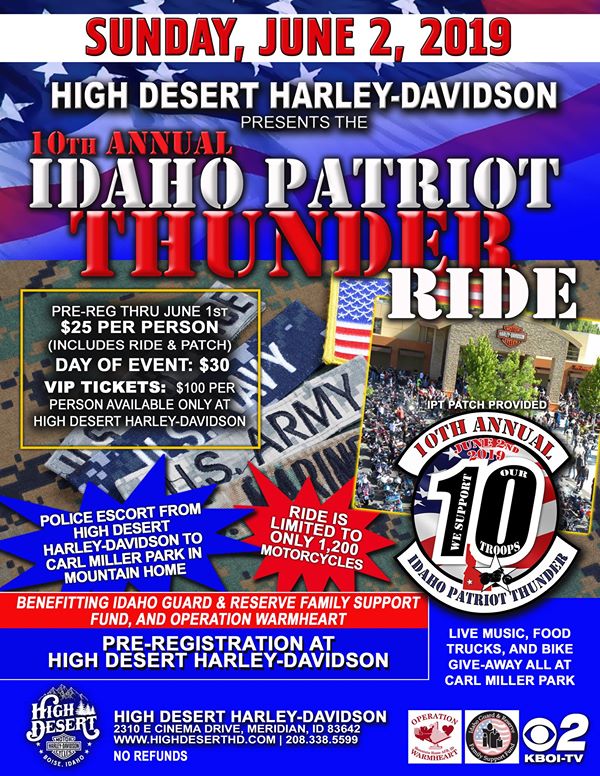 The 10th annual Idaho Thunder Patriot Ride is  Sunday, June 2nd and this year they're giving away a Harley Davidson worth more than $10,000.  The Patriot Ride will take off Sunday morning around 9:30 from High Desert Harley Davidson in Meridian.  There is a 1,200 motorcycle cap so if you're interested and haven't registered, you can do so now by clicking HERE.
Registration in advance is $25 per person which includes the ride and the patch.  Day of registration is $30 per person. V.I.P. tickets are $100 and you can only purchase those at High Desert Harley Davidson.  V.I.P. includes a shirt, the ride, a patch, and front of ride placement.  The ride is limited to 1,200 people so make sure to register a.s.a.p.
The entire event will start at High Desert Harley Davidson (2310 East Cinema Dr.  Meridian, ID.) and ends 55 miles away at Carl Miller Park in Mountain Home.
It's always so surreal watching our local law enforcement block off freeway entrances and escort all these riders through Boise who ride in honor of the Idaho Guard & Reserve, Family Support Fund, and Operation Warmheart.  It's a sight to see.
The finale at Carl Miller Park will have live music, food trucks, and that's where someone wins a Harley Davidson worth more than $10,000.  If you'd like to be in for that, tickets are $10 each or you can get six tickets for $50.  All the details are on the Idaho Thunder Patriot Ride Facebook page.