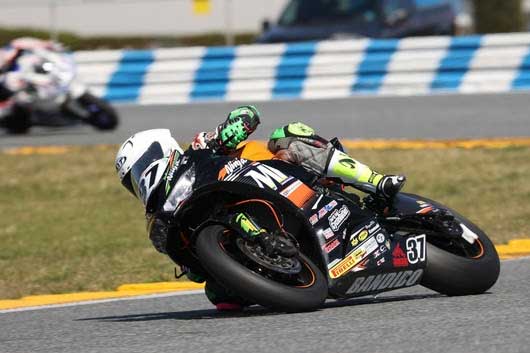 Stefano Mesa and Pirelli Take Two with Track Records at Summit Point Raceway and Nelson Ledges Road Course
Mesa's Ninja® ZX™-10R is Unstoppable with the New DIABLO Superbike SCX Rear
ROME, Ga. (June 10, 2021) – Pirelli Tire North America captured the brand's third and fourth absolute motorcycle track record of the 2021 racing season as Stefano Mesa put in an impressive performance at Summit Point Raceway in West Virginia and then backed it up with an inspiring ride at Nelson Ledges Road Course in Garrettsville, Ohio. The new lap records were set aboard a 2021 Kawasaki Ninja® ZX™-10R motorcycle-equipped with Pirelli DIABLO Superbike slicks.
"The feeling of achievement in setting a lap record just never gets old," said Mesa. "Each year these things become harder and harder to accomplish but having Pirelli and the new products that they continue to develop certainly make a world of difference. They continue to develop incredible products and in return that allows me to be faster. The new 125/70 and 200/65 sizing are just insane, and when combined with this SCX rear compound, it's a phenomenal package."
Mesa's new lap record of 1:10.551 in the Championship Cup Series at Summit Point Raceway was set in the Unlimited GP class, topping his own previous lap record of 1:10.728. A DIABLO Superbike SC2 in 125/70-17 was used on the front of his ZX-10R motorcycle, while a DIABLO Superbike SCX in 200/65-17 sizing was used on the rear. Just one week later, Mesa carried his momentum into Nelson Ledges Road Course by setting a new lap record of 1:03.926 in the WERA Series' A Superstock class. A DIABLO Superbike SC1 front in 125/70-17 sizing and DIABLO Superbike SCX rear in 200/65-17 sizing were used to outpace the previous record of 1:04.192.
"We've seen the new SCX rear tire start to drop lap times across the nation, so these records are no surprise," said Oscar Solis, Senior Racing Manager, Pirelli. "Stefano [Mesa] has a new weapon of choice with the SCX and we're glad that he continues to put his trust in the Pirelli brand. He always manages to make this look easy, but we know it's not. Congrats Stefano!"
Mesa is now the third different Pirelli rider to earn an absolute motorcycle track record in 2021 and the first to do so twice. Pirelli continues to remain the motorcycle tire of choice for North American riders looking to reach the top step of the podium and log fast laps at events and series that do not have a spec tire rule. Reward prizes are offered to riders who set a new motorcycle track record while using Pirelli race compound tires.
For more information about the complete line of Pirelli motorcycle tires, please visit Pirelli.com