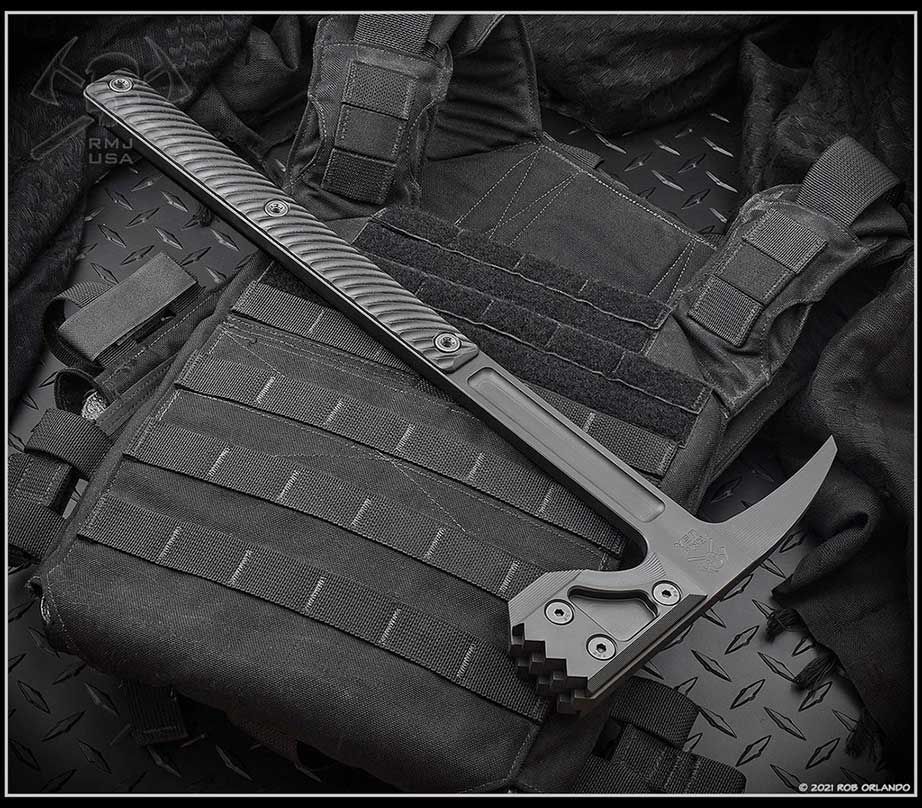 Tools For The Exceptional: Situation, Adventure, Person, Life.
Greetings! Summer Warhammers, what's more heartwarming than that?
To keep it fair, all of the Snuggles will be sold first come first serve on the website today at 2:00, No Phone Orders. We do not take pre-orders, or special request orders.
Affectionately named Snuggles, this is the modern War Hammer Breaching Tool and closely follows our mantra, one tool, many tasks. Snuggles combines bad ass looks with formidable capability in one package. Designed with a close-quarters battle (CQB) length of 18″ it can be used in tight areas where traditional longer tools may be less effective. It is a tool ideally suited for a patrol car or emergency vehicle, providing a quick action tool for breaching a door or window. The large 8 5/8″ head features a meat tenderizer style end with a tapered beard, and the tail end features a 3 13/16″ distal taper spike for puncturing.
Snuggles head end is assembled with two cheeks, bolted on with three hardened 4140 chrome moly bolts with a tensile strength of 120,000-pounds per square inch each. The pieces are mounted in double shear and the bolts would be acted on together. A 50-ton press would be required to shear it. Repeated impact doesn't change the situation, Snuggles is extremely overbuilt for a handheld tool.
Specification
· Overall Length: 18″
· Head Length: 8 5/8 in
· Hammer Face: 2″ H x 1 1/8″ W
· Head Height: 2.5″
· Blade Thickness: 3/8 in
· Weight: 3 pounds 10 ounces
· Material: 80CRV2 Carbon Steel
· Handles: 3 Colors of G10, Black, Black Widow, Dirty Olive
· Coating: Black Cerakote
CLICK HERE TO GET YOURS – BUY ONLINE
Share Your RMJ Adventure
We would love to see your hard use RMJ tools! Please take a few moments to answer a couple of questions and up load some pictures or video content highlighting your adventure and RMJ gear!
Go to our website and click on Share Your Adventure on the front page. We hope to share your content on our site for everyone to check out! If we do share it, we will see that you get 5% off your next order and you'll be entered into our quarterly give-away for your choice of a Mini Jenny Spike or Mini Jenny Hammer Poll Tomahawk!