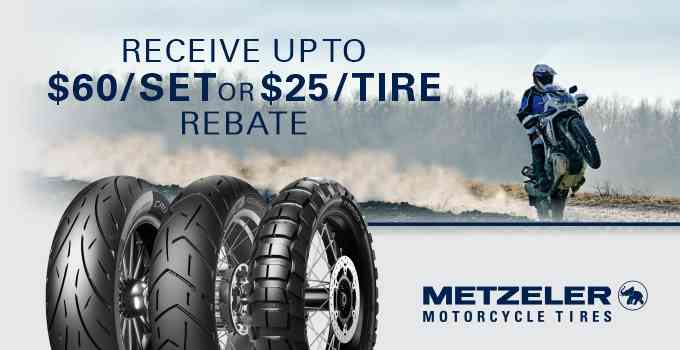 Metzeler Extends Spring Moto Rebate Program Through July 31, 2023
Popular Rebate Program Also Expanded to Canada and Features Eligible Street and Off-Road Tires
ATLANTA (May 5, 2023) – Metzeler North America is pleased to announce that the spring moto rebate program has been extended for residents of the United States and expanded to include residents of Canada. This program allows motorcycle enthusiasts who purchase Metzeler tires through their local participating dealership and select online retailers to receive as much as $25 USD / $40 CAD rebate per tire or $60 USD / $100 CAD rebate per tire set on eligible street and off-road tires through July 31, 2023.
https://metzelerrebates.brandecation.com/
"Metzeler is thrilled to extend the spring moto rebate within the United States as well as open it up to residents of Canada," said Brian Davenport, Senior Sales Manager, Metzeler. "The Metzeler brand continues to expand its presence across all segments in 2023, making it a priority for us to include a variety of products and ensure that it benefits all Metzeler riders."
A $25 USD / $40 CAD per tire rebate or $60 USD / $100 CAD rebate per tire set will be offered for the Metzeler Lasertec™, Enduro 3 Sahara, Racetec™ RR, Sportec™ M9 RR, Sportec™ M7 RR, Roadtec™ 01 SE, Roadtec™ 01, Roadtec™ Z8 Interact, Cruisetec™, ME 888 Marathon™ Ultra, Tourance™ Next, Tourance™ Next 2, Karoo™ Street, and Karoo™ 4. Additionally, the MCE 6 Days Extreme, MC360™ Mid Soft, and MC360™ Mid Hard are eligible for a $20 CAD per tire rebate or $30 USD / $50 CAD per tire set rebate.
This offer is valid for a limited time only on purchases made between March 1, 2023, and July 31, 2023, and for legal United States and Canada residents. After purchasing a set of qualifying Metzeler tires from a local dealer, participants must fill out a claim form and provide a receipt for proof of purchase to receive their physical or digital VISA prepaid card.
For official terms and conditions, click here.
About METZELER: Metzeler has manufactured motorcycle tires since 1892 and our history goes hand in hand with the history of the motorcycle. From the use of new materials and the development of innovative tread designs to the introduction of advanced rubber compounds, the German brand is always at the forefront of technical development. Learn more at www.metzeler.com.
* * * * * * * * * * * * * * * *