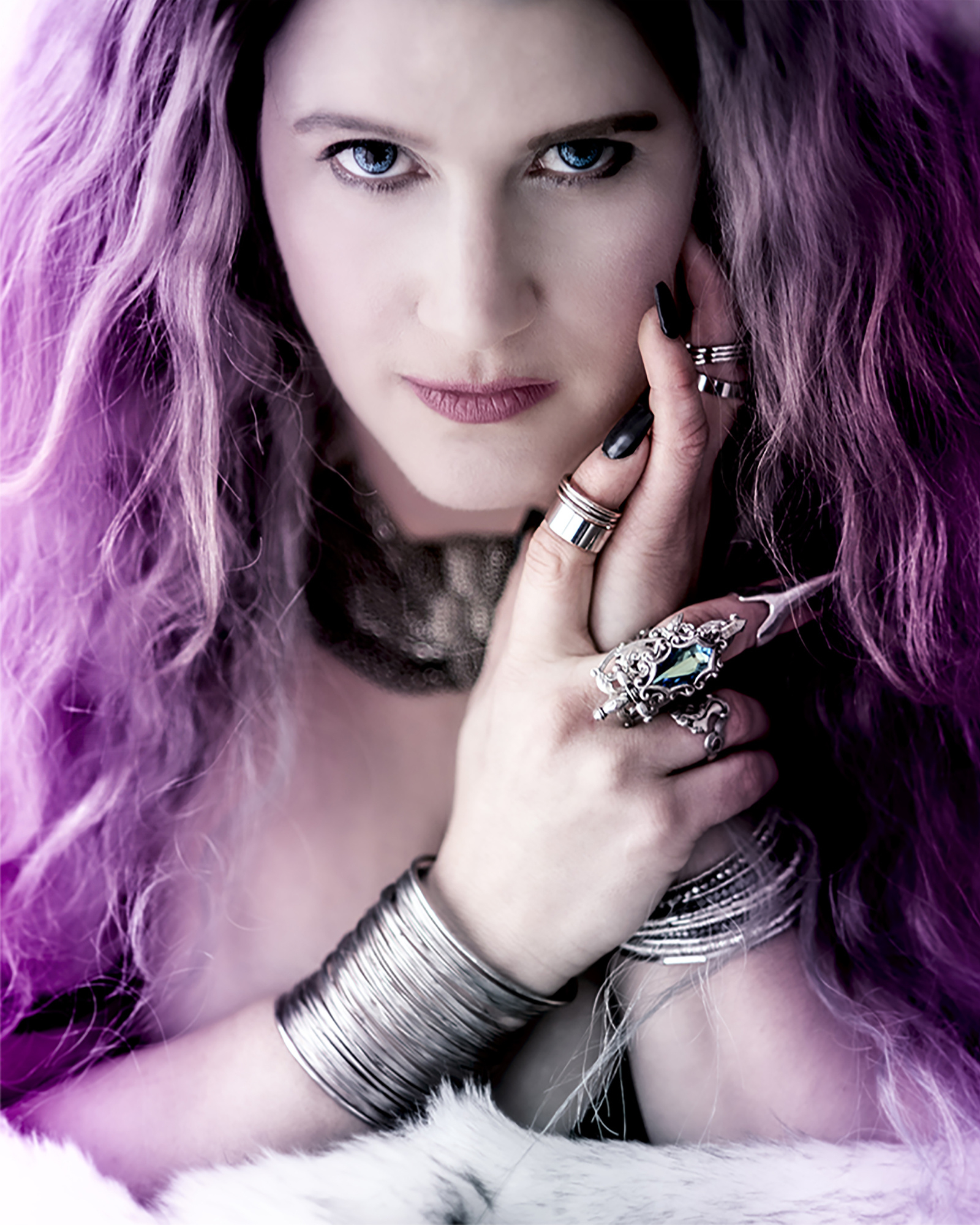 Produced by Caleb Sherman (Rex Brown, The Lacs), "Be Brave" Appears on SEVEN (Cain's 7th LP) Releasing May 10
Listen to "Be Brave" https://soundcloud.com/1888media/jasmine-cain-be-brave/s-BAdcR
Nashville Album Release Show, Star Wars Themed Cantina Party, May 4 at Little Harpeth Brewery
Coast to Coast Tour Includes Bike Weeks in Daytona Beach, Arizona, Myrtle Beach and Sturgis
Nashville, TN: Music City Mayhem 'Female Rock Vocalist of the Year' and bassist extraordinaire Jasmine Cain has announced the March 29 release of "Be Brave," the first single from her forthcoming album, SEVEN. With shimmering vocals and her trademark bassline, the melodic mid-tempo rocker recalls the best of Halestorm, Heart and Whitesnake. Inspired by her best friend, and lifetime co-writer, Paige Logan, Cain shaped the song with her friend's infinite wisdom, "She has been my female inspiration for many of my transitions in life. I've seen her face almost everything life can throw at you, and each time she walked through the fire and came out of the ashes on the other side better than she was before. When I asked her how she does it, this is her only advice. Be brave."
Brave is the first taste of SEVEN, Cain's seventh album, and her first since 2016's White Noise, a breakthrough album that featured Jeff LeBar of Cinderella and Michael Starr of Steel Panther. SEVEN is more than a number, it's a life path that she connects to on a deeply spiritual level, "The number seven is about harmony and allowing yourself to think outside the box. I needed a new direction and fresh ideas and so I created my own trinity of sound with the help of some key element players and together we pushed through the boundaries I had locked myself into a new dimension that is SEVEN."
Three years in the making, and due for release on May 10, Cain has delivered her magnum opus, packed with her most personal burdens, unpacked with emotional clarity and executed with a searing urgency. Anthems like "Let It Go" and "Ghost" showcase her incredible range as a vocalist, finding strength from scars while the razor sharps riffs of "Money," Burnout" and "Real World" show that this power trio is an unstoppable force to be reckoned with.
Produced by Caleb Sherman, known for his work with The Lacs and Rex Brown of Pantera, the 10-track album deftly layers the edginess of Active Rock with the pop sensibilities of Adult Contemporary to create a comprehensive journey that stakes its claim as a towering achievement of classic rock and modern music. In addition to Sherman, who adds keys, synth, guitars, bass, and background vocals, Mills Logan was at the controls as recording and mixing engineer with contributions from songwriters Paige Logan, Monique Staffile (HER), and Kevin Bebout and all-star musicians including guitarists Jordan Roepke, and Kenny Olson (Kid Rock) and Accept drummer Christopher Williams.
In conjunction with the album release, Jasmine launched a Patreon to give her rabid "Cainiacs" exclusive access to subscriber-only videos, limited edition posters, behind-the-scenes photos and two bonus cuts not appearing on the album, the soul-baring, "Hurt" and a cover of "E.T." by Katy Perry. Patrons will also have the opportunity to partake in VIP meetups.
Taking the show on the road is what she loves the most, logging 150 dates per year. 2019 will see her go coast-to-coast, from the beaches of South Carolina to the sands of San Diego including multi-date stints at bike weeks in Daytona Beach, Scottsdale, Myrtle Beach, Galveston, TX and Sturgis, SD. For her album release show in Nashville, she's hosting a raucous celebration at Little Harpeth Brewery in East Bank. Dubbed "May The 4th Be With You," her Star Wars themed Cantina Party will include a costume contest, burlesque, prop replicas, a Stormtrooper DJ and a full bore rock show. In addition to standard general admission tickets, a limited number of VIP passes will be offered that include a private viewing area and a special meet 'n' greet with Jasmine and Femi Taylor (Oola from Return of the Jedi). For more info / tickets, please visit https://www.eventbrite.com/e/jasmine-cain-tickets-55703140593
Endorsed by Warwick Basses, Teye Guitars, GHS Strings, Elixir Strings, Shure, Westone Audio, Traynor Amplification, Epiphone, Larrivée Acoustic Guitars, Peavey and Line 6 Wireless, Cain has amassed a loyal worldwide fanbase, playing 1500+ shows/festivals over the past decade, including gigs with Quiet Riot, Great White, Jackyl, Winger, Heart, Vixen, Skid Row, Bullet Boys, Lita Ford, 38 Special, Saving Abel, Puddle of Mudd, Saliva, Blackstone Cherry, Powerman 5000, Finger 11, Theory of a Deadman, My Darkest Days and Three Days Grace.
TOUR DATES
3/07 – Cartersville, GA @ Sixes Tavern (Bike Night)
3/11 – Daytona Beach, FL @ Dirty Harry's (Bike Week)
3/12 – Daytona Beach, FL @ Dirty Harry's (Bike Week)
4/06 – Scottsdale, AZ @ Dirty Dogg Saloon (Bike Week)
4/07 – Scottsdale, AZ @ Dirty Dogg Saloon (Bike Week)
4/13 – Phoenix, AZ @ Cactus Jack's
4/14 – San Diego, CA @ Tipsy Crow (2pm)
4/14 – San Diego, CA @ Goodbar (8pm)
4/20 – Cave Creek, AZ @ Roadhouse
4/26 – Las Vegas, NV @ Golden Nugget
4/27 – Las Vegas, NV @ Golden Nugget
5/03 – Atwood, YN @ Friday Night Boogie Hollar
5/04 – Nashville, TN @ Little Harpeth Brewery (Album Release)
5/10 – Daytona Beach, FL @ Hard Rock
5/12 – North Myrtle Beach, SC @ House of Blues
5/13 – North Myrtle Beach, SC @ House of Blues
5/15 – Murrells Inlet, SC @ Suck Bang Blow
5/16 – Murrells Inlet, SC @ Suck Bang Blow
5/17 – Murrells Inlet, SC @ Suck Bang Blow
5/26 – Sandusky, OH @ Jimmy Bukkett's (Bike Week)
6/01 – Fairborn, OH @ Sugar Mellon's
Jasmine Cain
SEVEN
1. Burnout
2. Do It For You
3. Be Brave
4. Are You Ready
5. Let It Go
6. Money
7. Ghost
8. Real World
9. Powers
10. Longshot
ONLINE
http://jasminecain.com
http://twitter.com/jasminecainrock
http://instagram.com/jasminecain
http://www.facebook.com/jasminecainrocks
https://open.spotify.com/artist/5Gq3cAe5zmaYP9ApN56mib