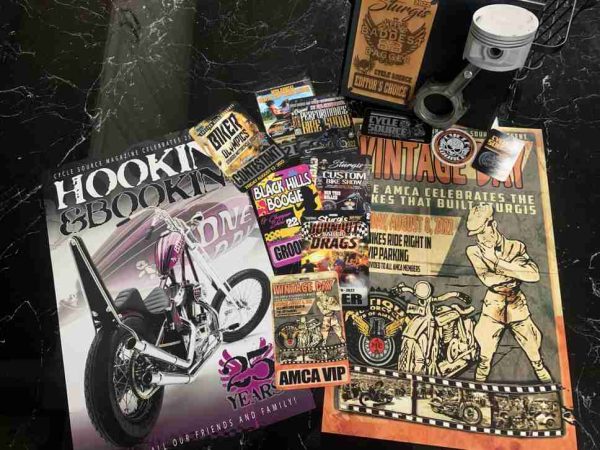 Sturgis Here We Come!
Holy hell do Cycle Source have a lot going on for the 82nd running of the Black Hills Motorcycle Rally… and even better, y'all are invited and it's all Free!
­Dennis Kirk Garage Build Show
Saturday, August 6th – Iron Horse Saloon
­The ONLY show specifically for the home garage builder! Registration starts at 11am, awards in over a dozen classes are at 4pm. Come hang out with Chris, Heather, Dumptruck and Professional Monkey!
16th Annual Cycle Source Custom Ride In Bike Show
Sunday, August 7th – Iron Horse Saloon
For 16 years in a row Cycle Source has been celebrating the custom motorcycle scene in Sturgis with one killer show, and this year is no different! With awards in 33 classes there is a class for every seat. Best of Show wins a full feature in the Magazine and takes home a bitcoin rolling chassis from Paughco! No charge to show!
5th Annual Vintage Day
Monday, August 8th – Iron Horse Saloon
If you love Old Iron, then this is your jam for sure. Special parking for antique and vintage motorcycles PLUS free lunch and commemorative poster for the first 100 AMCA card holders! AND…it's all FREE, FREE, FREE
The Original Performance Bike Show With Lil Evil Inkorpor8ted
Tuesday August 9th – Steel Pony Campground
Join Kurt & crew the Steel Pony Campground for the 6th Annual Original Performance Bike Show. Awards in 11 Classes plus Best of Show gets a full feature in Cycle Source Magazine. No Charge to Show!
Baker BurnOut Drags
Tuesday, August 9th – Iron Horse Saloon
Heads Up Bracket Racing Until There Is A Sturgis Champion! Bert "F#@king" Baker himself will be engineering this crazy train! Trophies & Cash Prizes. Sign-Ups Start at 7:00, Racing Starts at 8:00ish
16th Annual Run To The Line
Wednesday, August 1oth – Starts At The Iron Horse Saloon
Ride with Cycle Source and Friends Through the Black Hills. Nostalgic Bag Lunch provided at our pit stop. Photography by World Famous Motorcycle Photographer Michael Lichter. As always, this is a FREE event.
Black Hills Boogie Chopper Show And Disco Party
Thursday August 11th – Steel Pony Campground
Be a playa at our 70's Black Hills Boogie Chopper Show & Disco Party. Cash prizes and trophies raddest bikes of the night and the best '70s get-up. Party is poolside… Pimps Up Hoes Down baby! As always, there's no cost to party with us.
Biker Olympics & Mini Bike Drags
Friday, August 12th – Iron Horse Saloon
Win a $200 cash prize in each of 5 games, with a championship leather belt for the overall winner! Slow Race, Keg Roll, Spoon Race, The Waitress, and Weenie Bite. PLUS – mini bike drag races between games.
Visit Cycle Source website at: cyclesource.com
* * * * * * * * * * * * * * * * * * * *
Tell 'em Bikernet.com sent ya !!! Riding Free for 25 years….