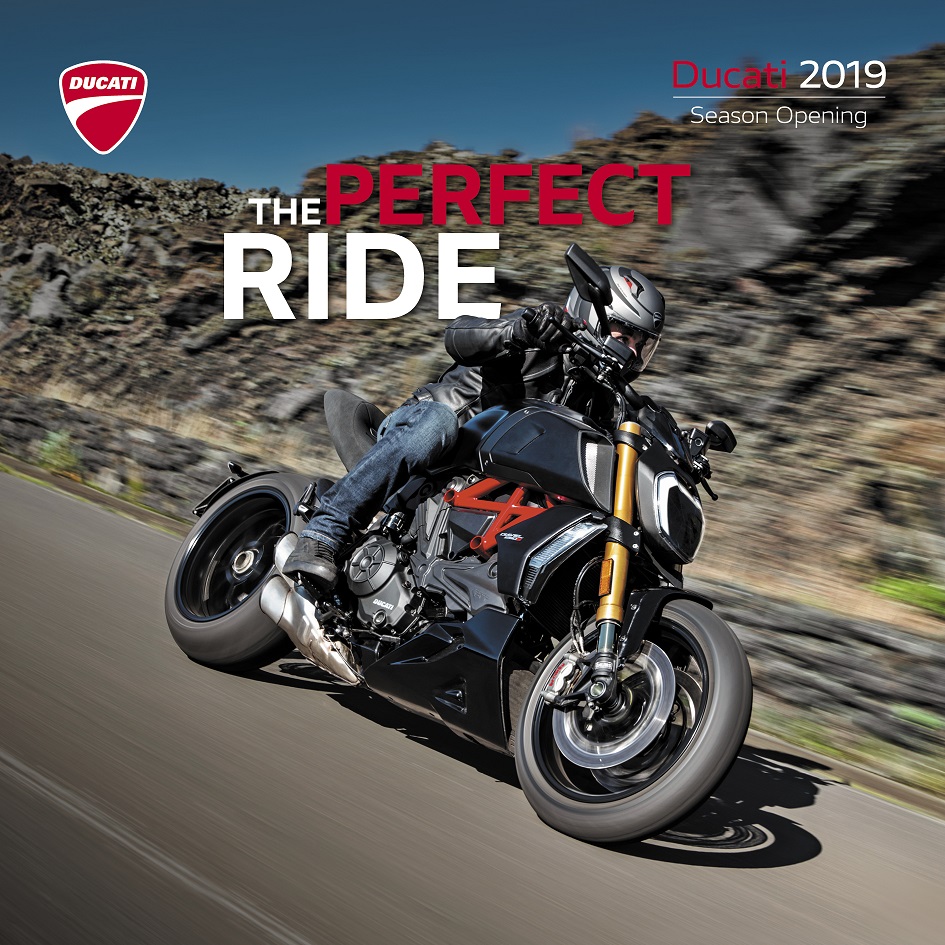 Season Opening Events Taking Place March 22 – 24 at Showrooms Nationwide
Mountain View, Calif. (February 22, 2019) – Ducati North America is celebrating the warm riding weather just around the bend by bringing its national Season Opening to participating dealerships March 22 – 24. The annual event offers Ducati owners and new fans their first opportunity to experience the Italian brand's new line of motorcycles in person, which includes 10 new models for 2019, built for every riding level and encompassing all the Ducati worlds, ranging from Racetrack, Travel, Lifestyle and Scrambler, to Sport & Fun.
For details, motorcyclists – or anyone interested in learning how to ride – can sign up here to learn more about the 2019 bikes or can locate their nearest Ducati dealership online at: https://www.ducati.com/us/en/dealers
One relevant addition to the 2019 Ducati stable is the all-new Diavel 1260, the first significantly new Diavel since its debut in 2010, with a new 1262 cc engine and muscular styling – making it a completely new motorcycle. It's perfect for experiencing summer winds along the coast, refreshing spring breezes down winding mountain roads or cruising with style down the backroads of America. Power and technology mix in the new Diavel 1260 to create the most advanced Diavel to date and, with low monthly payments, financing for the Diavel 1260 can be priced starting as low as $265.95 per month.
Sign up here to learn more about the new Diavel 1260: https://contact.ducati.com/ww/en/season-opening-2019/light/s
Also, existing 2018 models can be available with APR as low as 0% through Ducati Premier Financing, or with special offers on Ducati Apparel and Ducati Accessories. For more information, clients should contact their nearest Ducati dealership.
Ducati 2019 Season Opening Motorcycles
Scrambler Icon [As Low As $118.17 Per Month] – The Scrambler brand was launched in 2014 and has become Ducati's best-selling model by volume. For 2019, the new Scrambler Icon continues this vintage-inspired-joy of a motorcycle with important technological updates in the world of safety, including Bosch Cornering ABS. Visually, the new motorcycle continues retro-inspired style with new, beefier side panels to match the steel of the teardrop tank and the glass of the headlight. A black-painted engine, brushed cylinder head fins and machine-finished rims give the new Ducati Scrambler Icon even more eye-catching panache.
Scrambler Full Throttle [As Low As $136.73 Per Month] – The new 2019 Full Throttle takes its cue from the flat track Scrambler ridden by Californian racer Frankie Garcia in the 2018 American Super Hooligan Championship. With its two-tone black-yellow, white-striped tank, all-new rear end with dedicated seat and white-rimmed yellow number holders, this bike has a real dirt track competition feel. A low-slung tapered handlebar – light and ergonomic – stubby front mudguard and dual-silencer exhaust add to the distinctiveness of the Scrambler Full Throttle.
Scrambler Desert Sled [As Low As $148.33 Per Month] – For 2019, the Scrambler Desert Sled rekindles the spirit of classic American off-road bikes without compromising the Ducati Scrambler lifestyle. With its red frame, new seat with color-coordinated stitching and spoked wheels with black rims, it exudes off-road fun. The new Desert Sled also features an Off-Road Riding Mode that allows ABS disengagement for down-in-the-dirt joy. A dedicated riding position and adjustable Kayaba suspension also ramp up the fun factor. Rugged off-road character oozes from the type-approved headlight mesh guard, high mudguards (specially designed for this version) and engine skid pan.
Scrambler Café Racer [As Low As $148.33 Per Month] – The new 2019 Scrambler Café Racer draws its inspiration, and its Silver Ice Matte graphics with blue frame, from the legendary Ducati 125GP Desmo. The new 17″ spoked wheels and aluminum bar-end mirrors give the bike a cool 1960s race look, while a modern radial front brake pump provides braking performance on a par with that of a sport bike. It's a rare Ducati in blue – one surely to catch the eyes of everyone on the streets.
Hypermotard 950 [As Low As $180.24 Per Month] – With new sharper angles and a lighter weight, the adrenaline-packed Hypermotard takes its look from the supermotard race world and for 2019 comes with completely overhauled ergonomics and an ultra-advanced chassis set-up and electronics package. A full 8 lbs. lighter than the previous model, the Hypermotard mounts a renewed 937 cc Testastretta 11° engine with a more muscular 114 hp.
Hypermotard 950 SP [As Low As $223.73 Per Month] – The spirited and higher-performing Hypermotard SP also on display is Ducati's offer for those looking for Hooligan-style excitement, featuring a flat seat, increased-travel Öhlins suspension, Marchesini forged wheels and Ducati Quick Shift (DQS) Up and Down EVO, as well as Carbon Fiber components such as front mud guard and timing belt covers.
Diavel 1260 [As Low As $265.95 Per Month] – Unconventional, unique and unmistakable, the second-generation Diavel 1260 remains faithful to the original spirit of this incredibly special bike, drawing on its key styling elements and putting a decidedly more contemporary slant on it. Its Testastretta DVT 1262 engine is capable of delivering 159 horsepower at 9,500 rpm. The bike also includes an upgraded chassis to make it more responsive on mixed-road routes. The S version on display also features fully adjustable Öhlins suspension, dedicated wheels, and an even higher-performance braking system, with Ducati Quick Shift up & down Evo (DQS) as standard to allow clutchless shifting.
XDiavel (Matte Liquid Concrete Grey) [As Low As $276.18 Per Month] – New for 2019, the XDiavel – famous for representing the best parts of the Ducati performance world and the relaxed cruiser world – now comes available in an uncompromising new color palette, the stunning Matte Liquid Concrete Grey. The finish and style express the motorcycle's edgy spirit and take the XDiavel's strong look to new levels.
Multistrada 1260 Enduro [As Low As $322.23 Per Month] – The Multistrada 1260 Enduro is the new generation of the off-road member of the Multistrada family. It has an increased engine size with the 1262 cc Testastretta DVT engine pushing out 158 horsepower, which is an increase from 152 horsepower from the previous Multistrada 1200 Enduro.
Panigale V4 R [As Low As $521.85 Per Month] – The Panigale V4 R features technology taken from MotoGP racing and is a racing bike that can be enjoyed on the streets. Following Ducati's first mass-production four-cylinder engine, the V4, debut in 2017, the V4 R is now the pinnacle of the new Panigale V4 family and can claim the title as the ultimate road-legal Ducati competition bike. This is the most powerful, high-performance factory bike ever built by Ducati, with new technology like carbon fiber aerofoils that increase stability and allow for reduced reliance on electronic controls.
About Ducati:
Additional information about Ducati, including participating dealers and availability can be found at www.ducati.com.
Ducati Motor Holding S.p.A. – A Sole Shareholder Company – A Company subject to the Management and Coordination activities of AUDI AG.
Founded in 1926, since 1946 Ducati has been producing sport-inspired motorcycles characterized by high-performance Desmodromic engines, innovative design and cutting-edge technology. Situated in Bologna, the factory is located in the Borgo Panigale district. The model range covers several market segments with the following families: Diavel, Hypermotard, Monster, Multistrada, and Superbike. In 2015 Ducati presented the Ducati Scrambler: a new brand made of bikes, accessories and apparel that provide the last word in creativity and self-expression. These authentic icons of "made in Italy", together with an extensive range of associated accessories and technical and lifestyle apparel, are distributed in 90 countries around the world. Ducati competes in both the World Superbike and MotoGP World Championships. In Superbike Ducati has won 17 Manufacturers' titles and 14 Riders' titles and in 2011 passed the historic milestone of 300 race victories. Ducati have participated in MotoGP since 2003, winning both the Manufacturers' and Riders' titles in 2007.