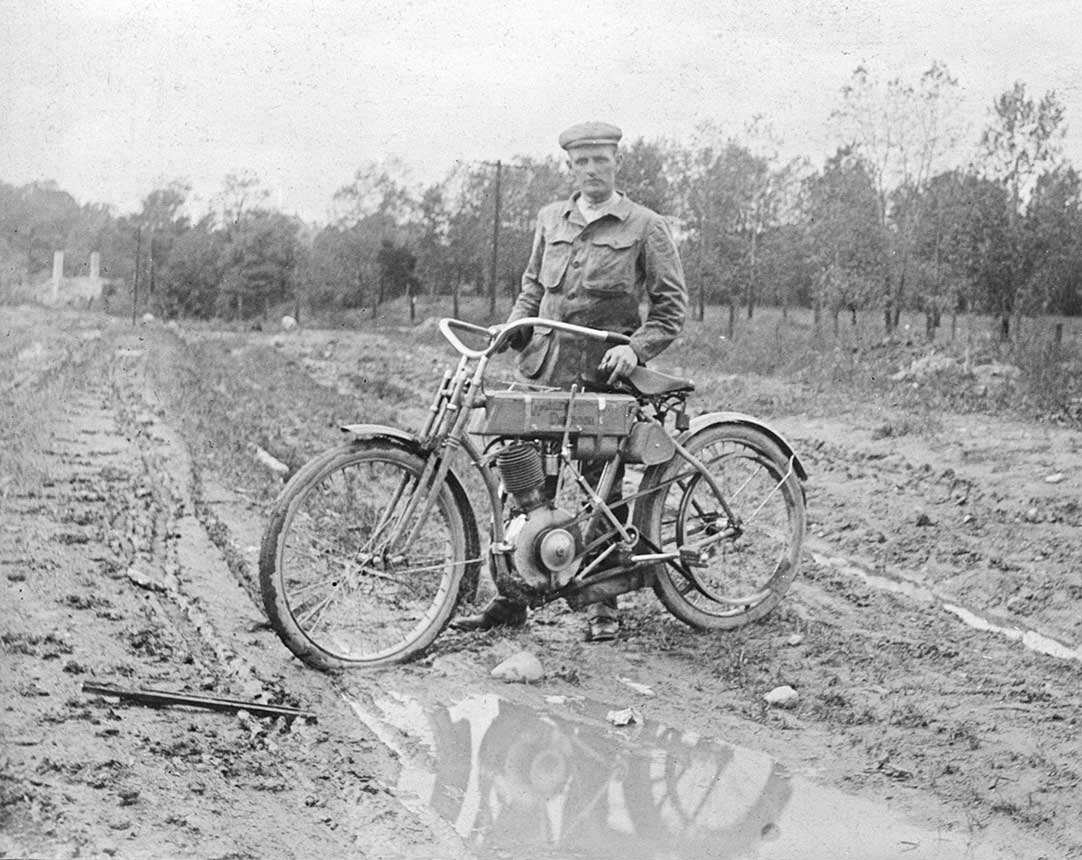 by Skyler Chun from https://www.milwaukeemag.com
Preview: A Historic Show at the Harley-Davidson Museum. Learn all about the history of off-road motorcycling at the Harley-Davidson Museum.
A new exhibit – about the storied past of off-road motorcycles and the people who rode them – has rolled into the Harley-Davidson Museum.
"There's a deep history here with this type of riding," exhibits curator David Kreidler says, adding that the company has long made special motorcycles designed to be ridden across difficult terrain. After all, when the company was founded in 1903, roads weren't widely paved, and riders needed to be able to maneuver their bikes across rutted earth, or dodge fallen logs and debris.
The "Off-Road Harley-Davidson" exhibit was created to coincide with the introduction of the Pan America adventure-touring motorcycle.
One of the highlights of the exhibit, "Off-Road Harley-Davidson," is the LiveWire, the company's first all-electric motorcycle. The bike was featured prominently in the Apple TV+ show "Long Way Up," which followed Ewan McGregor and his friend motorbiking from South America to Los Angeles. Older bikes are also on display.
While the museum is open to the public, it's planning virtual events as well. To replicate the experience of walking through the galleries, Kridler will lead tours of the exhibit space that viewers can access online if they'd rather not visit in person.
"Off-Road Harley-Davidson" looks back at Harley's history of all-terrain motorcycles. Visit the Harley-Davidson webpage for more information.
"Off-Road Harley-Davidson" exhibit celebrates the company's past
by Mark Gardiner from https://www.revzilla.com
To celebrate the launch of its Pan America adventure bike, The Motor Company recently mounted a lovely exhibit called "Off-Road Harley-Davidson" at its museum in Milwaukee. Unfortunately, just as the exhibit was due to open to the public, a surge in COVID cases forced Milwaukee County to close museums!
I recently got a private tour of the exhibit from curator Dave Kreidler. You too can join Dave for a virtual gallery chat on Thursday (cost $6 or free for museum pass holders). The museum expects to reopen to the public next month.
The Pan America has been engineered for everything from comfortable touring to exploring gravel or dirt backroads and taking sand, mud and the occasional river crossing in stride. That might seem like a radical change for Harley-Davidson, but only if you forget that the company's been selling motorcycles for more than a century. For the first few decades of its existence, sand, mud, and water crossings weren't off-road challenges — they were features of American roads.
Harley-Davidson is older than 99.9 percent of U.S. paved roads
The first modern asphalt roads were paved in the mid-1800s, before cars and motorcycles. Bicycles became popular in the 1880s and bicyclists were the first group to lobby governments for improved roads. Still, by 1900 less than five percent of America's roads were paved. There was a bit of an asphalt boom during the First World War, but it was limited to roads connecting manufacturing centers to ports. The war in Europe convinced the U.S. Army that trucks — and roads that could support them — were a strategic asset.
After the war, the Army sent 79 vehicles, 260 enlisted men and 35 officers, including a young Lt. Col. named D. Eisenhower, on a cross-country convoy to demonstrate the practicality of trucks and the need for better highways. They traveled from Washington, D.C. to San Francisco on the Lincoln Highway. Eisenhower returned dismayed by the dismal state of the country's roads and bridges. Dozens of flimsy wooden bridges were destroyed by the Army convoy!
Little was done to improve the situation until the Works Progress Administration improved and paved about half a million miles of roads as part of the New Deal. Many farm-to-market roads were paved; one New Deal slogan was "Get the farmers out of the mud!"
Ike never lost his interest in road construction and as president he signed the bill that created the Interstate Highway System.
That's a roundabout way of pointing out that the first 100,000 or so Harley-Davidson motorcycles were used on a mix of surfaces that riders of today would say called for an ADV bike, if not a full-on dual-sport. Back then, though, there were just "motorcycles."
Curator Dave Kreidler shows "Off-Road Harley-Davidson" exhibit
The exhibit's not arranged chronologically. "We organized it in five sections, based on the type of riding that the company was selling to people," Dave said as we stood in front of a 1964 BTH model.
Sold as the Scat, the BTH was a 175 cc two-stroke that's recognizable as a dual-sport in spite of its rigid rear end and a plunger fork with only a couple of inches of travel. It was one of the last models in a line of lightweight motorcycles based on the German DKW RT 125. (DKW's intellectual property was essentially seized as war reparations, and versions of the RT 125 were sold as BSA Bantams in Britain, Harley-Davidson Hummers in the United States and the MMZ M-1A Moskva in Russia.)
The Scat was a road-legal trail bike sold with a high pipe, high fenders, and fairly knobby trials-pattern tires. An extra-low final-drive ratio was available as an option. It was one of many Harley-Davidsons that, over the years, were marketed as perfect vehicles for hunters and anglers.
Next up were a couple of displays devoted to touring in the 1910s and '20s, which would be considered pretty intense adventure-touring by today's standards.
In 1914, the Model 10-F was Harley-Davidson's flagship. It had a two-speed gearbox and a "step starter" that allowed it to be started without putting it up on its rear stand. That was a real advantage if you were in terrain where there was no firm, level spot for the stand.
While researching this exhibit, Dave found a 1914 article in H-D's dealer magazine describing a young naturalist named Hamilton Laing, who dropped by the Juneau Avenue factory on a ride from New York City to western Canada.
"I got kind of interested and poked around a little bit more on the internet for him," Dave told me. "Lo and behold, he became a fairly well known naturalist, worked for the British Columbia Museum, and they had all of his papers."
Laing's papers included a memoir of another epic ride, from Brooklyn to Oakland in 1915. Laing "talks about the motorcycle in very poetic terms," Dave said. "There's this great passage where a speeding car passes him in Pennsylvania, and he goes on for a few paragraphs about how the motorcycle is a superior form of transportation, if you just want to stop and smell the roses. You know, not much has changed actually in that regard."
The British Columbia Museum noted that although Laing kept his motorcycle for several more years, he did most of his work travel in Canada by canoe. An intrepid fellow!
Another period touring display is a 1921 WJ Sport, one of Harley-Davidson's rare boxer twin offerings. "The popularity of this machine for cross country touring is due in part to its ability to travel even a burro trail," bragged an advertising copywriter of the time.
"We wouldn't call this a lightweight today," Dave said. "But it was lighter than our Big Twin. The engine was easier to work on and it got good fuel mileage." In 1921, those were important considerations. Touring riders had to perform most of their own maintenance and repairs; gasoline was expensive and often was only available from mechanics or automobile and motorcycle dealers.
Although you can see that the WJ doesn't have much ground clearance, it does have a forgivingly low center of gravity, which was surely a boon when picking one's way through difficult terrain at slow speed.
The next display we looked at was devoted to purpose-built race bikes. Enthusiasts had raced H-D's heavy big twins in tough off-road events like Michigan's Jack Pine Enduro forever but by the mid 1950s lighter, purpose-built off-road motorcycles dominated in the dirt.
The 1958 XLCH Sportster was a true production racer, sold without lights. "In some ways you could say that this was our first real off-road motorcycle," David noted. (The first road-going Sporty — equipped with a headlight — came the following year.)
Both the Sportster and an elegant 1972 ERS Sprint scrambler evoke an era of spare and elegant production racers like the company's KR and XR flat track bikes. The Sprint was one of the models that emerged from H-D's acquisition of the Aermacchi company, which happened in two stages. It purchased a half interest in the Italian firm in 1960, then AMF-Harley-Davidson purchased full control in 1974.
One thing that's conspicuously missing from the exhibit is an Aermacchi two-stroke motocross bike. Harley-Davidson fielded a factory team in the AMA 250 cc Championship on and off between 1975 and 1979. The '75 MX-250 was produced for one year only. It used an adapted Kayaba fork instead of rear shocks. Although it was not really a competitive motocrosser, Bruce Ogilvie won the 1975 Baja 500 on it.
In 1978, they produced another limited run of MX-250s but the chassis was instantly obsolete compared to the monoshock Yamaha YZ250. The Aermacchi motor made good power but it was peaky as hell. Harley-Davidson sold Aermacchi to the Castiglioni brothers later that year and abandoned its AMA motocross effort altogether in 1979. In spite of its checkered history, the MX-250 is a bit of a cult bike with the vintage MX crowd.
Just because you can do it doesn't mean you should
The most compelling display may be a much abused 1985 FXRP police model. It's hard to imagine anything further from a factory off-roader. But Charlie Peet, a Harley-Davidson enthusiast from Florida, chose that bike for his mount in the 9,000-mile Trans-Amazon Rally held in 1988.
Peet's police bike was modified at a Ft. Lauderdale Harley dealership. They fit a larger fuel tank from a BMW, saddlebags, a skidplate, handguards, extra lights, and louder horns! It was shipped to the starting point in Cartagena, Colombia. It baffled the 170-odd other competitors. Most were two-person teams in cars or trucks; the six other motorcycles entered were all purpose-built dirt bikes.
"They voted Charlie least likely to finish because not only was he on this thing, but he didn't have a support team," Dave told me. "It was really dangerous. Normally with rallies, you have sweep teams; there were none. Every country handled its own leg of the rally. The maps were a mess. At one point, Charlie was riding and looking at his map, and what he thought was a road was actually the border between two provinces."
In spite of that, he was one of four motorcyclists to reach the finish in Buenos Aires, Argentina. Harley-Davidson engineers convinced the company to acquire Peet's FXRP so they could study it. Evidently they couldn't believe it had finished the race either.
The FXRs were the first new models released after the management bought Harley-Davidson back from AMF. The chassis was developed with input from a young pup named Erik Buell, and there are people who claim these are the best hogs ever farrowed. Be that as it may, this 1,137 cc beast, which weighed 683 pounds, was a crazy choice for the Trans-Amazon Rally.
Into the modern era
The exhibit also includes a 2006 Buell Ulysses and Ewan McGregor's LiveWire from the recent Long Way Up TV series.
The Ulysses, recently profiled on Common Tread, is another short-lived model that became a cult fave once it was discontinued. In this case, the whole Buell brand was killed off. It's often seemed to me that Harley-Davidson employees dare not speak the Buell name, but perhaps the Ulysses reputation will be rehabilitated to help establish the Pan America's bona fides.
McGregor's LiveWire might be cool to see but next to Charlie Peet's FXRP, McGregor and Boorman's ride was little more than a jaunt.
All of this leads to, of course, the Pan America. Even the museum doesn't have one of its own yet. The bike on display at the moment is a late prototype or early production model that belongs to the Parts & Accessories side of the business. They used it to test the fit of components and as a photo model.
With the exception of the Ulysses, the motorcycles on display in "Off-Road Harley-Davidson" are too old to be thought of as Pan America progenitors, so it's up to you to decide whether the exhibit serves to bolster faith in Harley-Davidson's ADV chops. That said, I admire The Motor Company's sense of its own history, which obviously includes a lot of very adventurous riding that is nicely shown off in this exhibit. As I've come to expect from the Museum, the lighting and displays are beyond reproach.
David Kreidler scoured his employer's extensive archives for photos, copies of old ads, and other ephemera which round out the stories of the motorcycles on display. As noted, a few models were conspicuous by their absence but it's better to leave visitors wanting more than footsore and overwhelmed.
In addition to this week's virtual debut of the exhibit, the museum is planning to reopen to the public on March 5 with hours of 10 a.m. to 5 p.m. on Fridays, Saturdays and Sundays.