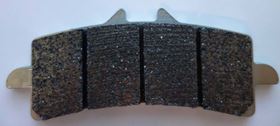 from https://www.materialstoday.com/
The Fraunhofer Institute for Manufacturing Technology and Advanced Materials is reportedly developing an iron-based sintered brake pad for motorcycles.
The aim of the GreenPad project, run also by Danish auto parts company SBS Friction and Danish Technological Institute, is to develop copper and nickel-free sintered brake pads with tribological properties equivalent to those of conventional metallic brake pads, Fraunhofer said.
'Initial tests have shown that the iron-based new developments are achieving promising results, which have been demonstrated both in the laboratory and in direct use in the motorcycle,' the company said.
Sintered brake pads have high temperature, wear, and abrasion resistance, and can be used for brakes in rail transport or in motorcycles and bicycles. While there are no environmentally friendly metallic alternatives, there are commercial, economic and environmental reasons for abolishing the use of copper and nickel in production, Fraunhofer said. From 2021, for example, brake pads with a copper content of more than 5% will no longer be allowed to be sold in the US states of Washington and California.