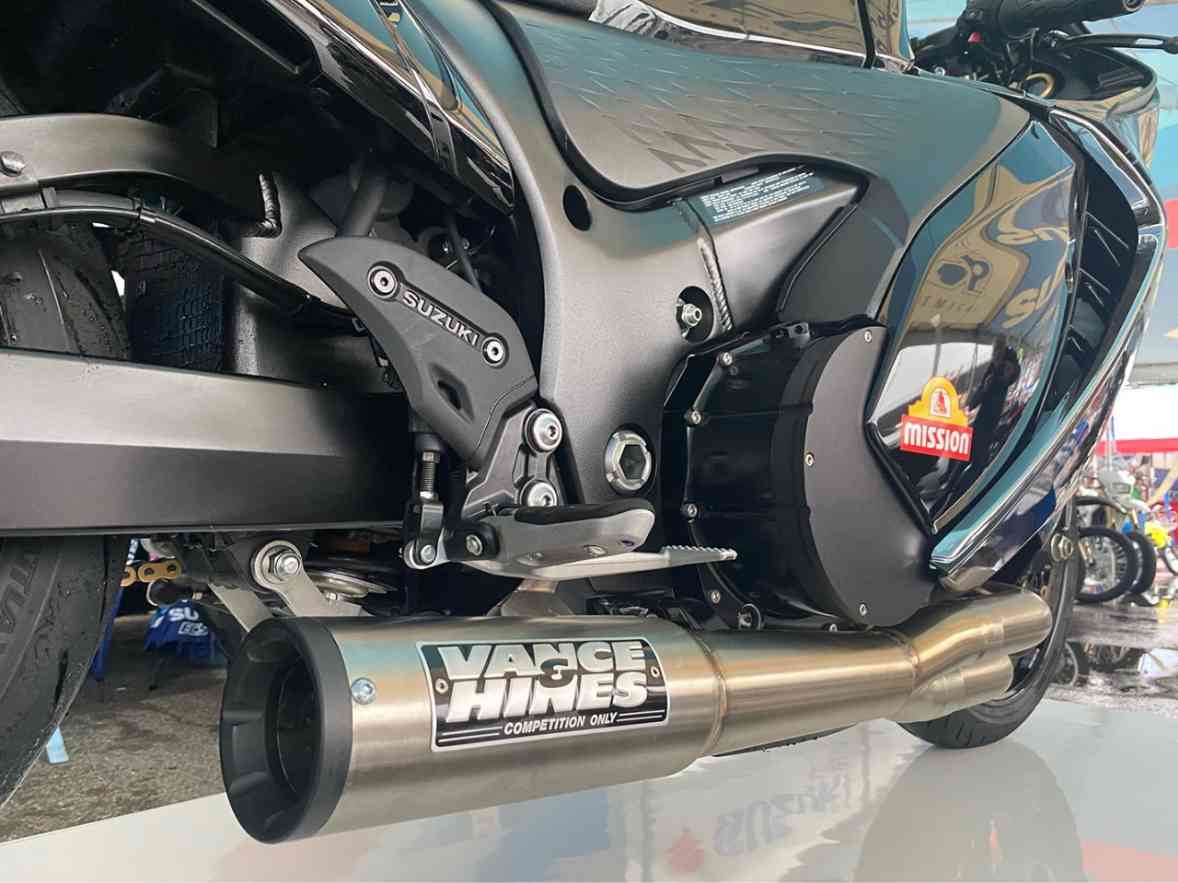 Vance & Hines Reveals New Sidewinder Exhaust System for Suzuki Hayabusa Drag Racers
Santa Fe Springs CA – March 31, 2022 – Vance & Hines today announced the ultimate exhaust for Suzuki Hayabusa drag racing machines, the new 4-2-1 Sidewinder Exhaust, another step forward in the partnership the company has with Suzuki Motors USA.
The new system is designed for drag race-use on Suzuki Hayabusa models from 1999 to today. Its 4 to 2 to 1 configuration is the ultimate design for peak horsepower, particularly for higher displacement or heavily modified engines, including those running nitrous set-ups, but will still provide good gains on milder set-ups as well.
The exhaust is manufactured of lightweight 304 stainless steel, so it weighs only 14 pounds, a reduction of 30 pounds from the 44-pound stock system. It includes tapered head pipes and full merge collectors for maximum performance. The system also includes features that allow it to be adapted for whatever level of performance an owner/racer is seeking. This includes oxygen sensor bungs and an optional baffle so that the pipe can be adjusted to meet a broad range of performance mods. Suggested retail price is $1799.99.
"This is another great product from the Vance & Hines team at our Racing Development Center," said Vance & Hines President Mike Kennedy. "The performance capabilities of this system and the vast number of Hayabusa-mounted drag racers should make this a winner for the riders and for Vance & Hines."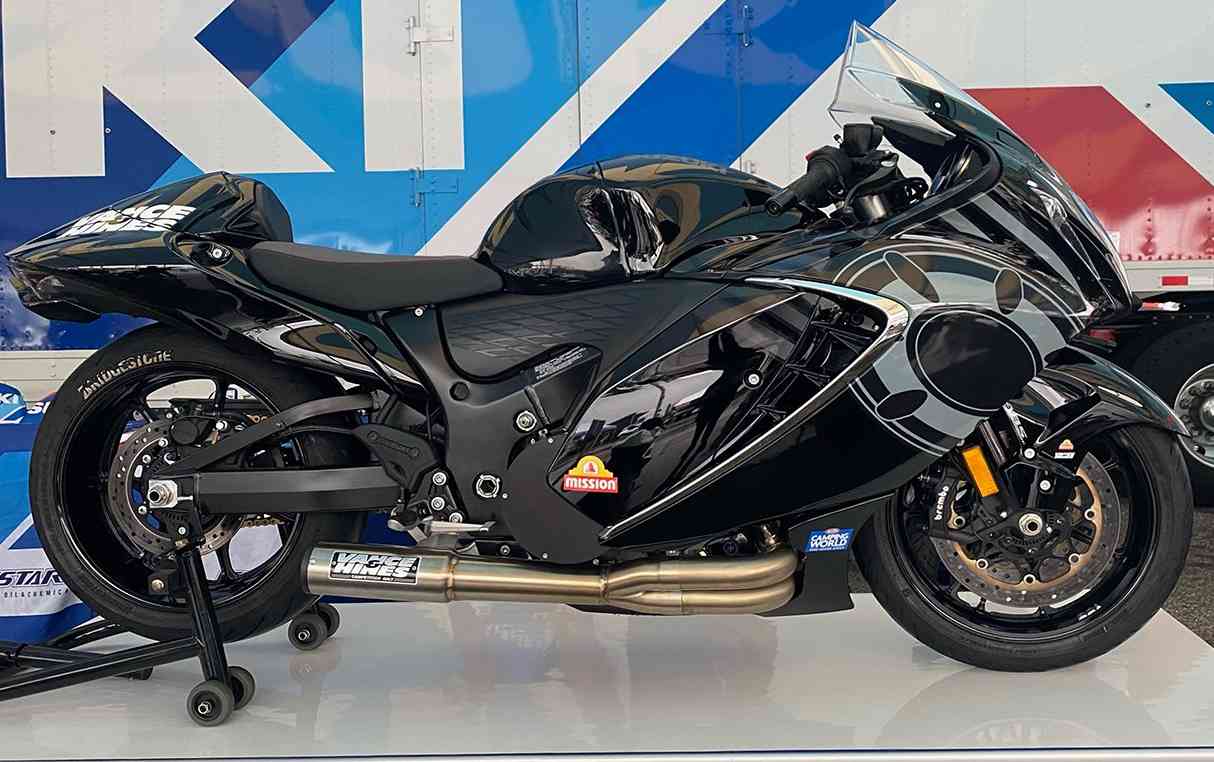 The Sidewinder exhaust system is included in the Vance & Hines continency sponsorship program for the XDA drag racing series.
The new pipes are available immediately from the Vance & Hines Racing Development Center at 317-852-9057 or rdc@vanceandhines.com.
Technical Features
Lightweight 304 stainless steel construction (.049″ wall thickness) with brushed finish
Tapered head pipes and full merge collectors for maximum performance
"Competition Only" Riveted Vance & Hines Logo Badge
Slip-fit collector joints with dual swivel end retention springs
Tuned length megaphone with optional baffle available (headers are 1-5/8″ tapered to 1-7/8″, 4-into-2 collectors are 1-7/8″ to 2-1/8″, final 2-into-1 collector 2-1/8″ to 3″, megaphone tapered from 3″ to 3-1/2″ then stepped to 4″)
Two, 18mm oxygen sensor bungs for stock O2 sensors or wideband air/fuel ratio monitoring.
Weighs only 14 pounds, 30 pounds lighter than the stock Hayabusa exhaust.
Includes exhaust port flanges, oil cooler bypass kit and spring puller tool
Fits all years 1999-2022
Lower fairing modification required; adhesive cut-out template supplied
Learn more about the company's history and products at www.vanceandhines.com.
Sign up for Bikernet Free Weekly Newsletter to stay updated on latest Motorcycle news, products, parts, tech, tips, reviews, events & fun.