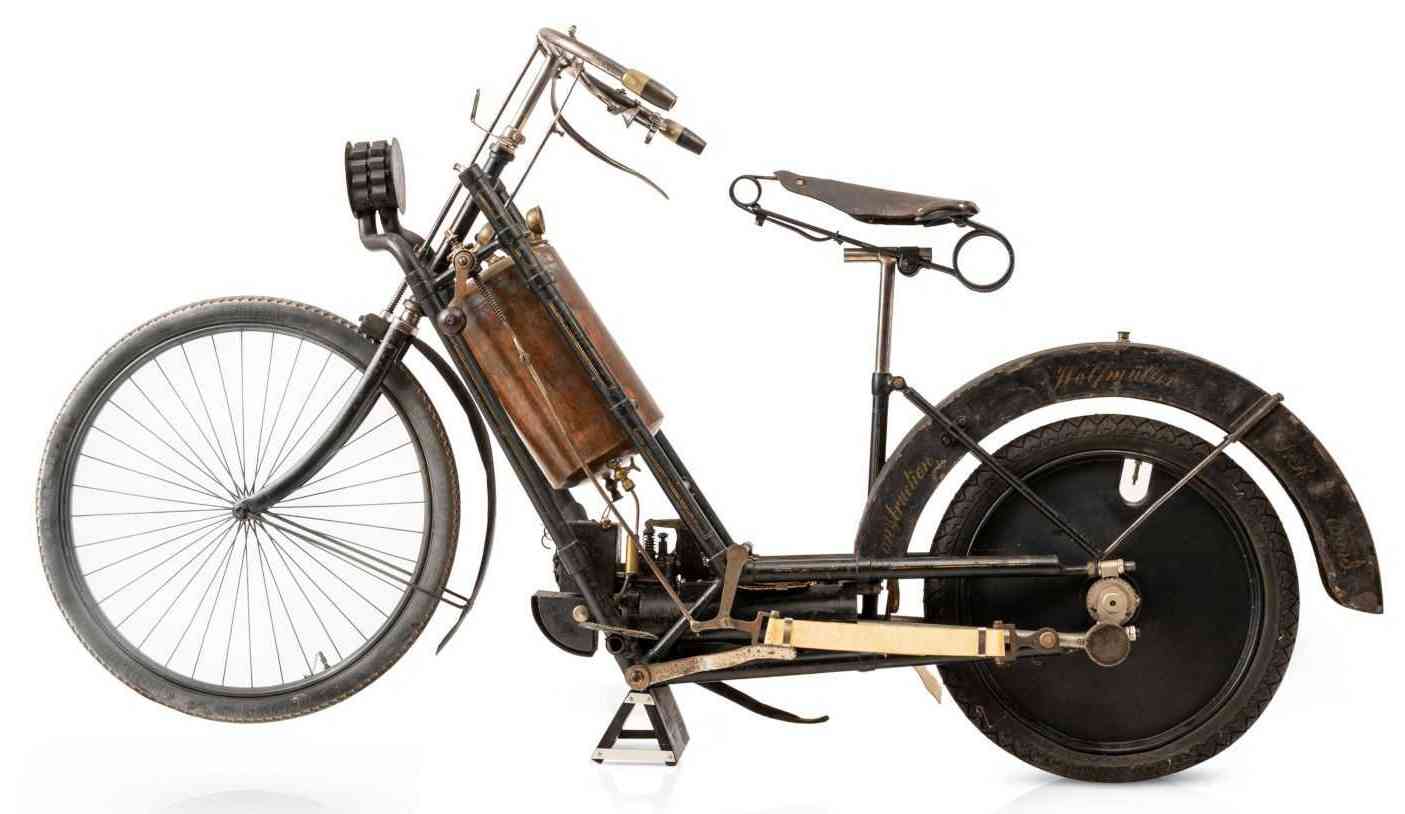 This example may be the earliest one still in existence in 2023.
World's Oldest Production Motorcycle Sells For $212,000 At Auction
by Janaki Jitchotvisut from https://www.rideapart.com
The early days of motorcycling were a wild time. From strapping engines to the frames of unsuspecting bicycles, to steam-powered velocipedes, people were eager to find new and improved ways to get around. New technological frontiers are typically a time of great experimentation, and this era in motorcycling was certainly no different.
In February, 2023, an extremely interesting piece of that early history went up for auction at Bonhams Paris The machine in question is an extremely rare 1894 Hildebrand & Wolfmüller, which bears the reputation of "the first powered two-wheeler to enter series production," as well as the first vehicle to be called by the name "motorcycle" (or "motorrad," in German). It ultimately sold for €195,500, or roughly $212,000 Yankee dollars including the premium.
Brothers Heinrich and Wilhelm Hildebrand set to work crafting their first powered two-wheeler designs during the crucial transition between steam-powered and gasoline-powered vehicles. As the story goes, they started with steam, but eventually turned to a two-stroke design in cooperation with two other individuals: Alois Wolfmüller and his mechanic Hans Geisenhof.
Development is often an iterative process, and what the team eventually came up with to make this production vehicle was a water-cooled, four-stroke, parallel twin engine with what must have been a breathtaking displacement at the time: 1,489cc. This reportedly made about 2.5 brake horsepower at 240 RPM, and resulted in a machine that could top out around 30 miles per hour. That might seem terribly slow in 2023, but was likely more impressive in a time when motor vehicles (let alone faster ones) weren't so commonplace.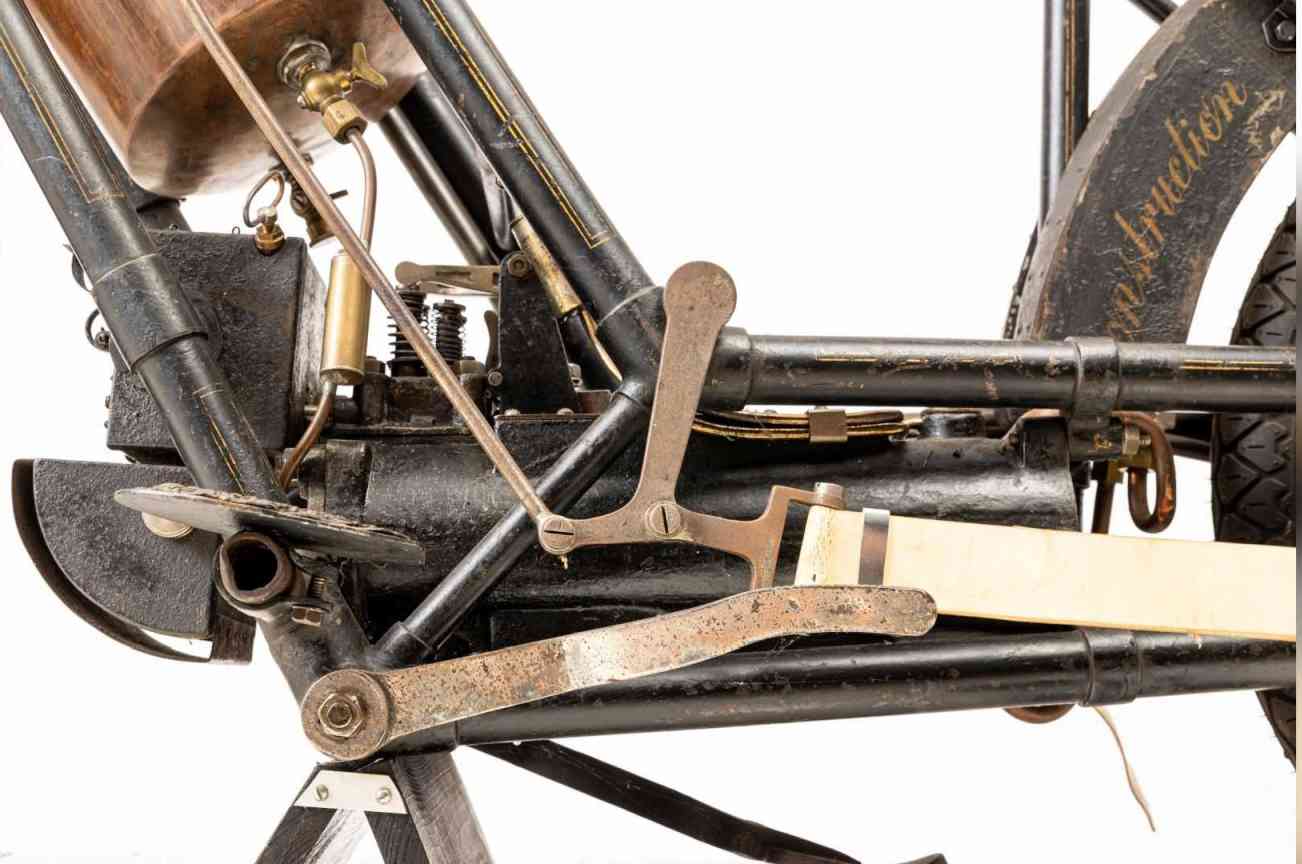 If this machine seems like an alien contraption to your modern eyes, that's because it's quite different from any motorcycle we know today. Here's how the Bonhams listing describes some key features of this bike:
"Steam locomotive practice was further recalled by the long connecting rods directly linking the pistons to the rear wheel, which opened and closed the mechanical exhaust valves via pushrods actuated by a cam on the hub. The latter contained an epicyclic reduction gear and there was no crankshaft flywheel, the solid disc rear wheel serving that purpose. Rubber bands assisted the pistons on the return stroke. Fuel was fed from the tank to a surface carburetor and thence via atmospheric inlet valves to the cylinders where it was ignited by platinum hot tube, as developed by Daimler. The box-like rear mudguard acted as a reservoir for the engine's cooling water, while one of the frame tubes served as the oil tank. The tires, manufactured under license from Dunlop by Veith in Germany, were the first of the pneumatic variety ever fitted to a motorcycle," it reads.
Also, this bike didn't have a clutch. Instead, the starting procedure involved pushing it until the engine fired up, then jumping into the saddle and riding it wherever you needed to go. (Perhaps it wasn't only the world's first production motorcycle, but also the world's first production exercise bike?)
The design for this bike was patented in 1894, and the machines were produced both in Munich, by parent company Motofahrrad-Fabrik Hildebrand & Wolfmüller , and also under license in France as La Petrolette. People of the time were reportedly optimistic about the new bikes, but their optimism was soon tinged with regret and demands for their money back due to starting difficulties and unsatisfactory running performance. By 1897, after French licensee Duncan, Superbie et Cie lost a court case with a customer about these issues, both the German and French concerns went bust. It's unclear how many of these machines were ever made, but it's believed to be somewhere between 800 and 2,000 in total.
This specific example is believed to be the earliest numbered example still existing today, with frame number 619 and engine number 69. It was last sold in 1990, and documentation that accompanies this sale includes papers from that time, as well as period marque literature (mostly, if not all, in German). The tires and bands have been replaced (and one of the bands needs replacing yet again), but this bike is otherwise in mostly untouched condition—which makes it even more remarkable, given the fact that it's almost 130 years old.
* * * * * * * * * * * * * * * * * * * * * * * *