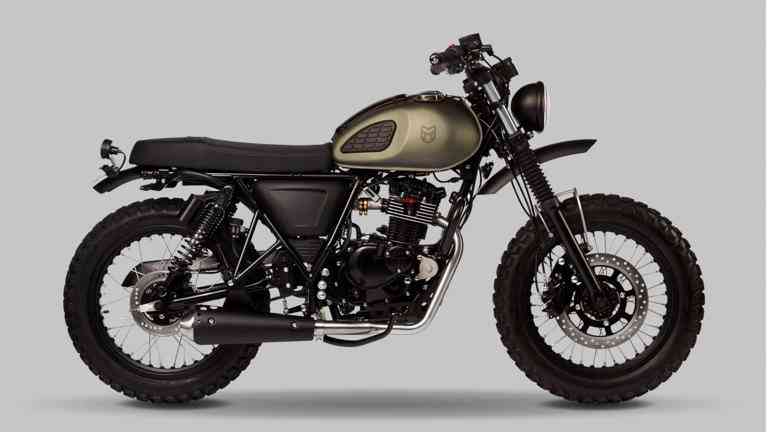 by Janaki Jitchotvisut from https://www.msn.com
Preorders are now open for both, with bikes starting to roll out in March, 2023.
On February 14, 2023, Birmingham, U.K.-based motorcycle company Mutt officially introduced its revived Mushman in two displacements: 125cc and 250cc. It's Mutt's newest scrambler on the block, and it comes with a number of features to set it apart from the pack.
Both displacements are powered by air-cooled, single-cylinder engines that are mated to five-speed gearboxes. The 125cc makes a claimed 10 newton-meters (about 7.37 pound-feet) of torque, while the 250cc makes a claimed 18 newton-meters (about 13.27 pound-feet) of torque. Other differences include a combined braking system (CBS) on the 125, while the 250 gets an anti-lock braking system (ABS).
The Mutt Mushman comes with 18-inch stainless-steel spoked wheels with black rims, knobby tires, black tracker handlebars, grips that feature black diamond-pattern rubber and aluminum, a black vinyl seat, and LED lighting. Other features exclusive to the Mushman in Mutt's lineup include matt black engine bars, a leather tank strap, and a steel tank rack.
"The inspiration for the styling of the Mushman came from the idea of early scramblers," Mutt co-founder Benny Thomas said in a statement.
"The simple practice of preparing a road bike for off-road use by taking the bulky bits off, fitting knobby tires and high-rise mudguards to create a stripped-down bike that does exactly what it says on the box. While the Mushman was never intended to be a scrambler, it has the look and the feel of something Mr McQueen would ride between shoots if he was around in 2023," he continued.
"It's the ultimate hack-around bike. Lightweight, good looking and perfect for taking on the city or hitting the country lanes. 'Nothing Fancy' is the motto for all our Mutts, and I wanted to keep the Mushman simple and classy, but add some fresh new bits and pieces such as the engine bars, tank strap & rack, all-new adjustable CNC levers, and LED indicators and headlamp," Thomas concluded.
By the way, if you're scratching your head about the model name, we got you covered. The name is a reference to racer and sometime actor Steve McQueen's nom de courses, Harvey Mushman, who was well-known for his affiliation with scramblers back in the day.
Both the Mutt Mushman 125 and 250 are available to order directly from the company via its website if you're in the U.K., as of February, 2023. The 125 will cost £3,750 (about $4,520), while the 250 will cost £4,600 (about $5,524). Two colors will be available, with the more common Titanium Grey starting to become available in March, 2023. A limited-edition Matt Green will become available shortly after that, according to the company. It's not clear how limited-edition that color will be, so if you're interested, your best bet is to act and/or ask quickly.
* * * * * * * * * * * * * * * * * * * * * * * *