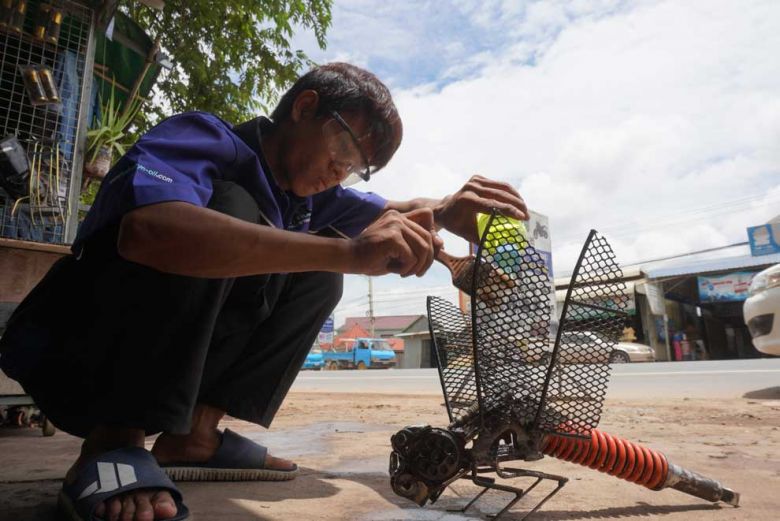 by Pann Rethea from https://www.phnompenhpost.com
At a small motorcycle repair shop about a half-hour drive outside of Phnom Penh on National Road 1, passersby can't help but stop and take a look at what's for sale.
But it's not motorbike parts they're interested in, it's the works of metal art formed by fusing scraps and old tools.
Metal creatures made from bike chains, spokes and discarded shocks beckon people over to take a selfie and chat with the artists, low-income repairmen who turned to artwork after their wages took a hit due to the Covid-19 pandemic.
"During the pandemic, many people have been facing financial problems, especially blue-collar workers," 36-year-old Kang Sothea, the founder of the small collection of repairmen-artists, tells The Post.
"The team of motorcycle repairmen whom I've supplied motorcycle engine oil to are losing their income. Less people come for engine oil changes, so they can no longer afford to stock the products I'm selling."
Because the repairmen have fewer jobs to fill, they often have time to chat about their mundane lives and crack jokes to cheer themselves up during hard times.
It was during one of these laidback chats that Sothea noticed a pile of discarded motorbike parts which the repairmen intended to sell to a junk collector for petty cash.
Sothea says: "I often noticed them stockpiling old rusty parts of motorcycles in the back of their workshop. The chain, sprocket-wheel, suspension, steel mudguards, nuts and screws sparked an idea [in me] to turn them into something interesting that can be sold.
Seeing different old parts of motorcycles triggered my imagination. I could see them turning into metal animals for decoration."
Having worked in engine oil distribution for three years, Sothea has become close to repairmen in different places.
These strong friendships paved the way for serious discussions to make the dream art project happen and there was a hope that it could generate additional income.
"After we met and talked about this project many times, we all brainstormed about what kind of artwork could be formed by using these old motorcycle parts and rusty tools," Sothea says.
In June, the junk artists officially formed their team under the name 'Silapak Daek OMA'.
Sothea says: "We now have eight members who are all motorcycle repairmen from three shop locations. Some of them are located in Kien Svay district, Kandal province, on National Road 1, some in Kandal's Lvea Em district and some are near Kuor Srov Roundabout in Dangkor district of Phnom Penh."
Sothea admits their artwork has some flaws as the team starts to build its technical art knowledge.
"When we first tried to make a small metal scorpion from the motorcycle chain, it took us the whole day to get the right shape we were satisfied with," he says.
Um Seiha is one of the more active members of Silapak Daek OMA.
"I was very excited to pick up something new. We're all raw and blank pages in art, but we work in solidarity. We are good teammates, and we learn from each other.
"Every week, we come to learn from each other about how to improve our metal scrap artworks, then we'll decide what animal or thing we should make," he says.
So far they have created metal tarantulas, scorpions, spiders, centipedes, dragonflies, dragons, grasshoppers, mosquitoes and king prawns. Four of their pieces were purchased and now resided in restaurants and coffee shops.
Sothea says: "When people purchase our artwork, we feel really rewarded. It's a sign of appreciation and acknowledgement that we can grow our hobby into a skill. We keep learning and taking inspiration. We ask the experts and do online research."
Curious onlookers who stop to observe their work motivates the group to keep moving forward.
"Despite the challenge as self-taught artists who learn from practice and continuous experience, our team spirit is still going strong. None of us has ever attended an art class. We try to learn from YouTube and Google for basic techniques. Without the help of an art instructor, our work is entirely based on our imagination and raw skills," Sothea says.
After we finished welding a few metal animals, we displayed them outside the repair shop. There have been people coming to look and give us compliments. People we don't know pass by and their attention is caught by our artwork. They said they really like the artwork and this encourages us to strive even further."
After three months of endless trial and error, the team can now create pieces faster, and they're already planning bigger projects.
Sothea says: "While we are able to create many kinds of metal animals from scraps, we're also planning to build a bigger-sized robot and Iron Man.
"We're studying a little more about the complex body ratio of the big structure. This time, we will also seek advice from a professional artist. We will consult with more experts to make the body and face of Iron Man look realistic."
Sothea is also in talks with some business venues, shops, hotels and resorts which may be interested in his work.
"Some people express their interest to buy metal artwork for decoration. Some resorts might need the whole collection to display so that they can attract more visitors," he says.
Besides selling his artworks to help the livelihood of his team, Sothea is also hoping his work can be displayed at public places for educational purposes.
"For instance, I'm dreaming of putting metal mosquitoes in Wat Botum park. Silapak OMA can help alert people about the dangers of mosquito-borne diseases, especially during rainy season," he says.
Silapak Daek OMA can be reached by telephone at 015556742 or 017257635.