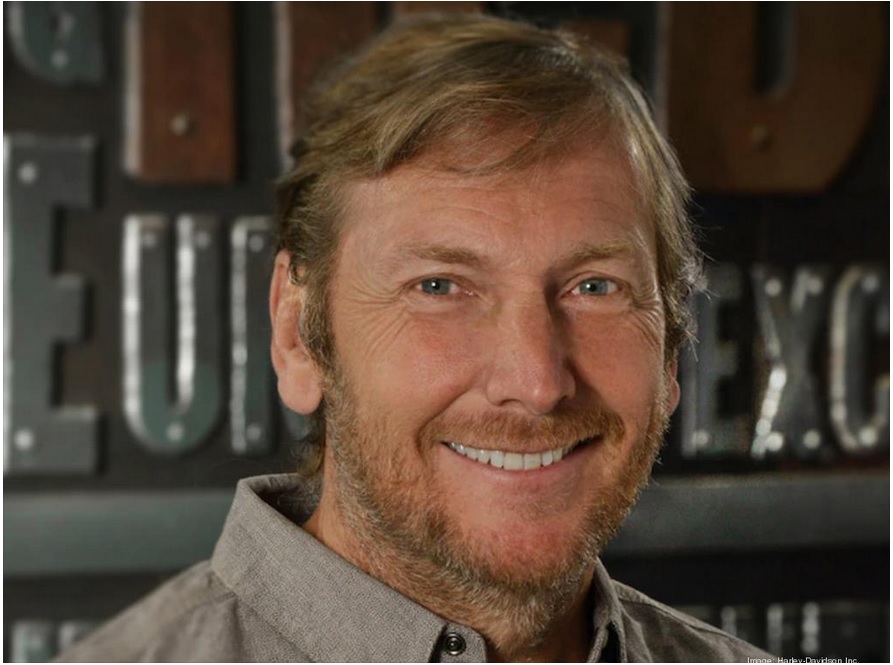 by Margaret Naczek from https://www.bizjournals.com
Amid the instability of the COVID-19 pandemic, Harley-Davidson Inc.'s acting president and CEO Jochen Zeitz reflected back on the advancements made in the More Roads to Harley-Davidson strategy in 2019.
2020 already was a pivotal year in the company's strategic plan to grow more riders and expand dealership reach, but the year became a lot more crucial as the Harley-Davidson (NYSE: HOG) looks to also overcome the difficulties during a pandemic.
With concerns over public health and travel restrictions, Harley-Davidson organized its 2020 annual shareholders meeting to be conducted virtually via a live audio webcast on May 21, 2020. The annual meeting will elect nine directors to the board, approve the compensation of the company's executive officers, approve amendments to the company's restated articles of incorporation, approve the company's 2020 incentive stock plan and ratify the selection of Ernst & Young LLP as Harley-Davidson's independent registered public accounting firm.
"As we embark on our next chapter and seek new leadership, we are steadfast in our belief that we have both much to be proud of and much to look forward to," Zeitz said in his letter to shareholders.
On Feb. 28, Harley-Davidson announced former CEO Matt Levatich had stepped down and Zeitz would assume the role of acting president and CEO. The company is currently engaged in a search for new CEO.
In his letter to shareholders, Zeitz shared some of the company's accomplishments in 2019. While U.S. motorcycle sales continue to decline over consecutive quarters, Zeitz noted that in 2019 the rate of decline significantly tempered.
"After four years of accelerating declines, such improvement was supported by our More Roads actions, notably in how we're Amplifying our Brand and delivering on our New Products catalysts for growth," Zeitz said in the letter.
Recommended
Some other company milestones included the launch of the first Harley-Davidson electric motorcycle, the LiveWire, the introduction of Reflex Defensive Rider System, the acquisition of StaCyc and the launch of the company's IRONe two-wheelers for children.
In its efforts to continue to grow new riders, Zeitz noted that in 2019, 75% of people who purchased Harley-Davidson products on Amazon were new to the company. Harley-Davidson dealerships that participated in company consulting engagements also saw a nearly 6% increase in motorcycle retail sales compared with dealers not in the program, Zeitz said. Internationally, Harley-Davidson also added 27 new dealerships.
"In 2019, we also continued to manage our business to address current market conditions across the globe. We expanded our Thailand plant to serve the ASEAN (Association of Southeast Asian Nations) markets and increase customer access with more competitive prices, and we continued our work to mitigate the bulk of the impact of recent EU and China tariffs," Zeitz said.
Zeitz said the company now expects the impact of tariffs to be significantly less in 2020 compared with 2019. According to its annual report filed in February, Harley-Davidson expects the impact of recent EU and China tariffs to be approximately $35 million, which is down significantly from the 2019 impact of $97.9 million.
Zeitz also stated that in 2019, Harley-Davidson finished with 3.1 million riders in the U.S., 55,000 more total riders than 2018. Throughout 2019, the company saw 527,000 new people join the brand.
"The number of people who continue to join Harley-Davidson each year is a testament to the power of our brand and our strengthened capabilities. We are becoming a company that excels at and exists to not only build great bikes, but to build riders," Zeitz said in the letter.
Zeitz said that in 2020, the company will expand its focus from heavyweight motorcycle shipments to revenue from motorcycles and related products.
"This measure best reflects our comprehensive efforts to expand into new product segments and foster a customer-creation culture," he said, "one that is laser-focused on our riders and fans who are passionate about our great brand."