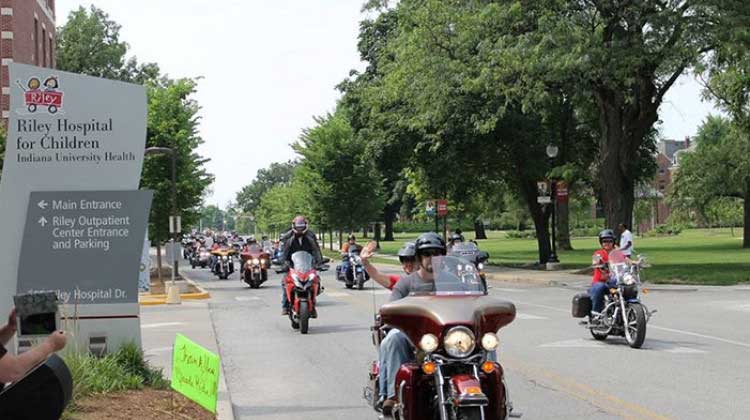 by Chris Mahlmann, Lauren Grasham from https://valpo.life
Harley Davidson of Valparaiso takes part in the 27th annual Miracle Ride for Riley Hospital for Children.
The ride was a two day, state-wide event to raise funds for Riley. Registration began early Saturday morning before riders took off to enjoy a fabulous summer ride from across the state. Valparaiso was one of the six starting points throughout the state, with the finish line for everyone being Indianapolis. The second day of the event included The Big Ride in which all participants rode around the city.
While the Ride itself started in 1994, the event was a first for the Valparaiso location. In past years, Harley-Davidson of Calumet served as Northwest Indiana's starting point, but since its closing its doors in 2020, Valparaiso Harley-Davidson has stepped in to host.
Harley-Davidson of Valparaiso was also deemed a Poker Start, which allowed riders to participate in a poker run. In a poker run, riders played a game of five card stud against other winners for a chance to win $500. In addition, raffles were held and included a 2020 Low Rider as the grand prize. Two UBCO electric motorcycles were also raffled for most money raised and runner-up for most money raised.
The Ride was one of many events held by the Miracle Ride Foundation, all of which benefit Riley Hospital for Children. The hospital is the only one in Indiana dedicated specifically to helping sick children. According to the foundation's website, many services the hospital provides go beyond the allotted budget, and as a result, the hospital receives most of its funds through donations and charity events such as the Ride.
"The Harley-Davidson community comes together to help so many great organizations," Jeff Haggerty, general manager of Harley-Davidson Valparaiso. "Giving our customers a chance to connect to and support a good cause as well as enjoy a great day of riding is what we are all about as a family here."
According to their Facebook page, the Ride has become one of the largest motorcycle fundraising events in Indiana, and possibly even the nation. The event brings in around 4,500-7,000 riders, raising tens of thousands of dollars each year.
For more information on the Miracle Ride for Riley and the Miracle Ride Foundation,
visit its website at https://www.miracleride.net/.
Or, for more information on Harley-Davidson of Valparaiso,
visit its website at https://www.hdvalpo.com/.