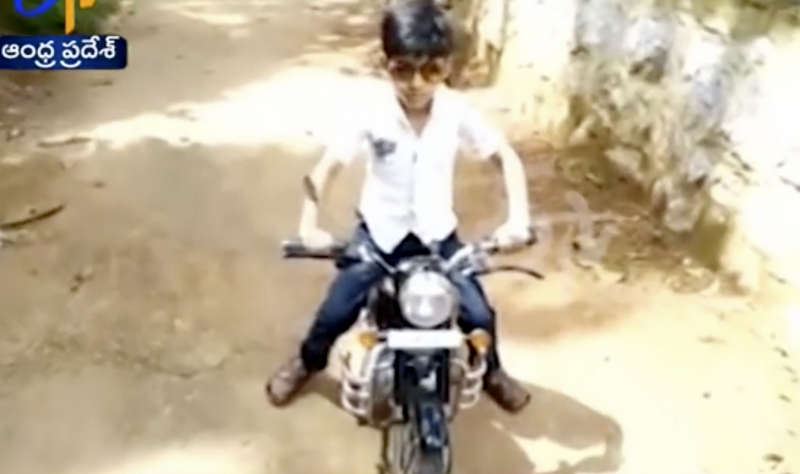 This hand built mini Bullet is identical to the full sized Royal Enfield Bullet in all respects. It is located in Kollam, Kerala and the video is shown by ETV Andhra Pradesh drawing attention to every part of the mini Bullet which has been fashioned to look like its life sized counterpart.
It shows the complete mini Bullet being ridden by a young toddler who is around 5-7 years of age. He takes the bike around the yard donning riding gear while the finished product shows extreme attention to detail done by the father who is also a Bullet aficionado.
The ingenuity of the father knew no bounds when he went through great lengths to build a mini version of the Royal Enfield Bullet motorcycle for his son
This Royal Enfield Bullet electric mini motorcycle is made at home and all parts are made of fiber. It gets all features as seen on a full sized RE Bullet with identical headlamp, single pod instrument console and fuel tank which also sports the RE moniker.
The other elements such as the suspension, indicators, mirrors and leg guards are also identical to its larger counterpart and have been installed on the Mini Bullet. The only difference being that the Mini Bullet runs on battery power.
No specifications of the battery capacity have been revealed in the video but should offer around 30 minutes of us on a full charge. The chassis of the bike is also handmade.
Royal Enfield is also working on a full sized electric motorcycle. However, launch is not expected for the next few years. Speaking about future launches, Royal Enfield will soon update their entire range of Bullet, Classic and Thunderbird models of 350 and 500 cc with new generation motorcycles with new BS6 engines.
More recently, Royal Enfield launched cheaper variants of Bullet and Classic in India, to give a boost to declining sales. They are now getting ready to launch cheaper variant of Thunderbird 350 with single channel ABS.