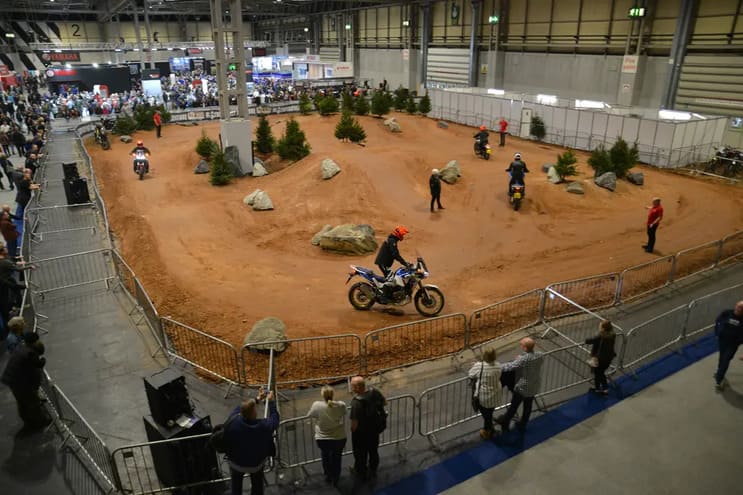 from https://www.standard.co.uk/ by David Williams
It's that time of year bikers dread – the days are shorter and the weather is colder and wetter, forcing fair-weather riders to leave their bikes parked at the roadside. Which means it's time to head to Birmingham by train for Motorcycle Live, to see what they'll be riding (and wearing) next year, when it all improves again.
The UK's biggest bike show rolls Birmingham's NEC from Saturday December 4 to Sunday December 12, revealing dozens of new motorcycles, even presenting show-goers with the chance to try some of them out.
More than 55 leading motorcycle manufacturers are showing off their latest machinery, and attendants are being encouraged to try them for size. New metal being revealed includes the Suzuki GSX-S1000 GT, the Triumph Tiger Sport 660, the Ducati Multistrada V4 Pikes Peak and the Husqvarna Norden 901.
Kawasaki will be showing off its new Z650RS, while other new bikes include the CFMoto 700CL-X and the Honda NT1100. Show-goers also get to see the British-built Langen Two Stroke, as well as the Norton V4SV, while BMW will have its futuristic-looking CE04 electric scooter on show.
Celebrating the future of motorcycling with electric technology is also high on the show's agenda, with the brand-new Electric Test Ride Zone giving consumers an opportunity to try out a range of battery-powered models on a special indoor track.
This feature will give riders a feel for the instant power and responsiveness typical of an electric motorcycle – all without any emissions. Electrically-assisted bicycles – e-bikes – will also be available for show-goes to try out.
Elsewhere at Birmingham's sprawling NEC there will be custom and classic bike zones, while race fans will be able to meet their track heroes, as stars from WorldSBK, British Superbike and road racing make guest appearances across the nine days.
Visitors can also watch Moto Trails, featuring the jaw-dropping skills of pro trail riders Jack Price, former World Trails 2 Champion and seven-time British Champion, and Michael Brown, European and multiple British Trials Champion, with show times throughout the day.
Honda will be paying homage to the original 1992 Fireblade by displaying a range of heritage models from across the years, while rival firm Suzuki is displaying all seven of its world championship-winning Grand Prix machines, including the GSX-RR of 2020 title-winner Joan Mir and Barry Sheene's 1976 and 1977 500s.
Harley-Davidson will be showcasing its 'Sportster Evolution Galley', tracing the development of its 64-year-old Sportster range, while 'bikers' aged 1.5 to five years can try their skills at the Kiddimoto Balance Bike Experience, on an inflatable course.
Riders aged between four and twelve will be able to get kitted out in motocross clothing, gloves and a helmet – and be unleashed on a circuit designed to give a taste of the motocross experience, for novices and more experienced riders alike.
'Experience Adventure', supported by Honda, Royal Enfield and Triumph, will allow participants to enjoy a taste of off-road adventure riding, which will include tuition on bike set-up, body positioning and balance across an assortment of terrains.
For those wanting to break into motorcycling, meanwhile, every day during the show the Motorcycle Industry Association (MCIA) will be offering free 20-minute riding lessons with a professional instructor, all protective clothing provided. Participants will be introduced to the brakes, gears and slow speed handling, giving visitors the chance to see if a life on two wheels is for them.
Who knows; maybe next year they'll be riding to the show at the NEC too.