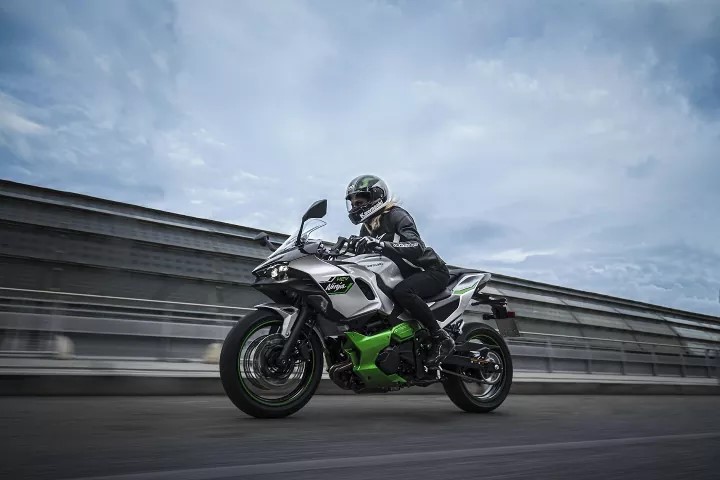 Kawasaki claims the first strong hybrid motorcycle to enter mass production
Just after the brand announced its first electric motorcycles they have introduced the first hybrid motorcycle. Unlike the Ninja e-1 and Z e-1, the 2024 Kawasaki Ninja 7 Hybrid aims to be more than an urban commuter or entry-level motorcycle.
Kawasaki declares the Ninja 7 Hybrid is the first mass produced motorcycle (excluding scooters) from a major manufacturer with a "strong hybrid" system. This means it can run on gas, electricity, or a combination of the two.
Despite the 7 in its model name, the Ninja 7 Hybrid is to be equipped with a liquid-cooled 451cc Parallel-Twin. Kawasaki hasn't provided more details about it. Kawasaki claims the engine produces 58.3 hp, which is actually more than the Eliminator produces. Supplied photos of the TFT display show an indicated max speed of 11,000 rpm.
When using an electric motor it increases output to a possible 68.5 hp of hybrid net power. This puts the Ninja 7 Hybrid slightly ahead of the Ninja 650 and Z650 which claim 67.3 hp at 8,000 rpm.
Sport-hybrid, Eco-hybrid, or EV are the three riding modes which will provide different riding characteristics, offering a focus between performance or fuel economy. Fuel economy is expected to be on par with a 250cc class motorcycle.
Other unique aspects are its clutch and idling features along with an Automatic Launch Position Finder function.
The Kawasaki Ninja 7 would likely be presented in silver and black colors with a lime green lower fairing, and is expected to arrive in European showrooms in January. U.S. availability remains to be determined.
Watch the Kawasaki announcement video:
* * * * * * * * * * * *