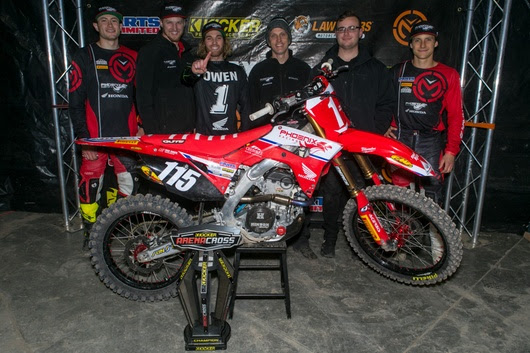 Jace Owen and Pirelli SCORPION™ MX Tires Clinch Arenacross Championships in Salt Lake City
Jace Owen clinched both Pro Class Championships in Kicker Arenacross. | Photo – Phoenix Racing
Phoenix Racing Honda to Debut at Eastern Regional Monster Energy Supercross
ROME, Ga. (February 26, 2019) – The penultimate round of the 2019 Kicker Arenacross Championship in Salt Lake City, Utah was dominated by the Phoenix Racing Honda team, capturing both the 250 Pro and Open Pro Championshipswith Jace Owen. Owen showcased the performance of Pirelli's SCORPION™ MX32™ tires by sweeping the 250 Pro and Open Pro classes on both Friday and Saturday nights racing alongside teammates Freddie Noren and Isaac Teasdale.
"Everyone at Pirelli would like to congratulate the Phoenix Racing Honda team on an incredible season in the Kicker Arenacross Championship," said Josh Whitmire, Director of Sales, Pirelli. "Jace Owen proved that he is competing at a high level, week after week, and that the SCORPION™ MX32™ tires were ready to match the same intensity he brought to the racetrack. We're excited to see the team of Owen, Noren, and Teasdale continue their efforts with a debut in the Monster Energy Supercross Championship this weekend at Pirelli's home race in Atlanta."
On Friday night, Owen was relentless as he stormed to the 250 Pro Class win, followed by Teasdale and Noren in second and third, respectively. The Open Pro Class once again saw Owen take the checkered flag, while teammates Noren and Teasdale swapped results to complete the podium. The double victory by Owen was enough for him to be crowned champion in both classes.
As the gate dropped on Saturday night's action, it was Owen who put in another impressive ride to emerge victorious in the 250 Pro Class, just ahead of Teasdaleand Noren. The tables turned for the Open Pro Class as Noren raced to his first victory of the season, ending Owen's perfect run in 2019. Teasdale rode strong to finish second and Owen helped the team sweep the podium with a hard-fought third.
Jace Owen (#115), Isaac Teasdale (#119) and Freddie Noren (#101) put their SCORPION MX tires up front. | Photo – Phoenix Racing
"What an incredible feeling to end the Arenacross season with both championships," said Owen. "There have been a lot of ups and downs the last few years, but this makes every struggle and all of the hard work worth it. My Pirelli tires consistently got me off the gate to good starts and hooked up all season long. I can't wait to keep this momentum rolling as we head to Atlanta!"
With both Kicker Arenacross Championships wrapped up, the Phoenix Racing Honda team makes their Monster Energy Supercross Championship debut this week in Atlanta. All three team riders will look to carry their momentum into the Eastern Regional 250SX Class for the first of two 250SX East/West showdowns.
To learn more about the complete line of Pirelli motorcycle tires, please visit www.pirelli.com
Results
Kicker Arenacross Championship
Maverik Center – Salt Lake City, Utah
Friday, February 22,
250 Pro
Jace Owen
Isaac Teasdale
Fredrik Noren
Open Pro
Jace Owen
Freddie Noren
Isaac Teasdale
Saturday, February 23
250 Pro
Jace Owen
Isaac Teasdale
Fredrik Noren
Open Pro
Freddie Noren
Isaac Teasdale
Jace Owen