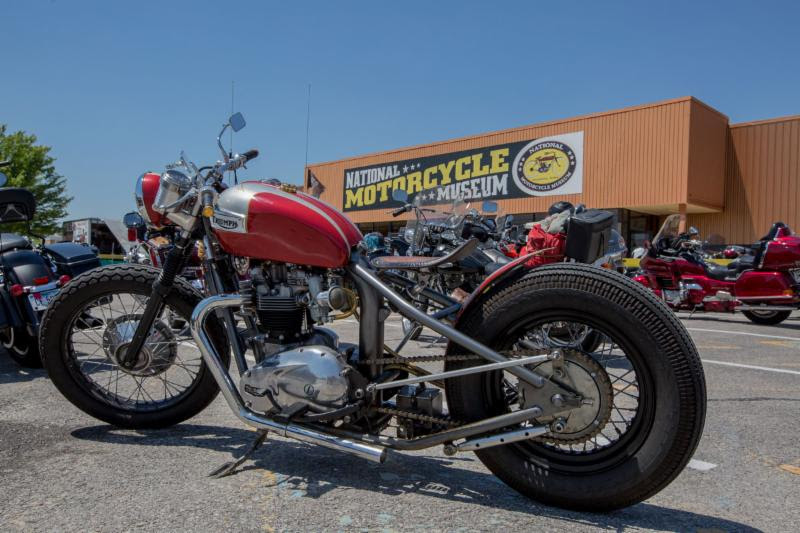 National Motorcycle Museum Event: 9th Annual Vintage Rally
Vintage Bike Show, Hot Rod & Custom Car Display and Swap Meet
Pickers Frank Fritz and Dave Ohrt headlining the 9th Annual Vintage Rally, June 29th at the National Motorcycle Museum in Anamosa, Iowa!
Saturday, June 29, is the once a year chance to maximize your motorcycle history experience at the National Motorcycle Museum; the all-day Saturday Bike Show, Car Display & Swap Meet outside are free and Museum admission will be discounted to $10.00. Special guests Frank Fritz and Dave Ohrt will share American picking stories from over ten years of digging through America's old treasures.
Celebrate transportation invention when you view the newly installed Early American Transportation INNOVATION exhibition.
Head outside and check out the free 9th Annual Vintage Rally Bike Show and Swap Meet. There's even going to be a classic car and hot rod display. Advanced bike show and car display registration is free. Cast your ballot to help pick a Bike Show winner.
If you enjoy stories told by long distance riders, hang out with special guest world traveler D.J. Jones. DJ will be giving an inspirational talk and be signing her new book, 50 States of Consciousness. Also making a special appearance is Carl Reese, current transcontinental record holder, who will share his secrets on mental conditioning, nutrition and motorcycle preparation for his under 39 hour transcontinental run.
DJ JONES Inspirational 50 State Iron Butt Rider
This 130-pound, six-foot tall, postmenopausal, African-American motivator loves Country music, rides a motorcycle, yet, has no tattoos or piercings. Despite the odds, she rode her motorcycle, 800-pound 'Big Bertha', 169 consecutive days, 25,000 miles, through all 50 states, solo, surviving everything from tornados to grizzlies, in 2006. Hear DJ's historic, life-threatening, life-altering, emotional and physical roller coaster ride to help raise awareness and to help save lives through her experiences.
100 Year History of Motorcycle "Cannonball" Run Records; presentation by Carl Reese
Carl Reese is a multiple Guinness World Record holding professional endurance driver. Reese and his fiancee Deena Mastracci have set multiple world records to bring attention to Motorcycle Relief Project, a US-based charity that helps combat veterans with PTSD.
You'll also have time to walk through the Museum, check out over 500 great old motorcycles and thousands of pieces of art, advertising, apparel and great memorabilia on display.
Then grab a shuttle and head up the road a mile to celebrate the J&P Cycles 40th Anniversary Customer Appreciation Weekend with a huge range of parts, installation and live entertainment. It's all happening in Anamosa, Iowa June 29th.