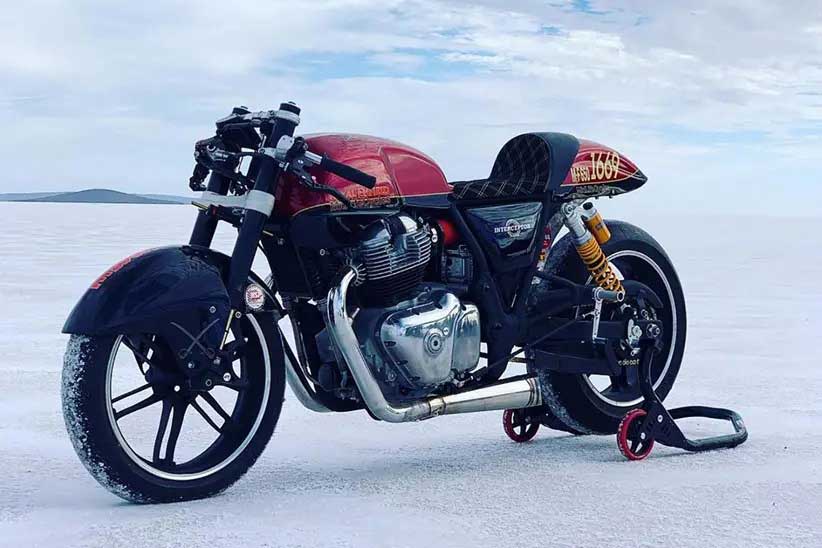 by Phil West from https://www.motorcyclenews.com
Who said Royal Enfields weren't fast? Not Mid-Life Cycles, the dealer behind this special Interceptor 650 which recently posted a record 132mph at the Australian equivalent of Bonneville Speed Week.
Called the Sabre, the machine is based on a 2019 Interceptor 650 but puts out around 70bhp (up from 47bhp) and has been built to show the bike's potential and as a test bed for parts and accessories to be offered to the public.
Created to conform to the 'M-F 650' class, an unfaired, production-based formula, the intention was to compete at 2020's Speed Week at Lake Gairdner in South Australia, a salt lake similar to Bonneville in Utah, USA.
The pandemic scuppered those plans – until now, as rider Charlie Hallam posted a class record of 121.78mph first time out before gradually setting a new standard of 132.05mph. Not bad for an air-cooled, OHC parallel twin displacing just 648cc.
The engine has, of course, been heavily reworked, by specialists HRA Geelong. Although capacity is unchanged, as per the rules, the crank has been balanced, rods shot-peened and new pistons added to help raise compression to a heady 11:1 requiring 98 RON fuel.
Head and ports have been modified to flow as much fuel as possible and there are special custom valves while the single camshaft is now HRA's 'Competition Profile 1286 Racing Camshaft'. Open race pipes exit each side, the transmission's gears were recut to reduce friction and special sprockets were made.
Although the frame is stock, the swingarm has been lengthened to the maximum permissible, suspension replaced by Öhlins front and rear, wheels are lighter, wider alloys, and ultra low clip-on bars and a more aerodynamically efficient front mudguard were fitted. Now the plan is for Mid-Life to offer performance and big-bore kits for the road.
"The 650 really lends itself to performance mods," said Mid-Life Cycles CEO Michael Catchpole. "So we set out to build a Salt Racer using the standard Interceptor frame, as dictated by M-F-650 rules, but with a modified engine.
"We've kept the 648cc capacity but used various turning parts including a special cam developed by Hallam Racing. We're also developing performance kits for the Interceptor and GT 650 road bikes based on using this cam, in Stage One, Stage Two, and Stage Three versions."
Royal Enfield Interceptor 650 breaks 4-year-old speed record at over 212 km/h
by https://www.financialexpress.com
The Mid Life Cycles' Interceptor was entered in Class M-F 650, for 650cc un-streamlined motorcycles running commercial unleaded fuel. The old record of 191.93 km/h was set at Lake Gairdner in 2016.
Royal Enfield Interceptor 650 has broken a long-standing speed record in Australia. Mid Life Cycles' Interceptor 650 Salt Racer has set the class record at the annual Speed Week run at Lake Gairdner, South Australia. The Interceptor 650 Twin broke the four-year-old class record on each of its runs, leaving the new mark at 212.514 km/h. The Mid Life Cycles' Interceptor was entered in Class M-F 650, for 650cc un-streamlined motorcycles running commercial unleaded fuel. The old record of 191.93 km/h was set at Lake Gairdner in 2016.
The remarkable record was broken by Charlie Hallam on day one of Speed Week (Monday 8 March 2021), with his first run at 194.85 km/h. He backed that up with a 197.76 km/h pass, for a provisional record of 196.3 km/h.
On the morning of day two of the Speed Week, the Interceptor 650 clocked 206.29 km/h and 208.32 km/h for a new provisional record of 207.31 km/h. Charlie believed there was a little more to come.
That afternoon, the Interceptor ran 208.59 km/h and was then impounded overnight until it could do a back-up run the next morning. This run, under increasingly stormy skies, saw a stunning 214.04 km/h top speed, for a new record of 211.28 km/h.
The traditional twin-loop steel frame was carried over from the road bike to the racer, with minimal modifications allowed under the class rules.
This is the second time that we have established a remarkable feat with the Twins, in 2018, the Bonneville Racer recorded an impressive top speed of over 159 mph at Bonneville Salt Flats and this speed record is yet another remarkable feat for us. This recognition validates the tremendous progress we continue to make in our journey and we hope this will inspire many more motorcyclists to push their boundaries and achieve the pursuit of excellence, Vinod Dasari, CEO, Royal Enfield, said.