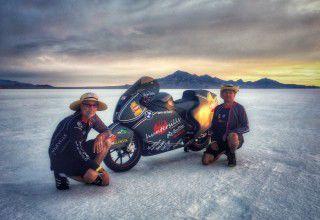 Hunter Sills Racing Earns Four World Records and One U.S. National Record at the AMA and FIM-Sanctioned Bonneville Motorcycle Speed Trials With Their BMW S 1000 RR Motorcycle
Associated Press | WENDOVER, Utah – September 10, 2019 – ( Newswire.com )
Hunter Sills Racing captured five records with its BMW S 1000 RR at the Bonneville Salt Flats in Wendover, Utah, during the Bonneville Motorcycle Speed Trials event held Aug. 24–29, 2019. The team also earned Top Time of the Meet and Fastest Naturally Aspirated Motorcycle and increased the speed of their world's fastest BMW motorcycle to 238.398 mph. Both riders, Erin Sills and Trev Richter of Hunter Sills Racing, earned 1000cc FIM records aboard a nitrous-powered BMW bike affectionately known as "Snoopy."
With improving track conditions over the week, the team was able to set records early, then progressively improve them over the event. Ultimately, Sills piloted the Alpine Performance Centre-built BMW S 1000 RR to 237.287 mph to earn the FIM kilometer record in the faired, naturally aspirated 1000cc class; a record that was previously set in 2014 by her late husband Andy Sills, also of Hunter Sills Racing, at 221.863 mph. Erin was later able to improve her own FIM mile record set in 2018 on the Uyuni Salt Flats in Bolivia at 229.265 mph, making the new mark 236.889 mph.
"After the poor track conditions presented by Mother Nature during Speedweek, we were looking forward to seeing how our bike would perform on a better course," said Sills, rider and owner of Hunter Sills Racing. "Shane Kinderis of Alpine Performance Centre put together an incredible motor which performed beautifully with the Wizards of NoS nitrous system. I also found the AirTech fairing to be incredibly stable and grounded at speed."
"Our senior race technician Curtice Thom worked alongside Shane Kinderis again, a pairing that has proven to be very successful over the years. They did an excellent job of keeping the bike in peak performance, and I'm very pleased with our results. As always, we owe a great amount of success with this project to our many technical partners," added Gary Orr, owner of San Diego BMW Motorcycles and Hunter Sills Racing team member.
Richter, known previously for his "Race For Relief" charity effort World's Fastest BMW GS (http://huntersillsracing.com/race-for-relief-2018/), also saw much success in his first event racing the BMW S 1000 RR, winning back a record the team lost in Bolivia in 2017 to Nick Genet. Richter increased the FIM and AMA 1000cc naturally aspirated un-faired ("naked") mile record to 195.674 mph and the FIM kilometer record to 196.206 mph.
"Riding the over 275 horsepower motorcycle without a fairing presents a unique physical challenge, but the team gave me a bike and suspension set-up that enabled me to reach my goal of earning World and National records in my first event," said Richter.
Hunter Sills Racing is also proud of its contributions to the Bonneville Motorcycle Speed Trials racing community during the week. With the express permission of the Bureau of Land Management, the team built and donated a mock "Bonneville Salt Flats" sign which was installed at the entrance of the Salt Flats for the week-long event. Following the event, HSR auctioned the sign, earning $4,000 to benefit a fallen rider who needed help with medical bills. Erin Sills also continued her Shemoto Scholarship, awarding $2,000 to the Buell Sisters team of Ashley Woodford.
The next event for Hunter Sills Racing will be in support of the Women Riders World Relay, a year-long around-the-world journey of over 10,000 female motorcyclists. Erin Sills will participate in the WRWR's United States relay Oct. 2-12, 2019.
The team would like to thank their sponsors who make all of this possible: Top 1 Oil, San Diego BMW Motorcycles, Alpine Performance Centre, Colorado ADVmoto, WomenRidersNow.com, BMW Motorrad USA, Helite Airbags, JBA Speed Shop, Motochic, Moto-Skiveez, Ohlins USA, PitBull Motorcycle Stands, Racer Gloves USA, Remus Exhaust, Schuberth Helmets, Sprint Filter, Wizards of NoS, Worldwide Bearings, and Wunderlich.
About Hunter Sills Racing:
Hunter Sills Racing is a female-owned professional land speed racing team including motor builder Shane Kinderis of Alpine Performance Centre, Gary Orr of San Diego BMW Motorcycles, race technician Curtice Thom, and riders Erin Sills and Trev Richter. The team races in memory of the late Andy Sills. Together, the team has earned over 40 World and National records, two Guinness World Book records, Mojave Mile 200 MPH Club membership, Mojave Magnum 200 MPH Club membership, BUB 201 MPH Club membership, Bonneville SCTA 200 MPH Club membership, El Mirage SCTA 200 MPH Club membership, top average mile speed to-date of 238 MPH, and title of World's Fastest BMW. When not racing the Salt Flats, Richter and Sills both serve as off-road adventure motorcycle riding coaches. Erin Sills has been named 2013 Advertising Age Woman To Watch, 2014 American Motorcyclist Association Female Athlete of the Year, 2014 University of Cincinnati Lindner College of Business Distinguished Alumni and is a retired executive with Facebook, Inc. A frequent speaker on behalf of the sport of motorcycling, Sills also serves on the board of directors for the American Motorcyclist Association Hall of Fame Foundation, the FIM Women's Commission, WomenRidersNow.com and is the founder of the Shemoto Scholarship for females in the sport.