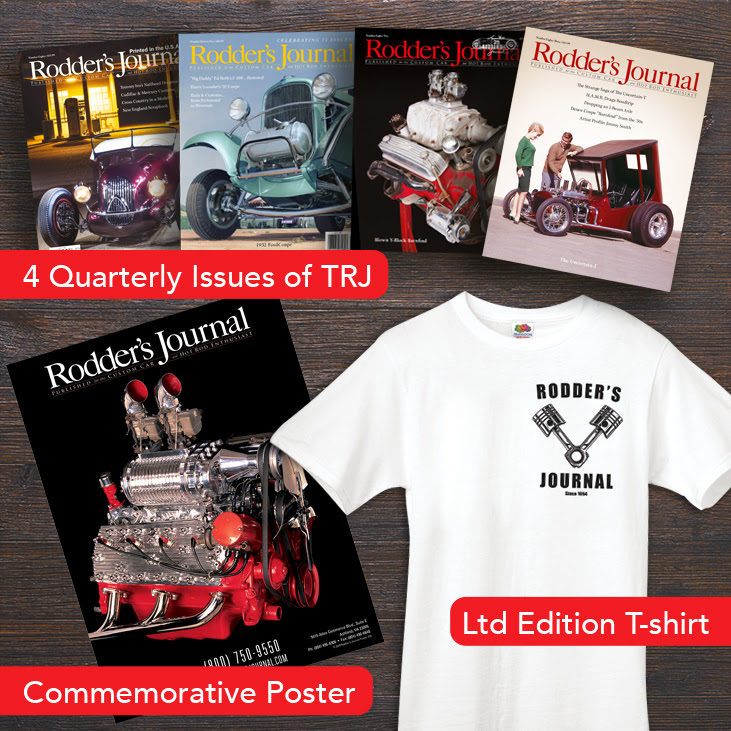 After more than 25 years of publishing The Rodder's Journal, it's no secret that we love print. The traditional way to view content is on the printed page. And just like these hot rods we all love, magazines are tactile and real, with their own feel and smell.
To give those of you who don't currently subscribe to TRJ an opportunity to see what we're all about, we're dropping our subscription price to $49.95 ($74.95 international). In addition to receiving four 168-page magazines each year, we're including a free "Hall of Fame" T-shirt and double-sided TRJ poster with every new subscription. That's a net savings of $40! We're so certain you'll like what you see that we're offering a money back guarantee. If after receiving your first issue you decide TRJ's not for you, we'll gladly refund your money—you keep the issue, the poster and the Tee on us.
This offer will be available until this Sunday at 11:59 p.m. East Coast Time.
CLICK HERE FOR Supercharged Subscription Sale – United States
A note to our current subscribers: this program is aimed at introducing new readers to TRJ, but we always want to make sure we're providing our best offers to our loyal customers. We sincerely appreciate your support, and if you would like to renew your subscription or buy a gift sub for a new reader, you will receive the discounted rate, the poster and the "Hall of Fame" Tee. And if you just want to help spread the word, please forward this to any hot rodders you know who don't currently read TRJ.
As an independent publisher with nearly a quarter-century of history under our belts, we believe this is a very exciting time in hot rodding and customizing. We're excited to have you along for the ride.
Sincerely,
Your Friends at The Rodder's Journal
P.S. Our regular subscription price is $59.95 ($84.95 international), T-shirts are $20 and individual posters are $9.95. So this no risk offer not only saves you $40, but if you're not completely satisfied with your subscription we'll give your money back—and you keep the issue, the Tee and the poster!